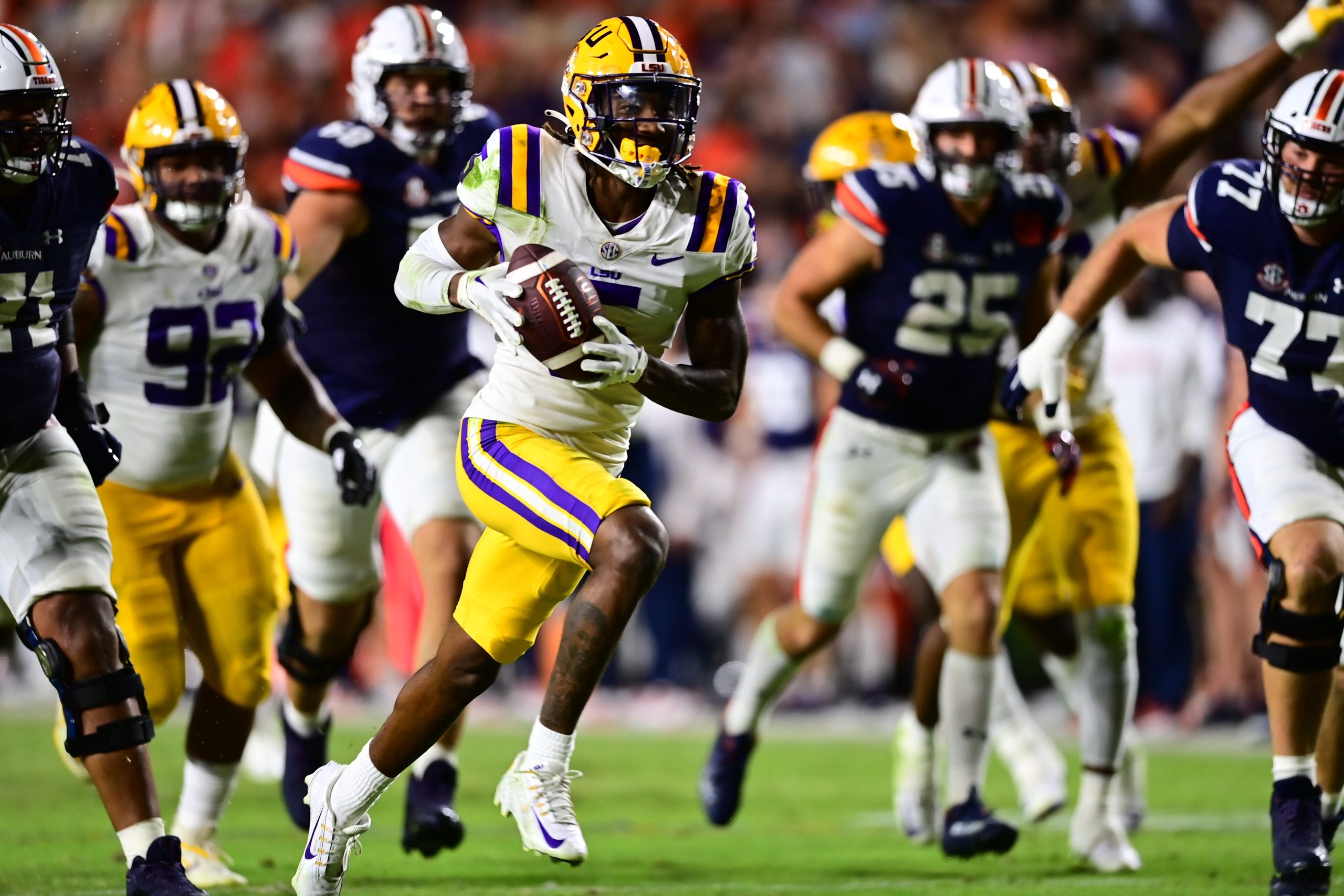 With its fourth consecutive victory, LSU cracked the Associated Press Top 25 poll for the first time this season at No. 25.
Whether the Tigers are actually among the nation's top 25 teams remains a work in progress.
Since a season-opening 24-23 loss to undefeated Florida State in the Superdome, LSU's been rewarded for its current ranking more through sheer will than aesthetics.
The Tigers haven't always looked good getting to the finish line, especially in Southeastern Conference play, but they've managed to find different ways to rally from deficits against Mississippi State and Auburn.
For its trouble, LSU will put its 4-1 record and 2-0 mark in conference mark on the line at 11 a.m. Saturday for the first time as ranked team in Tiger Stadium where they are an underdog against No. 8 Tennessee.
Maybe, the Tigers have the Volunteers right where they want them, before the game kicks off.
LSU hasn't necessarily played its best football in backs-to-the-wall moments, but they've certainly played their most meaningful minutes. The Tigers rallied from a 13-0 deficit at home against Mississippi State to win 31-16 and were up for the task again Saturday, trailing 17-0 at Auburn.
"Was that our best performance? I hope not, but it was gutty," LSU football coach Brian Kelly said. "It was gritty and one I'm proud of our guys for the way they hung in there down 17-0. As I told our guys, that's a culture win. That's a program win where you're doing things the right way to win a game like that."
LSU's defense kick-started a 21-0 run with a strip sack by BJ Ojulari that Jay Ward returned 23 yards for a touchdown midway through the second quarter.
The all-out effort from Ojulari tracking down Auburn quarterback Robby Ashford from behind and forcing the first of three defensive turnovers (special teams forced another) couldn't have arrived at a better time for an offensively challenged team.
The Tigers had punted five straight times until Ward's fumble return for a touchdown, sparking the offense to register a pair of third-down conversions (one by a defensive penalty) when quarterback Jayden Daniels connected with running back John Emery Jr. for their biggest completion.
Emery ran out of the backfield uncovered and turned a short pass from Daniels into a 39-yard gain to Auburn's 1-yard line. After Emery was stopped short of scoring on a leaping first-down attempt, Daniels went into the end zone untouched with 15 seconds left before halftime, drawing LSU within 17-14.
"We've been able to exert our will on most teams in the second half this year," Kelly said. "I've felt the conditioning of our football team has been better than our opponents and that will continue to be challenged as we move through the month. As the game went on, it was pretty clear we were able to exert our will and physically control the line of scrimmage."
LSU had less than 100 yards of offense going into its final drive of the first half and wound up with 149.
Daniels had completed 8 of 17 passes for 80 yards with one completion for four yards to the wide receiver combination of Kayshon Boutte and Jack Bech. He wound up 8 of 20 for 80 yards before getting injured and being replaced in the fourth quarter by Garrett Nussmeier who was 2 of 6 for 5 yards – making the Tigers the first team to win an SEC road game since 2017 after passing for less than 100 yards.
If the Tigers, who were penalized 10 times for 96 yards, were going to completely dig themselves out of the early 17-point hole, they were going to have to rely on a balanced running game that produced 185 yards on 49 attempts and improved defensive play.
LSU's defense yielded seven plays that covered 20-plus yards, including four that went for more than 30 yards. Ashford, who looked rather pedestrian with 71 yards through the air a week earlier against Missouri, shredded the Tigers for 247 of his career-high 337 yards and two touchdowns in the first half.
LSU's offense benefitted from another key penalty against Auburn's defense, a pass interference on third-and-one, on its third series of the third quarter and took the lead for good.
Emery, who completed a 15-game suspension for academics dating to the 2021 season, scored his first rushing touchdown since Nov. 14, 2020 against Alabama during the COVID-shortened season. His 20-yard, second-effort burst featured some fancy high-stepping into the end zone for a 21-17 lead with 3:32 left in the third quarter.
The rest was up to LSU's defense which allowed 438 total yards but forced Auburn to punt twice, forced two turnovers and got the ball back on downs in the second half.
Freshman Harold Perkins Jr. continued his stellar season with his first career interception on a trick play after Auburn had second-and-goal at LSU's 10-yard line.
LSU wasn't able to build any additional insurance for its lead after Jarrick Bernard-Converse's fumble of a muffed punt, but senior defensive back Greg Brooks Jr. made the lead hold up.
Brooks, a transfer from Arkansas, alertly broke on a pass attempt in front of him, wrestling the ball away from LSU transfer wide receiver Koy Moore and returned it 30 yards with 2:18 remaining, solidifying his team's fourth straight win and path into this week's Top 25 poll.
"Matt said to me that he's going to steal this one because he had seen the route before," Kelly said of LSU defensive coordinator Matt House's prediction of Brooks' interception. "He was just a little late (earlier), he was waiting on it and he in fact stole it."