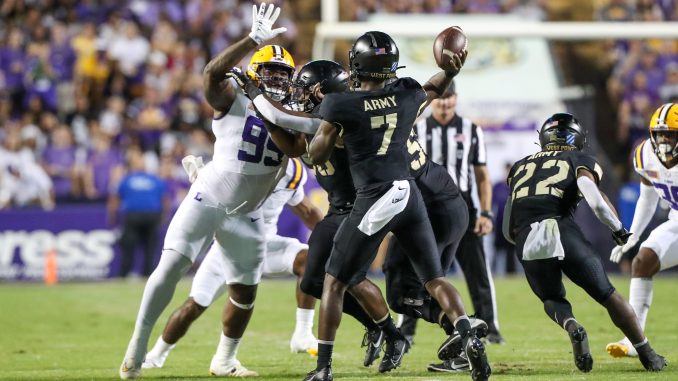 There's plenty angst concerning LSU's defense in Saturday's showdown at Alabama.
The Tigers will be without their top cornerback, junior starter Zy Alexander, for the foreseeable future because of an injury sustained during an interception in a 62-0 win over Army. Two of the team's reserves, both of whom logged starts during the season, are not practicing and not in good standing with the team, football coach Brian Kelly reiterated on Monday.
Duce Chestnut of Syracuse and Denver Harris of Texas A&M were two of four cornerback signees from the NCAA transfer portal, the other JK Johnson of Ohio State, were expected to come in with Alexander and help bolster LSU's cornerback position this season. The Tigers lost both starting cornerbacks Jarrick Bernard-Converse and Mehki Garner, from the 2022 season.
Lost in the traffic in LSU's secondary was Kelly's oh-by-the-way announcement Monday that starting defensive tackle Mekhi Wingo would miss the remainder of the regular season. Wingo, a third team All-America selection '22, suffered a 'lower-body' injury against Auburn, missed the Army game and had surgery during the team's bye week.
The candidates lining up to step into Wingo's starting spot, though, are more plentiful and have already had tangible moments when No. 13 LSU (6-2, 4-1 in SEC) visits No. 8 Alabama (7-1, 5-0) in Saturday's 6:45 p.m. game at Bryant-Denny Stadium.
The game will be televised by CBS and can be heard locally over 98.1-FM.
LSU was also invested heavily in the transfer portal in search of help on its defensive line to replace senior Ali Gaye and junior Jaquelin Roy, who entered the NFL Draft and was taken by the Minnesota Vikings.
The Tigers landed Justin Jefferson of West Virginia, Paris Shand of Arizona and Jalen Lee of Florida with Jefferson and Shand having played in all eight of their team's games.
Jefferson, a 6-foot-4, 317-pounder, started in Wingo's vacated spot against Army and is scheduled to do so in LSU's new 4-3 defense which has steadily improved since the second half of a 49-39 win over Missouri.
"He's been technically very good," Kelly said on Wednesday's SEC Coaches Teleconference. "He's strong, probably one of the strongest players on our team close to a 500-pound bench (actually 525) and 600-pound squat. So, he's very explosive, playing with great technique, learning how to play the shade that he hadn't played a lot of that at West Virginia.
"So, he's learning how to play that and he's getting better each and every week," Kelly said. "So, I think this was just a young man that is really playing at his potential and playing with great technique. It's just been a nice process to see him evolve into the player that he's become over the past month."
Wingo, a defensive captain, ranked eighth on the team in tackles with 22. He also had 3 ½ tackles for loss with 2 ½ sacks for minus-13 yards and a quarterback hurry.
Jefferson stepped into Wingo's absence against Auburn and registered four tackles and deflected a pass. A week later, with Wingo sidelined, he responded with a career-high six tackles that included a tackle for loss.
He ranks 10th on the defense with 21 tackles with 4 ½ tackles for loss and a sack.
Over his last two games, Jefferson began to resemble the player Kelly and his staff saw at West Virginia where the native of Navarre, Florida spent a total of four seasons.
Jefferson played both nose tackle and defensive tackle for the Mountaineers, earning 17 starts in 42 games with 54 tackles, 14 ½ tackles for loss, 3 ½ sacks and seven passes defensed. In his final season in '22, he had 31 tackles, 9 ½ tackles for loss for minus-28 yards and three sacks.
"When you're looking at defensive tackles, certainly you're looking at the ability to gain leverage, get off blocks, play with good technique," Kelly said. "And he had all those, and he had a lot of experience at West Virginia. So, he brought experience.
"He brought a technical piece to understanding how to play the defensive tackle position and he was the guy that made plays," Kelly said. "So, all those things when you're looking at somebody in the portal to play that position is a pretty easy one. You don't have to watch a lot of film to find those guys that you like."