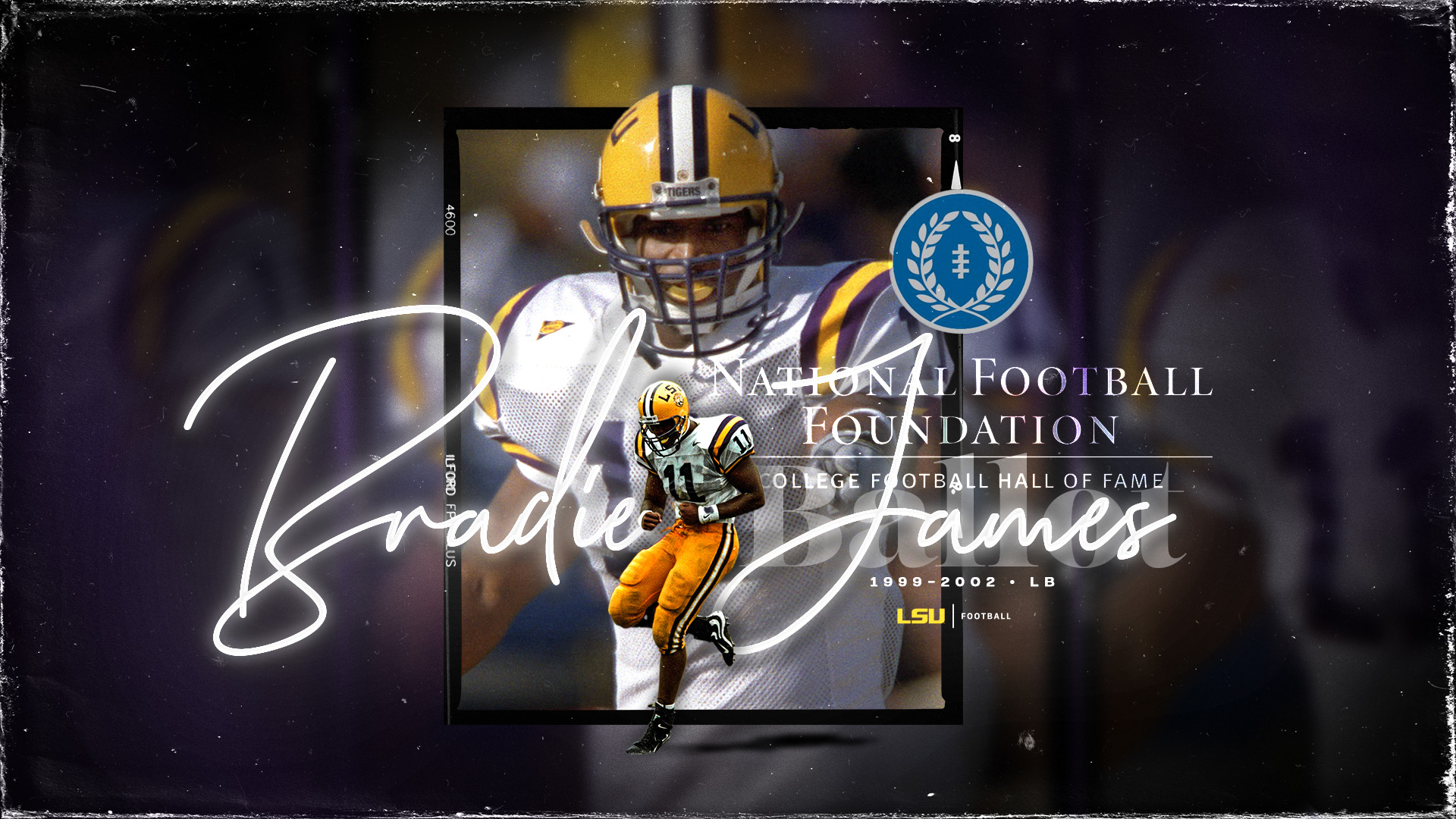 Former LSU All-America linebacker Bradie James is one of 78 players from the Football Bowl Subdivision who have been selected to appear on the 2024 ballot for induction into the College Football Hall of Fame, the National Football Foundation announced.
It's the second consecutive year James has appeared on the Hall of Fame ballot.
James, who combined elite athletic ability with outstanding accomplishments in the classroom, holds the LSU single-season record for tackles (154) and ranks No. 2 in school history in career tackles with 418. He was twice named first team All-SEC and earned first team All-America honors in 2002.
In 2001, James helped lead LSU to the SEC Championship, the first for the Tigers since the last 1980s.
In addition to his on-field success, James was selected to the prestigious National Football Foundation Scholar-Athlete Class in 2002, becoming only the eighth player in LSU history with that distinction. James graduated from LSU in May of 2003 with a degree in sociology.
A fourth round draft pick of the Dallas Cowboys in 2003, James spent 10 years in the NFL, appearing in 157 games.
LSU currently has 11 players and five coaches in the College Football Hall of Fame. Kevin Faulk became LSU's 16th College Football Hall of Famer when he was inducted in December of 2022.
The announcement of the 2024 College Football Hall of Fame Class will be made in early 2024, with specific details to be announced in the future.
The 2024 College Football Hall of Fame Class will be officially inducted during the 66th NFF Annual Awards Dinner Presented by Las Vegas on Dec. 10, 2024, and permanently immortalized at the Chick-fil-A College Football Hall of Fame in Atlanta. They will also be honored at their respective schools with an NFF Hall of Fame On-Campus Salute, presented by Fidelity Investments, during the 2024 season.
LSU's College Football Hall of Fame Members
1957 Gaynell "Gus" Tinsley (End)
1963 Ken Kavanaugh Sr. (End)
1967 Abe Mickal (HB)
1971 G.E. "Doc" Fenton (QB)
1995 Tommy Casanova (S)
2008 Billy Cannon (HB)
2010 Jerry Stovall (HB)
2012 Charles Alexander (RB)
2016 Bert Jones (QB)
2020 Glenn Dorsey (DT)
2022 Kevin Faulk (RB)
Coaches
1951 Dana Bible, Mike Donahue
1954 Lawrence "Biff" Jones, Bernie Moore
1986 Charles McClendon