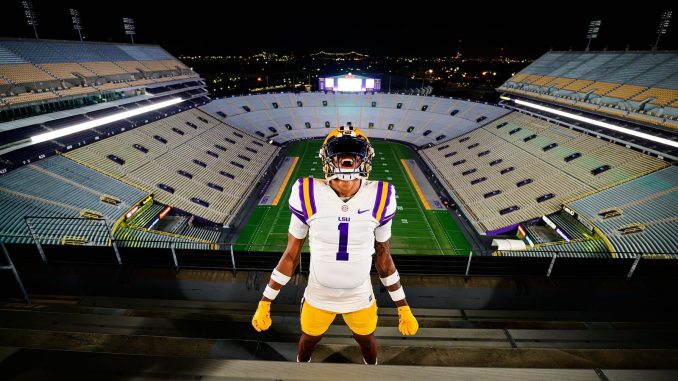 A month's worth of official visits in June to LSU have resulted in several of the nation's best players putting the Tigers among their top schools.
In the cases of Lafayette Christian Academy defensive lineman Melvin Hills III and offensive tackle Casey Poe of Lindale, Texas, both have scheduled news conference for July 12 to announce their intentions.
LSU's also mentioned prominently among the final choices of cornerback Jalyn Crawford along with both wide receiver Jelani Watkins of Houston, Texas and defensive back/athlete Terry Bussey of Timpson, Texas.
The Tigers have 18 players committed in the Class of 2024 with their highest class ranking from Rivals.com at No. 9 followed by 247Sports (No. 10) and On3Sports (No. 13).
Those rankings can increase significantly, beginning with Hills and Poe next week.
The 6-foot-3, 270-pound Hills, a three-star prospect, has narrowed his choices to LSU, Auburn, Ole Miss, Tennessee and Texas with the Longhorns the expected destination by several national recruiting writers. He's made official visits to both Texas and Ole Miss and according to Rivals, is the nation's No. 30 defensive tackle and No. 8 prospect in Louisiana.
Hills' teammate, JuJuan Johnson, a projected cornerback, is already committed to LSU. Defensive line coach Jimmy Lindsey is serving as the lead recruiter for Hills.
LCA finished 10-4 and went back to the state championship game in 2022, this time in Division II, where it lost 52-48 to St. Thomas More in the select championship. Hills was a Class 4A All-State first team selection with 46 tackles, two fumble recoveries and a forced fumble.
Poe, a 6-4, 280-pounder, is a four-star prospect and has reduced his finalists to seven schools: LSU, Alabama, Auburn, Clemson, Georgia, Oklahoma and Texas Tech.
He's made official visits to Clemson, Texas Tech, Alabama, Georgia and Auburn and has made an unofficial to LSU with offensive line coach Brad Davis serving as his lead recruiter. He's expected to choose the Crimson Tide per industry recruiting analysts.
Poe's the nation's top-rated inside offensive lineman by On3 which also ranks him the nation's No. 67 overall prospect and No. 13 prospect in Texas. 247Sports rates Poe the nation's No. 5 offensive lineman and No. 25 in Texas, with Rivals ranking him No. 144 overall, the No. 6 offensive lineman and No. 23 in Texas.
He's the Class 4A state champion in the shot put and owner of a personal best of 57-4 ¾.
LSU's locked in a battle with Auburn for Crawford a 6-1, 180-pound four-star prospect of Parkview High in Lilburn, Georgia. The nation's No. 16 cornerback and No. 24 prospect in Georgia said that Florida's also a finalist with LSU and Auburn.
Crawford, whose lead recruiter at LSU is cornerbacks coach Robert Steeples, made his official visit to LSU on June 16 after earlier visits to Florida, Auburn and North Carolina. He made 29 tackles with three interceptions and six passes defensed for Parkview which went 8-4 and reached the second round of the state playoffs.
Watkins, a 5-9, 160-pound four-star prospect, is favoring LSU among his finalists – Arkansas, Texas and Texas A&M – according to industry recruiting analysts. The Klein Forest High standout is the No. 10 overall wide receiver and No. 10 prospect in Texas per ESPN.com.
Watkins, who is being recruited by Cortez Hankton and Frank Wilson for LSU, made an official visit to Baton Rouge on June 23. He won the Class 6A state 100 and 200-meter titles and has personal best times of 10.33 and 20.39, respectively, in those events.
The 6-0, 185-pound Bussey, a four-star prospect and four-sport standout, has LSU among his finalists along with Alabama, Oklahoma, and Texas A&M with the Aggies holding the top spot according to industry recruiting analysts. He's the nation's top-rated athlete by both On3Sports and 247, the latter ranking him the No. 15 athlete overall and No. 2 in Texas.
The Class 2A, Division I all-state choice has thrown for 4,773 yards and 73 touchdowns the past two seasons, while compiling 115 tackles and five interceptions – four of which he returned for touchdowns. He also returned four punts or kickoffs for touchdowns and was the Class 2A Player of the Year by Dave Campbell's Magazine.
Bussey's also excelled on Timpson's track team where he won the Class 2A state triple jump (45-0) and 200 (22.6 seconds), averaged 19.6 points and 7.0 rebounds in basketball and also played baseball.
His lead recruiter for the LSU staff is safeties coach Robert Crooks.