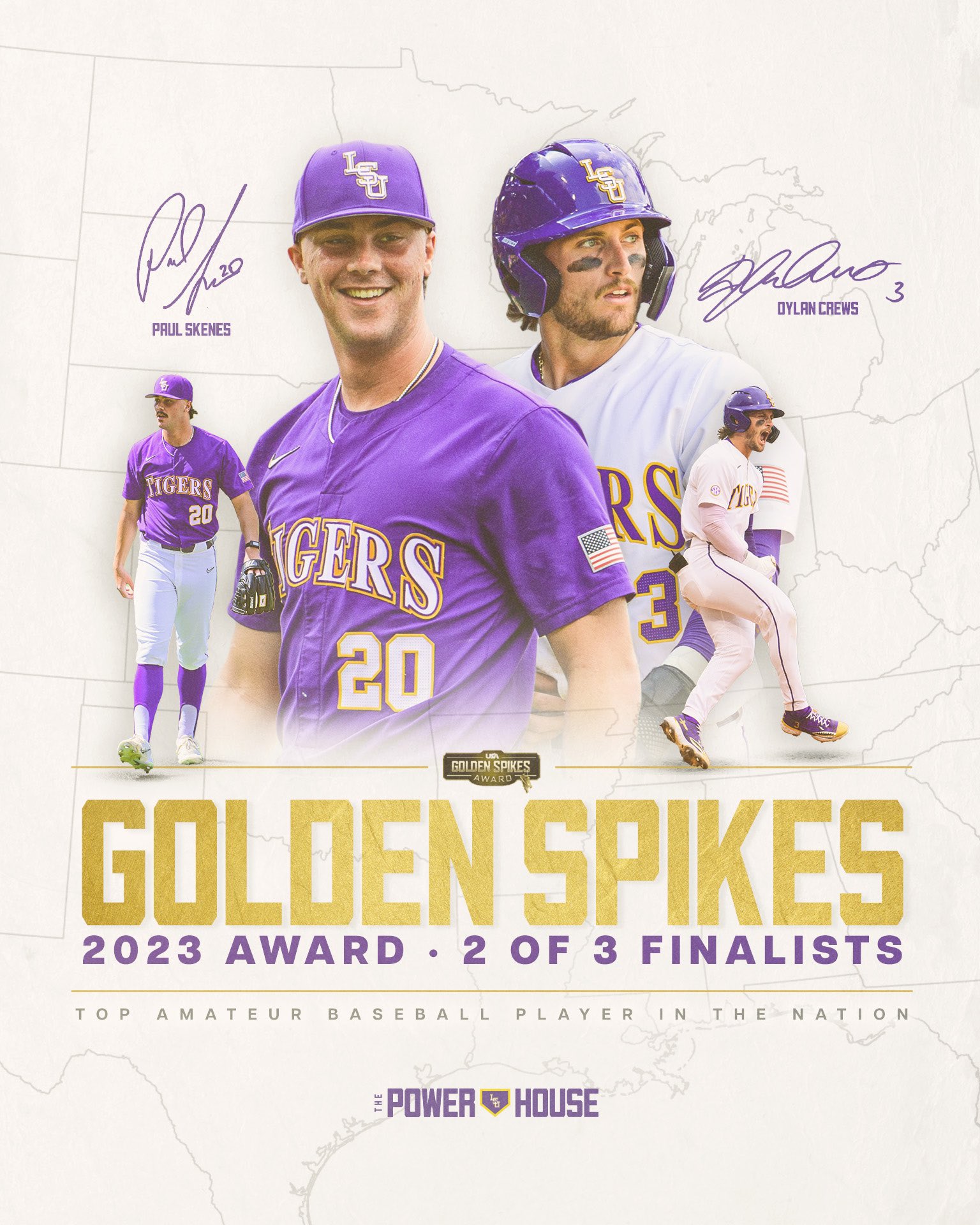 LSU, which is hosting Kentucky in a best-of-three NCAA Super Regional series, had two players among a list of three finalists for the 2023 Golden Spikes Award by USA Baseball.
Junior center fielder Dylan Crews and junior pitcher Paul Skenes were announced Wednesday as finalists along with Florida's Jac Caglianone. This year's 45th edition of the award honors the top amateur player in the nation who best exhibits exceptional on-field ability and exemplary sportsmanship.
The winner will be announced on June 25 during a special presentation on ESPN at 1:30 p.m. Central, leading into Game 2 of the College World Series finals.
"USA Baseball is honored to name Jac Caglianone, Dylan Crews, and Paul Skenes the finalists for the 2023 Golden Spikes Award," said USA Baseball Executive Director/CEO Paul Seiler. "All three of these athletes are beyond worthy of this recognition, thanks to both their terrific play on the field and their tremendous character off the field. The winner of this award will join a long list of established and successful baseball players, and we look forward to crowning the recipient of the 45th Golden Spikes Award later this month."
Crews is among the nation's best all-around stars. He wa named SEC Player of the Year for the second straight season and has successfully reached base in all 61 of LSU's games this season, which included a 26-game hitting streak.
Crews is batting .432 with 87 runs scored, a .573 on-base percentage, 61 walks and a perfect 1.000 fielding percentage.
In addition to winning SEC Player of the Week honors on three separate occasions in 2023, he was also named to the conference's Community Service Team.
Skenes, a transfer from Air Force, has enjoyed one of the best seasons on the mound in recent history. Following the conclusion of NCAA Regionals, the right-hander leads all pitchers with 179 strikeouts in 99.1 innings pitched. In addition, he's first in strikeouts per nine innings (16.22) and WHIP (0.79).
Skenes has been at the front of LSU's rotation with a 11-2 with a 1.90 ERA, good for the fourth lowest in the country. He also leads the SEC in nearly every statistical pitching category, including batting average against (.171), ERA, innings pitched, strikeouts, and wins.
The three-time SEC Pitcher of the Week and Baton Rouge Regional All- Tournament Team member joins Crews as LSU's first Golden Spikes Award finalists since Alex Bregman in 2015.
Crews and Skenes become the 11th and 12th LSU players to be named Golden Spikes Award finalists, tying Miami (Fla.) for the most all-time by a single program. This is the eighth time in the award's history that a school boasts multiple players as finalists and the second time that LSU has accomplished the feat. In addition to placing Crews and Skenes as finalists this year, the Tigers also had two representatives in 1994 (Russ Johnson and Todd Walker).
LSU's Ben McDonald won the award in 1989 before becoming the first pick in that year's MLB Draft and spending nine seasons in the majors.