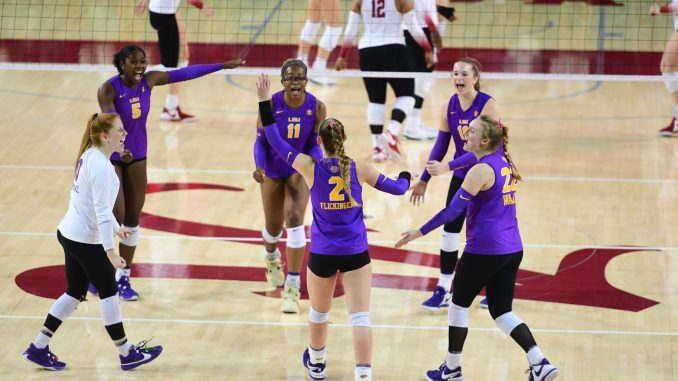 Paige Flickinger recorded a season-high 14 kills and freshman Jurnee Robinson contributed a double-double helped LSU volleyball ended a four-match losing streak Sunday with a 3-0 sweep at Alabama.
The Tigers (8-10) moved into eighth place in the Southeastern Conference with a 3-5 record.
LSU turned back Alabama by scores of 25-21, 25-23 and 25-20 at Foster Auditorium, extending the losing streak of the Crimson Tide (10-10, 0-9) to nine matches.
Flickinger led LSU with 14 kills and added six digs with an ace. The double-double was the fourth of the season for Robinson with 10 kills and 12 digs. She added four blocks.
Middle blocker Anita Anwusi added four blocks, libero Erin Carmichael 15 digs and seven assists and setters Maddie Waak and Emily Mitter contributed 18 and 13 assists, respectively.
LSU was able to fend off Alabama in the opening set, turning a 18-17 lead into a 21-17 advantage and wound up scoring three of the final four points behind four kills from Answusi and three more from Flickinger.
The Tigers had to rally from a 10-8 deficit and pulled even at 10-10 in the second set. They also fell behind 15-10 and once again rallied with a 3-0 run for a 16-16 deadlock en route to a 25-23 win behind fou kills from Flickinger, while Anwusi, Ellie Echter and Robinson each had three kills.

LSU had to comeback from deficits of 10-6 and 16-11 and later went on a 5-0 run to grab a 18-16 lead. The Tigers closed the set with a 4-1 run led by seven kills from Flickinger and five from Robinson, who added a solo block.
The Tigers return to play with three of its next four matches at home, beginning Friday with Kentucky at 8 p.m. and South Carolina on Sunday at 1 p.m.