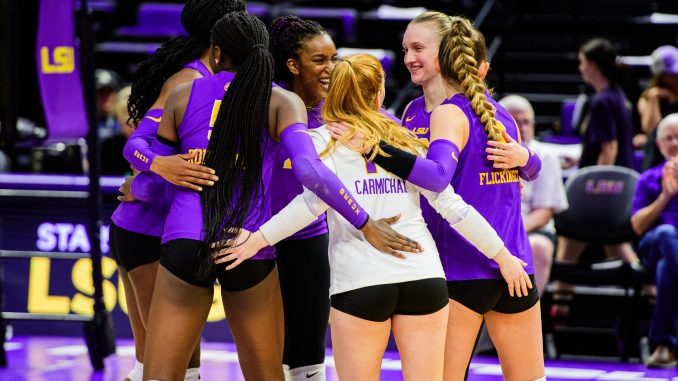 DALLAS – Led by eight kills each from Jade Demps and Jurnee Robinson, LSU's volleyball team opened the SMU Invitational with a sweep over Texas A&M-Corpus Christi.
The Tigers (4-4) opened with a 25-13, 25-10, 25-21 victory and face Texas Tech at 2 p.m. Saturday.
Demps matched a season-high .400 hitting percentage and had a team-high seven digs with one ace and one block. Robinson recorded a .353 hitting percentage with two blocks. Middle blocker Angie Lee added a season-high seven kills on a .385 hitting percentage, and counterpart Anita Anwusi had five kills and .375 hitting percentage.
Setter Maddie Waak handed out 26 assists and matched Demps' seven digs while leading the team with two aces and adding two kills.
LSU led 12-8 in the opening set and extended that to 15-8 and 20-11. They scored five of the next seven points and closed out the set.
The Tigers opened on an 11-0 run and built a 14-2 advantage and never looked back.
The final set proved more competitive with 12 ties and four lead changes when LSU overcame an 11-10 deficit with two straight points to take the lead for good.