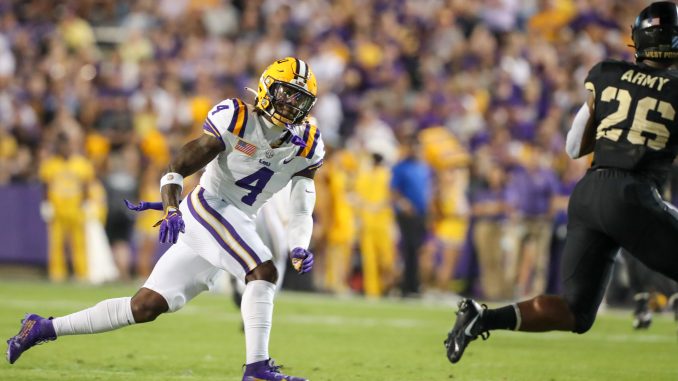 LSU's mission against Army was not a secret mission by any stretch.
It had to step up with substance, or simply bow out.
Rarely has an obvious mismatch against a relative cupcake opponent meant so much so late in a college football season to a team like LSU.
Heading into a bye week against a team that came in 2-4, one that was prone to turning the ball over, and one who was reeling offensively and would have to play without its starting quarterback, LSU needed to win, and win big, but most importantly, the Tigers had to prove something to itself about itself.
LSU was a 30-point favorite, after all.
Winning big was expected.
LSU could have won big – by a huge margin and still not have accomplished what it truly needed to do in order validate itself to itself in this one.
Honestly, there may have never been a more meaningful mismatch game in LSU football history than the one that took place Saturday night in Tiger Stadium.
But LSU honestly accomplished its mission in this blowout win by hanging a 62-0 beat down on an overmatched, but physically disciplined Army team that presented a unique and timely test for a Tigers team that had to show real and continued improvement on defense, or, if not, Brian Kelly's second LSU team would have had to resign itself to being an entertaining offensive sideshow in the college football world for the rest of the season.
But with its most crucial game of the season looming after this game and a bye week, the Tigers passed the test, accomplished its mission. The Tigers and are now completely in charge of their own destiny with a chance to beat Alabama in two weeks for the second year in a row, put itself in the driver's seat to win the SEC West again and return to the SEC Championship where it could conceivably ride a powerful offense led by a quarterback who is playing as well if not better than any in the nation all the way to college football's promise land.
This flawed team with two losses can still realize its preseason goal of making the College Football Playoffs and even of winning a national championship – for real now – because it proved to itself that it can play defense against a physical opponent and also rise to a challenge.
And because it proved to itself that it can play physical and disciplined defense, something that only a month ago was a pipe dream.
That's what this blowout win against Army West Point meant.
It's all still right in of front of LSU now because it proved it can play defense and beat a physical run-first team in the trenches, shut down a triple-option that presents challenges to even good defenses because of the stresses it puts on any defense, by design.
The game went as many expected. LSU dominated, and the Jayden Daniels-led offense that is mesmerizing the nation continued to move the ball with ease.
Daniels started hot and hit a rough spot, though.
After leading an eight-play, 75-yard touchdown drive on LSU's first possession, some uncharacteristic missed throws led to a rare three-and-out on the second possession.
But then Daniels shifted into overdrive.
Freshman tackle Lance Heard, staring his first game at LSU in place of the injured Emery Jones, Jr. got abused by an Army defensive linemen.
I mean totally whipped.
It happens to freshmen making their first starts, even ones as gifted as Heard.
Daniels reacted to the abuse quickly and with precision. He sidestepped the sack, rolled to his right, and in a full sprint, Daniels dropped a dime over the top of the defense finding Brian Thomas Jr. running down the sideline.
Eighty six yards later, Thomas was in the endzone celebrating LSU's longest scoring play of the season.
Thomas bounced back from a quiet game against Auburn, finishing with 122 receiving yards and two touchdowns.
Daniels' passing carried LSU's offense early and often. Later, in the second half, backup Garrett Nussmeier got in on the action and other receivers also joined in.
Daniels finished with 279 yards and three touchdowns in just one half. Nussmeier had a solid night. He finished with 90 passing yards, highlighted by a 51-yard touchdown pass to Malik Nabers, who also continued blazing his path to No. 1 draft pick he's envisioned for himself since last season.
Nabers' elite stats grew as he added 121 receiving yards to his national lead in that statistical category while also adding two touchdowns.
LSU ran for 201 yards in the game, but struggled to establish the run early, with starting running back Logan Diggs only rushing for 26 yards.
Freshman Trey Holly showed off, however, in the second half, as the rushing game for the Tigers piled up the yardage.
Holly ran for 91 yards, highlighted by a 67-yard touchdown run on LSU's final offensive play.
Defensively, though, is where LSU proved its merit and demonstrated the progress that made this a substantive win and validated that it is contender and not a pretender heading into the final stretch run of the season.
LSU got the performance it needed.
The defense nailed down its first shutout of the year, held Army to just 193 yards of total offense.
Linebackers Omar Speights (9 tackles), Harold Perkins Jr., and Greg Penn III, mastered Army's triple-option in a game against a scheme that required advanced eye-discipline and advanced assignment prowess to prove successful. They dominated.
LSU's defense was aggressive all night and also opportunistic. It forced four turnovers.
Safety Andre' Sam had his best game as a Tiger, intercepting two passes, and nearly picking off two more.
LSU, however, did suffer a potentially devastating setback on the last play of the first half when its already thin and vulnerable secondary took a hit that may resonate in Tuscaloosa two weeks from now.
On a Hail Mary attempt to end the half, Zy Alexander intercepted but was injured on the return. Alexander laid prone on his back for several minutes while the teams retired to the locker rooms. Kelly hovered over him and he had to be helped off the field.
It appeared to be an ankle injury, and Alexander didn't return to the game.
LSU held Army to six completions on 15 attempts for only 42 yards.