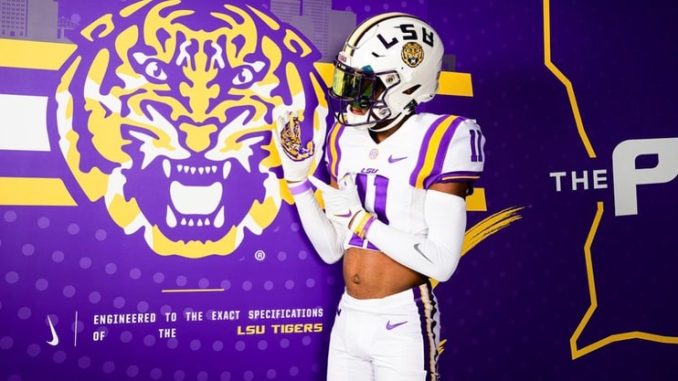 Less than a week after losing a cornerback commitments to Georgia, LSU bounced back Sunday with another cornerback pledge.
The Tigers increased their commitment total to 24 in their current class with a pledge from 6-foot-1, 165-pound corner/safety PJ Woodland of Oak Grove High in Hattiesburg, Mississippi.
"It's just great, everywhere you walk around it's Purple and Gold everywhere," Woodland told On3 Sports. "To play for a team who takes that much pride in themselves is great. Just the atmosphere and the hospitality was great. The entire staff was great as well. The LSU visit was great, really enjoyed myself."
Woodland, who recently dropped his commitment to Mississippi State, was on LSU's campus the past two weeks for unofficial visits. He watched the Tigers defeat Auburn (48-18) and Army (62-0) during that stretch and decided to commit to head coach Brian Kelly.
The addition of Woodland improves LSU's national team ranking to No. 11 per On3 and No. 12 according to 247 Sports. The Tigers recently commitments from cornerback Ondre Evans of Nashville, Tennessee to Georgia and wide receiver Joseph Stone of Fairburn, Georgia.
Woodland, whose chief recruiter at LSU is cornerbacks coach Robert Steeples, picked up a scholarship offer from the Tigers on May 16th and ultimately chose them over Ole Miss.
He's a consensus No. 19 athlete nationally and No. 18 prospect in his home state. He was responsible for 38 tackles, seven interceptions and four pass breakups in 2022.
"From talking with coach Steeples and coach (Eddie) Hicks, those guys believe I have what it takes to play at LSU," Woodland told On3. "I just want to continue the legacy at LSU and DBU."