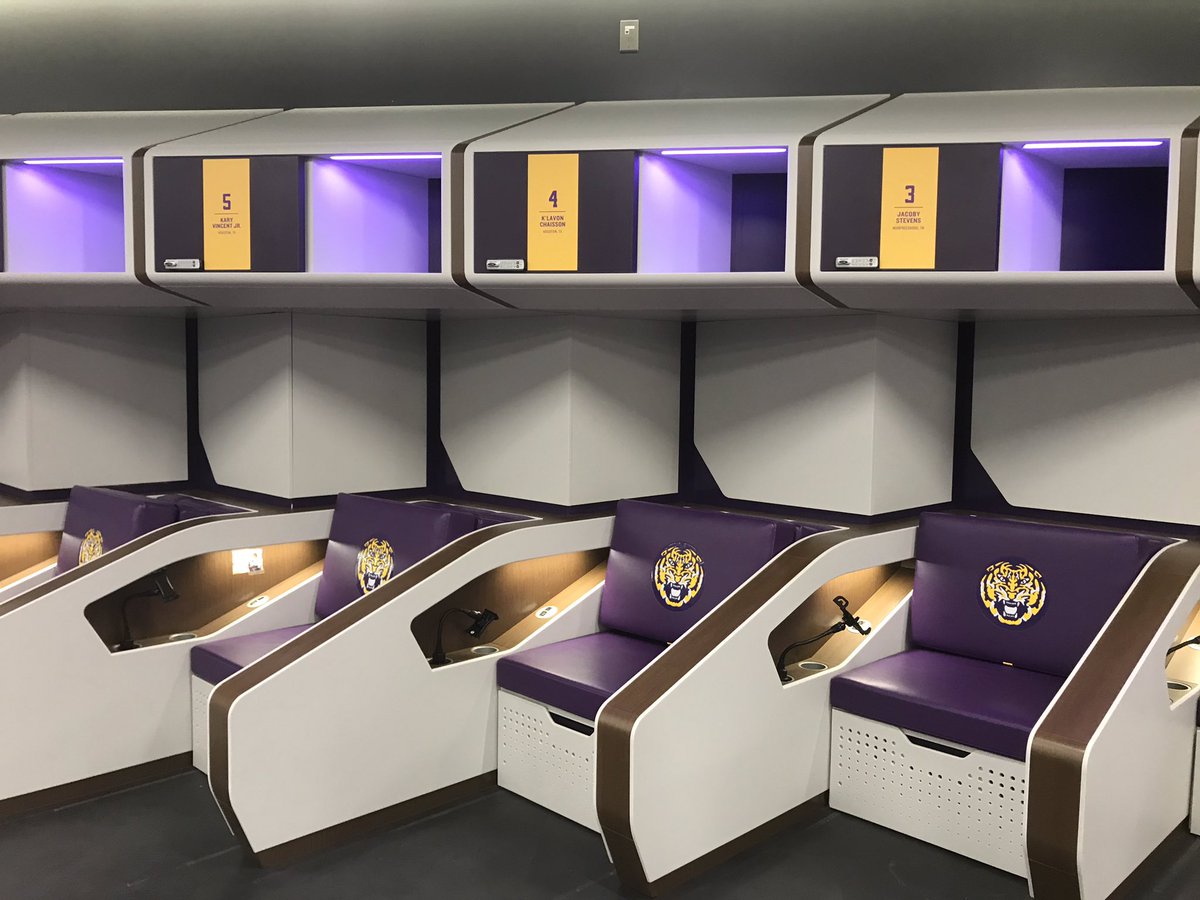 The genesis of the design for the LSU football team's new and now viral locker room originated from a place of inconvenience.
The Tigers had just lost a season-opening game to Wisconsin in Lambeau Field in Green Bay, Wis., and LSU Director of Equipment Greg Stringfellow had to stay back after a problem with the plane planned to return the team home.
It resulted in a long delay in his return home, but he also snagged a first class ticket on a plane used for international flights.
He sat in a ventilated pod, equipped with a personal television with wait service bringing him food and beverages. That's when it hit him.

"Who does a better job of maximizing small spaces than an airplane to maximize comfort. If you think about it, an airplane pod is made to be comfortable, made to sleep in and made to sit down in and watch TV or whatever it is you're doing."
Thus began the process of turning a spark of an idea into a world-class, state-of-the-art locker room that has made waves both within and beyond the LSU community.
First they called the distributor of the pods in first-class flights, but they quickly found that safety regulations for flight inflated the price outside of LSU's budget.
With that avenue exhausted, Stringfellow went to the architects assigned to the project to see what they could cook up.
What resulted is not you're high school locker room. In fact, pads and cleats aren't even allowed in, and the room is heavily ventilated in an attempt to keep the space odor free.
Each pod is equipped with power outlets, an iPad stand and a ventilated foot space for storage. If the rest of the newly-renovated Football Operations Building is a new house, the pods serve as a player's individual bed room.
Despite the ability to sleep 150 grown men comfortably, the room feels far from cramped; spacious, even.
"Jack Marucci, Derek Ponamsky and Greg Stringfellow, those guys really
went across the country to see what they had. I think Jack was the one
who did most of the work with the locker room. It's phenomenal."
It hasn't been an easy process. Stringfellow pointed out that the transition between locker rooms has been quite a task that required team effort.
"(Last season was) tough," he said. "It was tough on my staff. … It took a lot of demand to put on my staff to keep things running in the right direction, and they did a great job."
One thing many may notice is a lack of televisions in the room. One of LSU's non-conference opponents next season Texas famously has individual TV's over every player's locker.
Stringfellow said with the players receiving iPads, they felt the space would be better utilized in other ways, including stands for those iPads that will allow players to watch hands free while at their locker.
There do sit two TV's in the room, however, and they serve an interesting function.
"One of the reasons for these TV's (at the front of the locker room) on this wall as you're kind of getting the Tiger Stadium experience. It's like the run out from the Tiger Stadium tunnel. These two TV's represent the scoreboard."
Photo Credit: James Moran