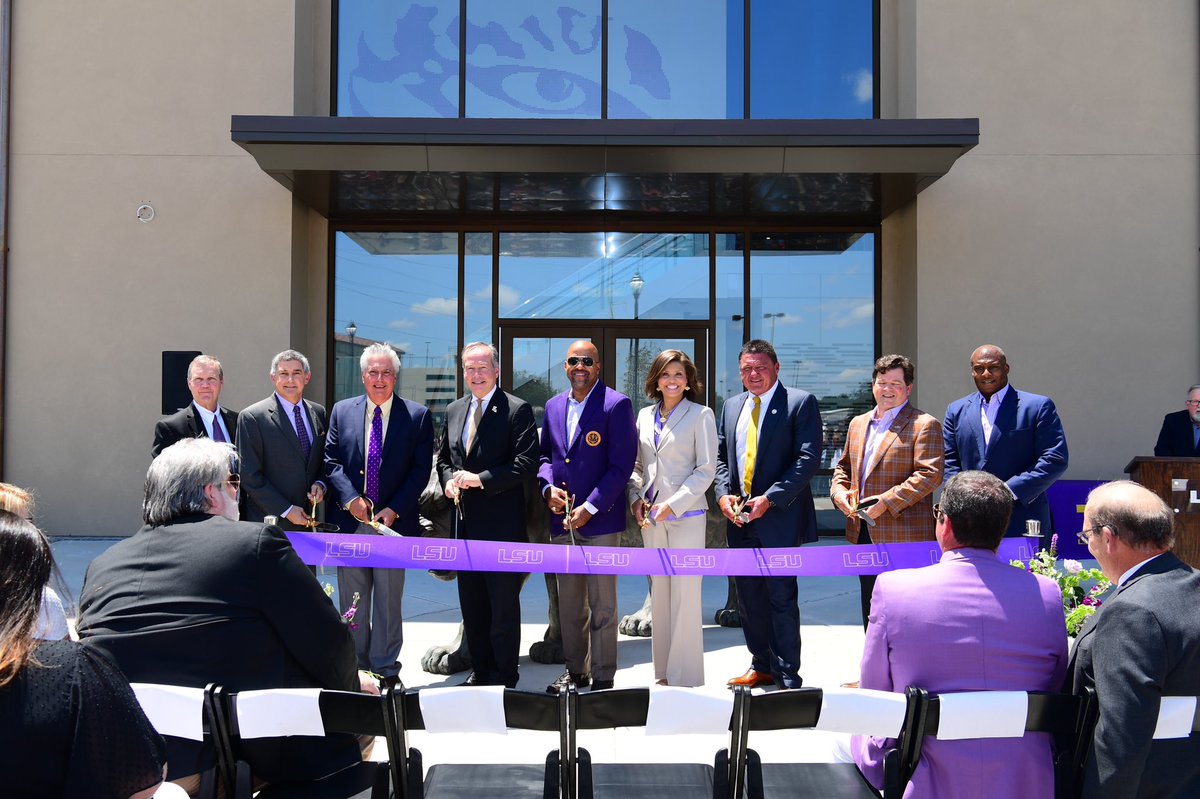 It must've been a fantastic week for whatever Baton Rouge store happens to sell oversized ceremonial scissors.
A line of LSU dignitaries including football coach Ed Orgeron, athletics director Scott Woodward, Tiger Athletic Fund CEO Rick Perry and members of the Board of Supervisors cut a large ribbon Wednesday officially opening LSU's renovated Football Ops Building.
And what a building it is.
LSU unveiled its brand new $28 million masterpiece to the world on Wednesday by giving tours of the facility — including its space-age locker room, a first-of-its-kind immersive walk-through room and an athlete-only nutrition center — to donors and reporters alike.
"This is a day to celebrate a great accomplishment at LSU, and I'm not just talking about this spectacular facility," Woodward said. "This is the finest facility in the nation. It has the very best of everything."
Woodward continued: "This is important for everyone that competes at the highest level, and it's absolutely necessary. But we are also celebrating the student athlete. The unique promise that we make to them: when you come to LSU, the entirety of who you are as a human being is going to be cared for."

As opulent and extravagant as the facility may be, the biggest benefit is its functionality, accord to Orgeron. So what exactly does that mean? We've broken it down into three main areas after a tour and conversations with the people in charge:
1. Central Location
LSU was essentially a football program in flux throughout the 2018 season, and it had nothing to do with breaking in a new quarterback or rumors of Orgeron being on the hot seat.
Renovations forced the staff and players alike to vacate the Football Ops Building and set up shop in Tiger Stadium. That meant players and coaches taking buses from Tiger Stadium's locker room to the practice field and holding meetings in suites upstairs.
The situation was a bit chaotic, obviously, but the hard work of LSU equipment manager Greg Stringfellow and his staff kept things on track. Everyone seemed to make the best of a tough situation as evidenced by a 10-win season.
"We have a saying, we don't blink," Orgeron said. "When they asked us to move out, I was glad to move to Tiger Stadium. Our guys managed well, they managed their time well. Our staff did a great job."
The days of hustling between dorms, dining halls and practice are now over, though.
Players will be able to eat, nap, watch film, work out and practice in one central location now that the facility is operational. Throughout Fall Camp, players will be staying in dormitories located right across the street.
That might not seem like a huge deal, but it solves a lot of problems logistically. Players used to stay in the West Campus Apartments, eat in a regular dining hall and scramble back and forth between those locations and practice throughout long days during camp.
"Everything is walking proximity, and the guys are going to love it," Orgeron said. "They're going to save time. During camp, they used to have to walk across campus to eat and then go to their dormitories to sleep. This will save them about an hour they can rest, and that's going to make us a better football team."
2. Recruiting
LSU's public unveiling sent clear messages to two different groups: future recruits and LSU's competition in the football arms race.
As far as recruits, the reception has been overwhelmingly positive, as one might expect. From the cozy, almost futuristic confines of the locker room to the state-of-the-arm meeting rooms, the building is a great big advertisement about the benefits of playing football at LSU.
NCAA rules forbid LSU from putting the vast sums of money it brings in directly into the pockets of the players, as former Tiger Eric Reid suggested, but Orgeron and Woodward agree that spending lavishly on accommodations for said players is the next best thing.
"When you come to LSU, you deserve the very best," Orgeron said. "I can't wait to get guys in on official visits and unofficial visits. I know they're excited to come."
"It tells everyone that, first and foremost, our student athletes take precedence," Woodward added. "This is what we're investing in, their wellbeing and how they're doing. It just reeks of it. When you come to LSU, the entirety of who you are as a human being is going to be cared for."
That message has also been heard loud and clear by LSU's competition across the country, according to Woodward.
The athletic director said administrators from other schools have called wanting to pick the brains of Stringfellow and Jack Marucci, two men largely credited with designing the facility.
"When Jack Marucci and Greg Stringfellow put their minds to something, it's always going to be first in class," Woodward said. "That's the beauty of it. I can brag about it because I didn't have a darn thing to do with it. This place is incredible.
"I know the competition is lighting guys up and calling me and calling String and Marucci and asking 'What's happening down there?' It's special."
3. Nutrition
The elusive athlete-only dining facility has been in the works for years, including variations of the plan that would've been housed in Tiger Stadium and other locations on campus.
It finally found a home on Skip Bertman Drive as part of the grand renovation to the Footballs Ops Building, which is an added benefit to Orgeron and the rest of the football staff.
The fact that football players can eat, nap and work out in the same building is an obvious benefit, but it also allows LSU to feed its players with staff nutritionists on hand.
LSU always has players it wants to gain weight (see: Myles Brennan) or lose it (see: nose tackles) for performance purposes, and Orgeron expects the new dining facility will be immensely helpful in that regard.
"Our nutritionists are going to be there," Orgeron said. "Obviously we have guys that have to gain weight, and obviously we have guys that have to lose weight. So they're going to go through what they should eat and what they can't eat with the nutritionists, and that's going to be very helpful for us."