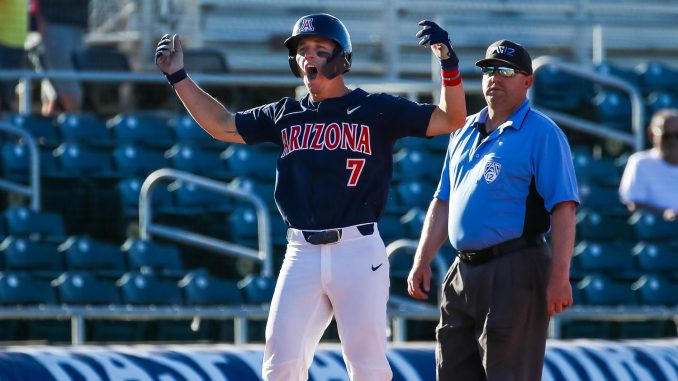 The last player to start for LSU in center field won the Golden Spikes Award and was the No. 2 overall pick in the most recent Major League Baseball Draft.
While Dylan Crews established himself as one of top players in program history, the Tigers are hopeful Arizona transfer Mac Bingham can have a similar impact after the first team All-Pac 12 Conference selection announced Friday he will play his final season in Baton Rouge.
"I look forward to competing in the SEC and further developing as a player," Bingham wrote on his Instagram account. "Geaux Tigers."
The 5-foot-11, 184-pound Bingham, a native of San Diego, California, spent the first two years of his career playing for Jay Johnson with the Wildcats. He signed with Johnson out of Torrey Pines High where he was a standout baseball and running back/linebacker.
Bingham experienced career highs in 2023 with a .360 batting average, .432 on-base percentage, 91 hits, 20 doubles, 10 homers, 51 RBIs and 68 runs scored. He entered the NCAA transfer portal before the start of the MLB Draft, went undrafted over the 20-round event and decided to reunite with Johnson who just led LSU to its seventh national championship.
Johnson has secured five commitments from the transfer portal and first outfielder with Bingham's announcement. LSU's also gained pledges from pitchers Justin Loer of Xavier (Ohio), Kade Woods of Alabama and Gabe Jump of UCLA along with shortstop Michael Braswell of South Carolina.
Bingham earned Freshman All-America honors from College Baseball News after the COVID-19 shortened season in which he batted .361 with a homer and seven RBIs. He started in 99 of his next 117 games for the Wildcats, improving his power numbers from one homer in 2021 to six in '22 and 10 this past season. His run production also picked up considerably from 33 in '21 to 47 in '22 to 51 this year.
Athletic genes run deep in the Bingham household with his father Roger having played football and lacrosse for the Naval Academy. His cousins, Brent and Bob, both played baseball at USC.
Bingham, a 40th round MLB selection by the Chicago Cubs out of high school, earned first team all-state honors in baseball and was a two-time all-city choice his junior and senior seasons. He batted .387 with 11 doubles and six homers and scored 37 runs in his senior year.
Moreover, Bingham rushed for 2,906 yards and 44 TDs in three years at Torrey Pines where he set a single-game city record with eight touchdowns and 50 points.