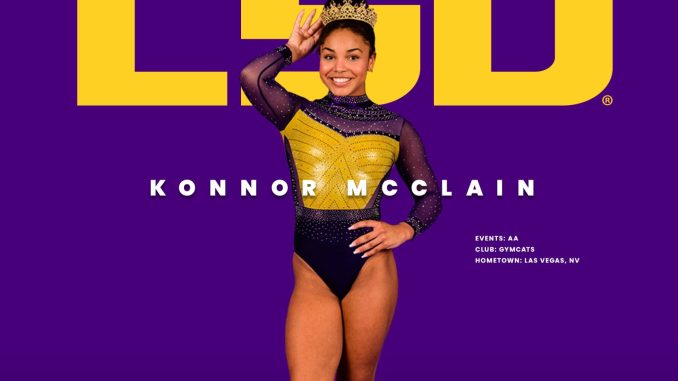 U.S. champion Konnor McClain has announced she will compete at LSU for the 2024 season, coach Jay Clark announced this week.
"We are thrilled that Konnor has decided to become a Tiger now and join this special group of young women. She brings an incredible wealth of talent and experience to our team," Clark said.  "She's joining a team that has had tremendous culture and love for one another, and I believe that culture played in her decision to get here a year earlier than originally planned."
McClain, a native of Las Vegas, Nevada, is a decorated all-around gymnast with experience on the national and international levels. 
McClain has been a member of the U.S. National Team since making her debut at the City of Jesolo Trophy competition in 2019, where she helped Team USA win silver. Individually, she earned gold in the all-around, gold on vault, bronze on the uneven bars and bronze on floor.
She also represented Team USA at the 2021 World Championships and was a part of the national team who took home gold at the City of Jesolo competition in 2022.
McClain has won multiple medals across various competitions including the U.S. Classic, U.S. National Championships, City of Jesolo Trophy, International Gymnix, Winter Cup and DTB Pokal Team Challenge. In total, she owns 22 gold medals, nine silver medals and seven bronze medals.
Last year, McClain was named the 2022 Winter Cup all-around and balance beam champion and earned a bronze medal on floor to earn her spot in the championships.
She climbed her way to the top of the podium at the 2022 U.S. Gymnastics Championships in August to earn national champion status. Her combined eight-rotation score (prelims and finals) of 112.750 in the all-around and 28.900 on beam earned her gold at the competition in Tampa, Florida.