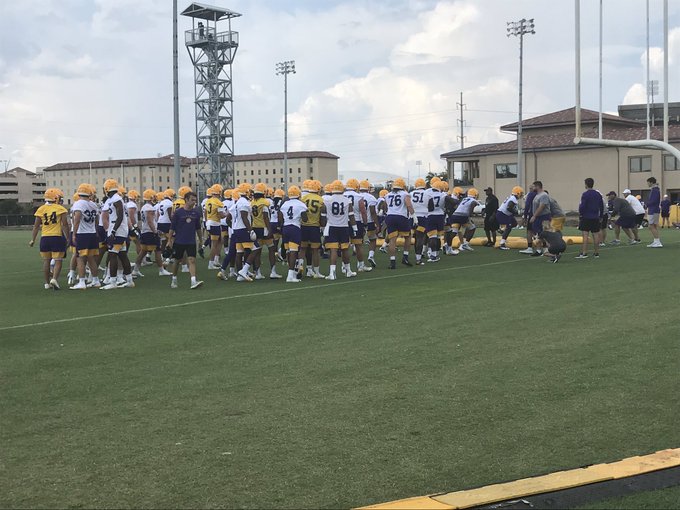 LSU began its first practice of Fall Camp by lining up in a five-receiver set, setting running back Clyde Edwards-Helaire in motion and throwing him a screen.
New offense indeed, am I right?

Everything LSU chooses to do during the portions of practice made open to the media should be taken with a grain of salt, but for what it's worth, here's how LSU lined up on the first play:
LT: Saahdiq Charles
LG: Adrian Magee
C: Lloyd Cushenberry (Wearing his new No. 18 jersey)
RG: Damien Lewis
RT: Austin Deculus
QB: Joe Burrow
RB: Clyde Edwards-Helaire
TE: Thaddeus Moss
WR: Justin Jefferson
WR: Ja'Marr Chase
WR: Terrace Marshall
It's perhaps notable that Magee took the first rep. Ed Orgeron has said the left guard spot will be an open competition between Magee, Chasen Hines and Kardell Thomas.
ABSENCES
Tight end Stephen Sullivan and wide receivers Dee Anderson and Trey Palmer were absent from the media viewing portion of practice.
For what it's worth, Sullivan did graduate from LSU on Friday, which could explain his absence.
DJ LOOKING ON
Injured defensive line coach Dennis Johnson watched practice from afar. The assistant severely injured both of his knees playing basketball, and is thus confined to a wheel chair.
VIDEOS