By Tiger Rag Staff
Tiger Rag earned 10 awards at the 136th Annual Louisiana Press Association Convention in Lake Charles Saturday, including four first place awards in feature writing, photography, and design.
The Alabama Press Association judged the competition, which included 2,777 submissions from 58 newspapers, publications, and college/university student newspapers.
Graphic designer Joe Gallinaro won the Gary Hebert Award for Most Effective Use of Graphic Design on a Single Page for his work on "Familiar Foe," a look back on LSU's history with former Florida and South Carolina head coach Steve Spurrier, in Volume 38, Issue 18 of Tiger Rag.
http://www.tigerrag.com/wp-content/uploads/Joe-Award.pdf
Editor Cody Worsham won first place in Individual Feature Writing for his story on former LSU basketball star and world record free throw shooter Ed Palubinskas from the 2015 Legends Issue of Tiger Rag. That story also placed second in the Best Feature story category. Cody's stories swept the Individual Feature Writing category, with his profile of LSU director of player personnel Austin Thomas from Volume 37, Issue 27 placing second and his cover story on Ben Simmons from the 2015-16 Basketball Preview placing third.
Photographer Sean Richardson's photo of Jamal Adams for the 2015 Football Preview won Best Feature Photo, while his cover photo of Donte Jackson for the Freshman Issue placed second.
Third first place award of the day for Tiger Rag at the LPA Awards: @Seaun for this shot of Jamal Adams. pic.twitter.com/naRhcwJBAn

— Tiger Rag (@Tiger_Rag) June 18, 2016
Photographer Terrill Weil's cover photo from Volume 38, Issue 26 of Les Miles on his players' shoulders after the Texas A&M game won Best News Photo.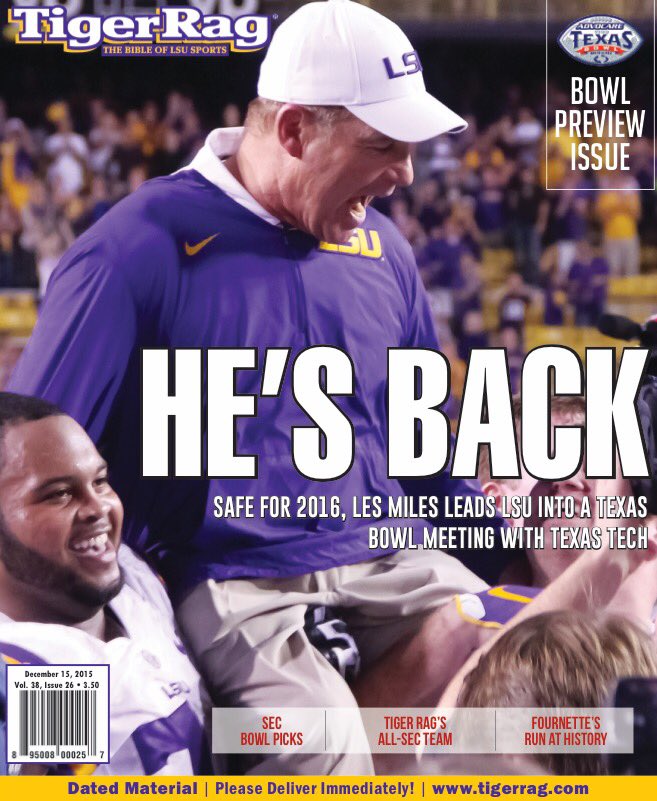 Columnist and Tiger Rag President Jim Engster finished third in the voting for the Sam Hanna Award, given annually to the Best Regular Column.
Tiger Rag also finished second in the General Excellence category. The submissions included the 2015 Football and Basketball Preview issues.