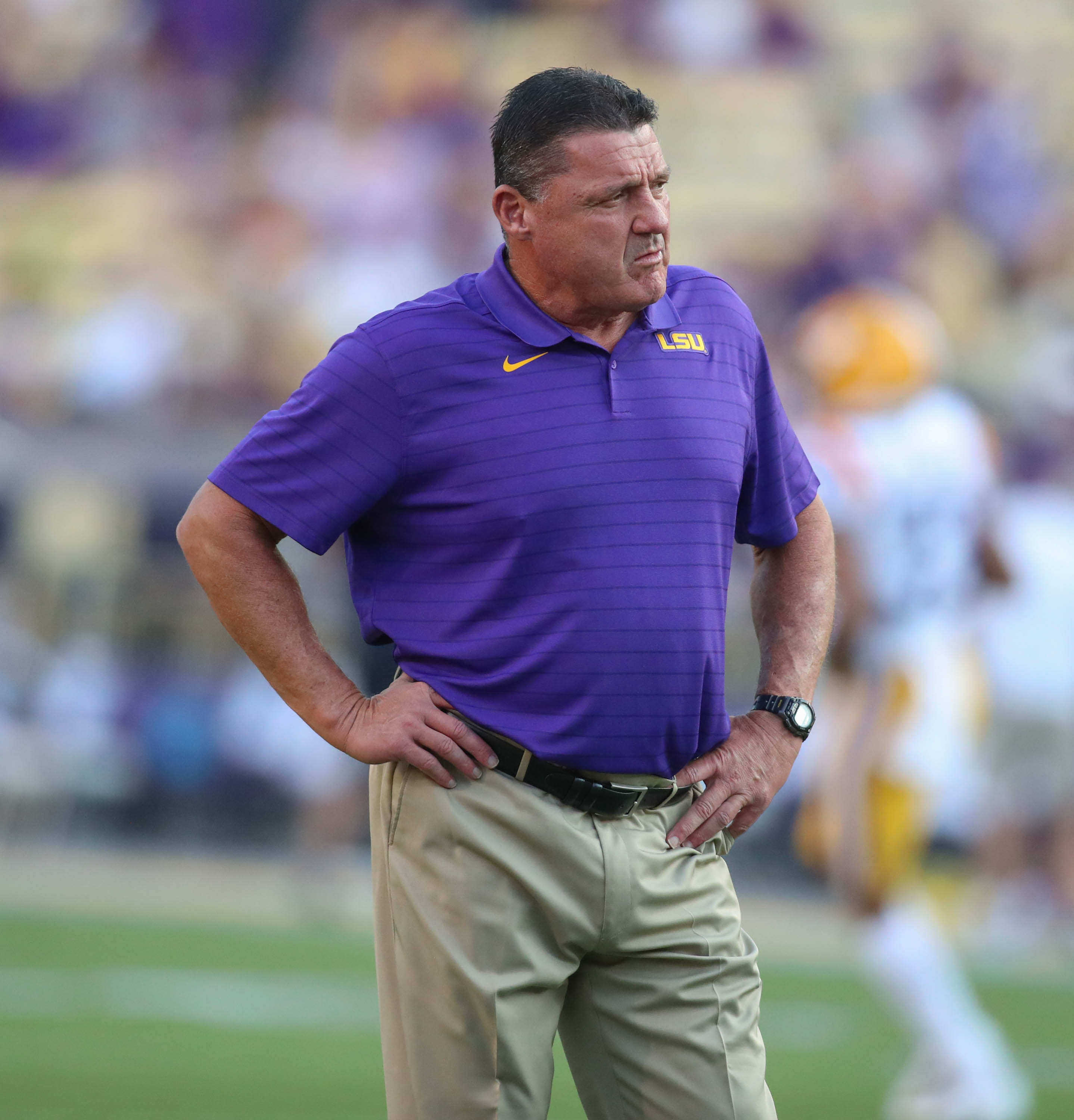 LSU's Ed Orgeron led off Wednesday's SEC head football coaches media teleconference. Here's what he had to say:
Opening statement
We're excited to have another home game. We had an outstanding crowd last week. Our players are looking forward to getting better. We're fixing LSU this week. We still have numerous things we have to fix in all three phases of the game. Lots of respect for Central Michigan. They're a good football team. Very physical style of football.
On the challenge of stopping Central Michigan's running game that's averaging 238.5 yards
They run the ball. Lew Nichols is an outstanding runner, they have a great scheme. A zone scheme, a gap scheme, they run the ball inside and outside. The biggest challenge is tackling Nichols. He does a good job of yards after contact. This is going to be a physical football game and a good test for us.
On if there is an update on academically ineligible LSU running back John Emery Jr.
He's unavailable right now for the year unless things change, and things could change. When they do change, I'm going to play him.
On whether LSU running backs coach Kevin Faulk will coach Saturday in the wake of his 19-year-old daughter's death on Monday
Obviously, we put Coach Faulk and his family first. Everybody here is sick to their stomach, feel bad for Coach Faulk, he's a great man, great family. I couldn't imagine the pain that they are going through. So right now, Coach Faulk is with his family. I told him to take his time and do whatever he needs to do. He's a Tiger. I don't expect him to be here Saturday. I expect him to take his time and take care of his family first.
On what he's seen from LSU's defensive front
All camp I saw an outstanding pass rush and that has continued. I think Andre Carter (new D-line coach) has brought a great mentality to our line. Great techniques with our pass rush. We have to stop the run. We have to be gap sound, physical upfront, play in our gaps and make tackles. It's going to be a big challenge for us this weekend.
On the play of Ali Gaye
He's a tremendous pass rusher. He was unavailable last week, he's going to be unavailable this week.
On what he wants to see from LSU's offense this week
Consistency, different tempos of the offense, sometimes fast, sometimes slow, not as many lookovers (to the sideline to change the play), be more decisive. We need to put out players in better positions to give the ball to our playmakers in space and let them make plays. We need to block better upfront, we need to have better schemes. We need to run the ball better and we need to protect. There's a lot of things on offense that need to be fixed right now.
On what he would tell anyone interested in the Southern Cal head coach vacancy since he coached there for 11 seasons
It's one of the top jobs in the country, great place, great tradition, great school, I enjoyed my 11 years there at USC. Whoever gets that job can recruit Los Angeles, should be a great job for someone. But I'll tell you what, ain't nothing like being an LSU Tiger.
On the status of injured safety Jay Ward and how his replacements have played
I don't think we'll have him Saturday, hopefully we'll have him next week for Mississippi State but not sure of that yet. It's day-by-day right now.
Cam Lewis has done a good job and so has Jordan Toles. They have a good week of practice. They're going to be challenged (by Central Michigan) but I think they are up for the challenge.
On LSU wide receiver Kayshon Boutte's Tuesday comments that the Tigers overlooked UCLA in the Sept. 4 season opener
I don't know. Obviously, as a coaching staff we try to get it across, especially after I saw them (UCLA) beat Hawaii the way they did. That's a player's opinion. Maybe he's correct. I haven't heard talk about that. But we didn't play well and I should have prepared the team well. I put it all on me.