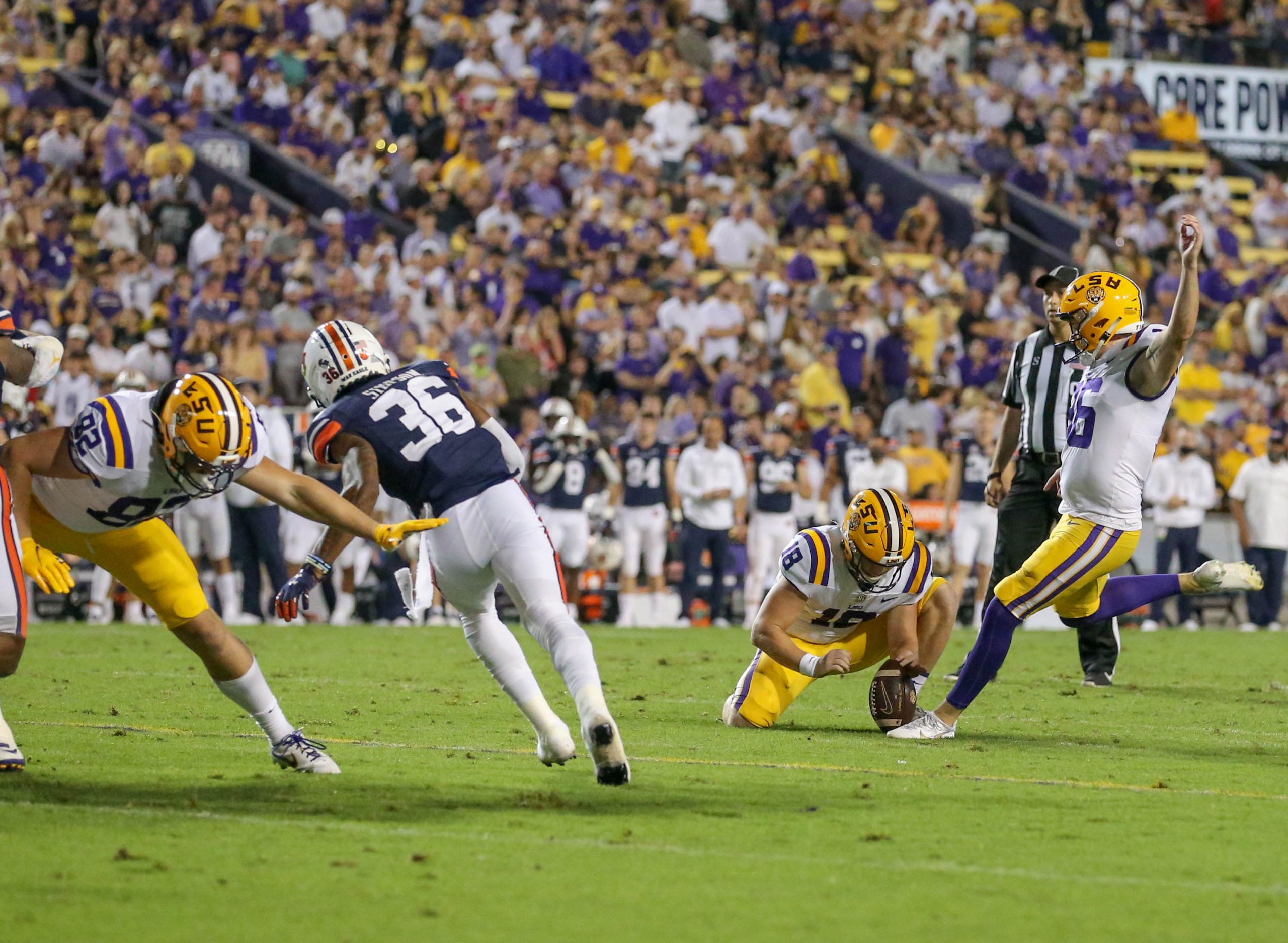 It was nearly a recipe for disaster when LSU perilously hung on for a three-point victory last week at Mississippi State.
A week later the Tigers, who had another early two-touchdown lead only to watch it wither away in the second half, encountered a much different outcome.
No. 22 Auburn rallied from a 13-0 second-quarter deficit, turning to a resurgent quarterback Bo Nix that completely baffled LSU's defense and it was the homestanding Tigers' struggles in the red zone that resulted in a disheartening 24-19 setback Saturday before a Tiger Stadium crowd of 97,717.
"You've got to want it," LSU senior linebacker Damone Clark said. "We've got to want it more. We can't win the game in the first, second or third quarters. You've got to win the game in the fourth quarter."
LSU's 18-point cushion nearly completely vanished when Mississippi State scored three touchdowns in the last 11-plus minutes of the fourth quarter. But the Tigers, despite the lack of a running game, connected one big pass play to keep their heads above water and provide a successful outcome.
LSU (3-2, 1-1 in SEC) scored on its first offensive series of the game – an 8-play, 91-yard drive – with quarterback Max Johnson perfectly dropping in a pass to his leaving receiver Kayshon Boutte for a 31-yard TD pass and 7-0 lead.
The Tigers increased their lead to 13-0 at the 8:38 mark of the second quarter on a pair of field goals from Cade York, but that eventually led to their downfall and kept the door for Auburn (4-1, 1-0).
After going to the bench for one series in favor or T.J. Finley, Nix returned with a vengeance and led Auburn to 10 points over the final five minutes of the first half, pulling his team to within 19-17 with 14:16 remaining and helped his team win the game with a 11-play, 92-yard drive that Jarquez Hunter capped with a 1-yard run with 4:53 left.
"We couldn't run the football," LSU head football coach Ed Orgeron said. "We couldn't block well up front and couldn't tackle the quarterback."
LSU had 10 offensive series after its opening touchdown with only 12 points from York to show for it.
York was a perfect 4-of-4, including three field goals from 33 yards and in. The Tigers also punted four times, Johnson was intercepted with 1:09 left to be played, coupled with the end of the first half.
"We wanted to throw the quick pass, throw the slants and it worked," Orgeron said. "Then after that they locked down on their coverage. We couldn't run the football. There was too much pressure on the quarterback. It just wasn't very good."
The culprit? For the second straight week a constant theme this season has been LSU's inability to generate a running game that ranked tied for 122nd nationally (80 yards per game) with only seven teams being worse.
LSU enabled State to hang around with an offense void of a rushing attack that had 63 yards on 27 carries for 1.3 yards per carry.

They were worse in Saturday's game with Auburn with 24 attempts for 29 yards.
"I'm really disappointed in that," Orgeron said. "We have two guys (Austin Deculus, Ed Ingram) on that offensive line that won a national championship. I thought that would be one of the strengths our football team and it's not."
LSU twice had the ball in favorable field position in the third quarter and each time came away with field goals from York and led 19-10 instead of being able to gain separation.

LSU took over at Auburn's 45 after the visiting Tigers' failed onside kick attempt which also included a five-yard penalty. They reached AU's 5-yard line but didn't get any closer after Ty Davis-Price was dropped for no gain and Johnson twice threw incomplete.
Jay Ward seemingly gave LSU a lift at the 9:08 mark of the third quarter, coming off the left side of Auburn protection to block Anders Carlson's 52-yard field goal, leaving his team with a 16-10 lead.
Once again LSU asked Johnson to compensate for a lack of a running game by trying to pass the ball the majority of the time against a defensive front that brought constant pressure.
Johnson wound up 26 of 46 for 354 yards with an interception and touchdown. With LSU abandoning the running game after losing the lead to Auburn in the fourth quarter, Johnson threw 13 consecutive passes until Davis-Price kept for four yards on second-and-10.
An apparent 22-yard completion from Johnson to Boutte was overturned by an official review and two plays later Johnson was intercepted looking for Deion Smith.
"We came in with a running plan, but it didn't go as planned," Johnson said.
Nix, who was benched in last week's 34-24 home win over Georgia State, accounted for 329 yards of offense and two touchdowns. His ability to escape the pocket provided a hardship for LSU's defense, which led the nation in sacks, without a sack for the second consecutive game.
He completed 23 off 44 passes for 255 yards and it was his first TD pass which very well may have been the game's turning point when his team trailed, 13-0. On fourth-and-two, he left several LSU defenders in his wake on a scramble the width of the field, finally slipping away from linebacker Micah Baskerville to deliver a 24-yard TD pass to Tyler Fromm.
Auburn closed to 19-17 on Nix's 5-yard TD run and closed by engineering his team's winning drive by accounting for 39 yards. He twice converted on third downs with a pair of swing passes that maintained the drive Hunter finished off with a 1-yard run to help Auburn outscore LSU, 24-6.
"We couldn't tackle Bo Nix," said Clark, who led LSU with 13 tackles. "We had him where we wanted him. We did things we were supposed to on first and second down. We were able to have some fun on third down. We just didn't come through. Way too many missed tackles."