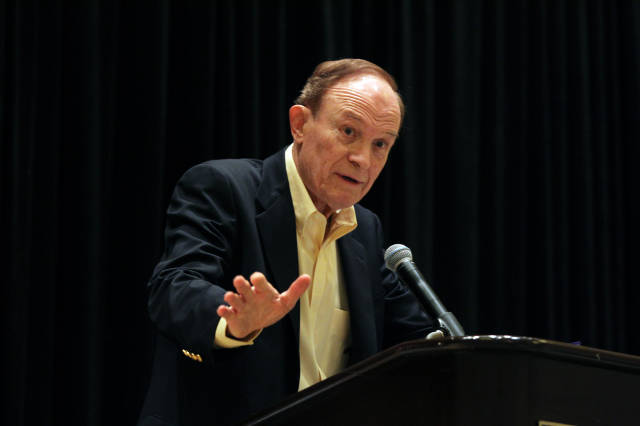 LSU's Sweet Sixteen date with Michigan State sparks memories of the last meeting between the Bengals and Spartans. It was almost exactly 40 years ago to the date that Magic Johnson and Michigan State defeated the Tigers 87-71 in Indianapolis on the way to the national title of 1979. Jimmy Carter was president while Edwin Edwards was closing his second term as Louisiana governor and Charles McClendon was prepping for his 18th and final season as Tiger football coach.
On March 16, 1979, one day before the birth of Stormy Daniels in Baton Rouge, Magic Johnson, Greg Kelser and MSU downed a wounded LSU team that played the game without its best player, Rudy Macklin, who was injured and minus its second best performer, DeWayne Scales, who was suspended for having contact with agent Andrew Benson.
This year it is the coach on the periphery and not in the arena as Will Wade, who is accused of illegal contact with a middleman, is suspended until he agrees to meet with his bosses. Ordinarily a denial is sufficient to put such stories to rest, but Wade was caught on tape and that is a deal-breaker. Despite the chants of "Free Will Wade," the coach won't be returning to LSU for a third season as Scales did in 1979-80 after his misconduct ended the sophomore campaign of "The Astronaut."
The tournament appearance for the Tigers in 1979 was the first NCAA bid for LSU since 1954 and marked the first SEC basketball championship for LSU in a quarter century. It was a unit laden with stars when the season started with Macklin and Scales joined by Ethan Martin, Al Green, Lionel Green, Greg Cook and Jordy Hultberg.
LSU posted a 14-4 record in the conference without Macklin and won its opening round matchup in the NCAA Tournament against Appalachian State (71-57) with its two stars sidelined. But Michigan State, coached by Judd Heathcote, featured the best player in America in its 6-foot-8 sophomore guard, who would lead the Los Angeles Lakers to the NBA Championship a year later.
A crowd of 17,423 assembled at Market Square Arena as Magic Johnson scored 24 points and delivered 12 assists for the Spartans. The leading scorer in the game was not Johnson, but Hultberg, who scored 25 points with an 11-for-20 performance from the field. Most of Hultberg's shots were from three point range, but there was no three -point basket in the college game at that time. The rule came into effect seven years later.
The leading rebounder in the clash was Lionel Green of LSU. "Tree," who played center at 6-foot-8 and 205 pounds corralled 15 rebounds and scored 12 points in his final clash for the Tigers, who outscored MSU 62-to-54 from the field. Michigan State converted 27-of-36 free throws to 9-of-13 for LSU.
LSU guru Dale Brown reflected on a historic season with pain a few months later. "Without the injury to Macklin and suspension to Scales, there is no doubt we would have won the national title," lamented Brown, who famously ordered the SEC championship banner to drop minutes before the final buzzer against Alabama. The goal of a national title remained elusive for Brown, but there were other opportunities, the best coming in 1987.
Thirty-two years ago, LSU posted a pedestrian 8-10 record in the SEC, but captured an NCAA bid after its Final Four odyssey a year earlier.
LSU entered the 1987 NCAA Tournament as a ten seed with a 21-14 overall mark and upset 32-3 Temple 72-62 and beat 28-2 DePaul to advance to the Elite Eight. The matchup at Cincinnati to advance to the Final Four pitted LSU against 27-4 Indiana, champs of the Big Ten.
Indiana was a prohibitive favorite against LSU after beating Fairfield (92-58), Auburn (107-90) and Duke (88-82). The Tigers were amazingly ahead by a dozen points with six minutes remaining and appeared to be positioned to avenge the 1981 Final Four defeat to the Hoosiers.
Indiana Coach Bob Knight was on his worst behavior by design. He tossed a phone at the press table and received no technical foul, and his histrionics intimidated an officiating crew that put Indiana at the line 24 times to 10 for LSU. The Hoosiers outscored LSU 21-4 at the free throw stripe and captured a 77-76 victory even though LSU won the scoring battle from the field, 66-54. Nikita Wilson missed a 15-footer at the buzzer that would have possibly meant the NCAA crown for the Bengals.
With a win against Indiana in '87, LSU would have advanced to the Louisiana Superdome for the Final Four. Indiana savored another national title at the Dome by defeating UNLV and Syracuse with Baton Rouge native Keith Smart scoring the championship basket against the Orangemen.
Smart had a great season for the Hoosiers, but he was outplayed against LSU by Anthony Wilson and Fess Irvin. Smart scored 10 points and had one assist in 39 minutes while Steve Alford produced 20 points, going 10-for-10 at the line.
Down the stretch, LSU did not convert key free throw attempts, but the last six seconds were picture perfect as the Tigers delivered the ball to Wilson. His 15-footer narrowly missed its mark. Wilson played all 40 minutes and scored 20 points with a 9-of-16 output from the field.
One basket would have changed history, but it was not meant to be for Brown in his 15th of 25 seasons at LSU. Knight collected his third national title at Indiana at 46, but never won it again. Brown carried a grudge against Knight which prompted the LSU coach to challenge his Indiana counterpart to a naked wrestling match in a closet.
The LSU teams of 1980 and 1981 were the best Tiger teams, but 1979 and 1987 were the best opportunities for LSU to win it all.
The beauty of the tournament is its unpredictability, and this has been the case since the event began in 1939. In 1944, Utah was a late entry to the NCAA field after several members of the Arkansas team were seriously injured in a car accident.
Utah had lost its opening round NIT game before receiving the NCAA invite, and the Utes responded by winning the title with a 42-40 victory over Dartmouth in the final game. Seventy-five years later, Vadal Peterson's team is the only NCAA champion to start four freshmen.
Thirty years ago, Michigan outpointed Seton Hall 80-79 in overtime at Seattle to win the NCAA under Steve Fisher, who had coached just six games for the Wolverines. Fisher was named head coach by Athletic Director Bo Schembechler after Bill Frieder announced he would move to Arizona State after the tournament. Schembechler grumbled that Frieder was "not a Michigan man" and installed Fisher as head coach.
In 80 years of NCAA Tournament play, LSU has had four Final Four journeys with no victories. Kentucky has been to the final game 14 times, winning eight championships. The Wildcats have reigned as champs in 1948, '49, '51, '58, '78, '96, '98 and 2012. The SEC remains Big Blue country which makes LSU's victory at Lexington and league honors this season an impressive achievement. Fans may always ponder how the season would have culminated if Will Wade had been around for the duration.