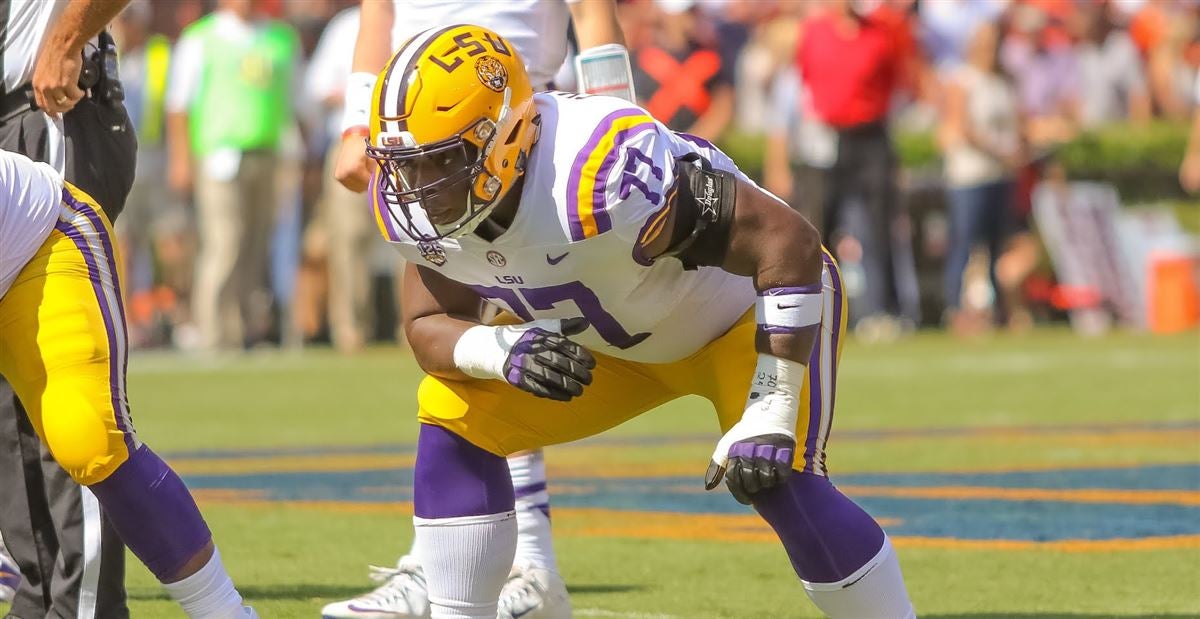 LSU is preparing for a match-up against Florida this Saturday night that'll feature far and away the most formidable pass rush that the Tigers have faced this season.
Fortunately for LSU, Joe Burrow will have his blindside protector back in the lineup for the top-10 showdown.
Left tackle Saahdiq Charles will return to the lineup after sitting out the Utah State game as a coach's decision, LSU coach Ed Orgeron announced Monday.
"Saahdiq Charles is going to play this week," Orgeron said.
However, LSU will be without backup tackle Badara Traore, Orgeron said. Traore didn't play against Utah State and was spotted in a walking boot before the game.
Even with Traore out, Orgeron expressed confidence in LSU's depth up front thanks to the return of Ed Ingram. Starting Ingram at left guard would allow LSU to use Adrian Magee as a backup at either guard or tackle spot.
Orgeron also updated the condition on a trio of injured defenders who didn't play against Utah State:
Defensive end Rashard Lawrence will practice this week and "hopefully" will be ready to play against Florida.
Linebacker Michael Divinity will practice this week and "hopefully" will be ready to play against Florida.
Defensive end Glen Logan will be "limited" in practice this week and LSU doesn't know if he'll be able to play against Florida.
LSU is dealing with a new injury in the secondary as freshman cornerback Cordale Flott sustained an injury against Utah State.
Orgeron expressed doubt as to Flott's status for the Florida game. That leaves Kristian Fulton, Derek Stingley Jr. and Jay Ward as LSU's healthy scholarship cornerbacks.
Flott has seen increased playing time of late as LSU moved Fulton to the slot in third-down situations. Orgeron wasn't ready yet to announce how LSU would adjust to his potential absence.
"We have to see if Jay Ward and those guys are ready," Orgeron said. "We have to talk about it. We haven't talked about it as much. We're going to wait to see how Cordale is towards the end of the week, but right as I talked to (LSU trainer) Jack (Marucci) this morning, we don't think he's going to play. So I might have a better answer for you on Thursday."
BALL SECURITY
LSU spent two weeks leading up to the Utah State game aggressively addressing it's deficiencies in the tackling department.
The result was a dominant effort during which the Tigers held a high-powered Aggie offense to just six points and 159 yards of offense.
This week Orgeron has set his sights on the other side of the ball in terms of an area in need of improvement: ball security.
LSU put the ball on the ground three times against Utah State and was fortunate to only lose one. That will be addressed in practice this week.
"I'm very concerned with that," Orgeron said. "We're going to work — just like we attacked tackling last week. We attacked it, we got better at it, we went back and looked at the film, what we were doing right, what we were doing wrong. And we were a much better team tackling.
"I expect us to be a much better team holding onto that football this week and it's going to be addressed every day, I promise you that."
Starting running back Clyde Edwards-Helaire has fumbled twice in as many games. Freshman running back John Emery lost a fumble in the Utah State game.
That being said, Orgeron said LSU won't hesitate to use Emery to fellow rookie Tyrion Davis-Price against Florida.
Neither played much when LSU faced Texas last month, but the freshmen are ready to go for this ranked match-up.
"They're two different backs, they're two good backs," Orgeron said. "John can put his foot in the grass and make a cut about as good as most people I've been with. Still needs to hold on to the football. He was trying to give extra effort and all it is is putting two hands on the ball when he gets in traffic. Tyrion is a bull, he's going to go north and south and he can run you over and he runs with an attitude.
"So I think that we kind have a thunder and lightning deal right there going on. The more snaps they get the better they're going to be."
FULL HOUSE
LSU announced Monday that this Saturday's top-10 game against Florida at Tiger Stadium is officially a sellout.
Kickoff is set for 7 p.m. on ESPN. ESPN's College GameDay will also be on campus for a non-Alabama game for the first time since the 2014 LSU-Ole Miss game.
Orgeron also made a point of adding that LSU will be hosting as many recruits as possible this weekend.
"It doesn't get much better than that," Orgeron said. "It's going to be a wonderful night for the LSU family of Tigers. This is going to be a big recruiting weekend for us."