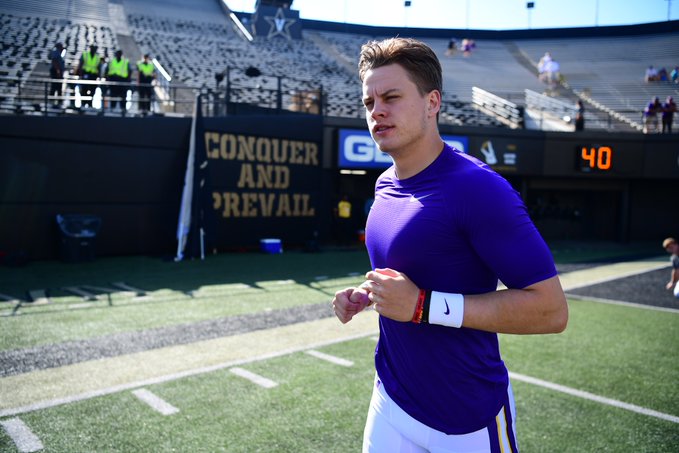 Joe Burrow's assault on the LSU record book is relentless. After four games, Burrow has surpassed last year's total for touchdown passes with 17 and has 1,520 yards in the air.
In a 14-game season projection, the Tiger star is slated at this pace to finish the season with 5,320 yards and 60 touchdowns.
It's looking more like another Game of the Century looms on Nov. 9 in Tuscaloosa. This one elicits memories of 1971 when undefeated Nebraska faced undefeated Oklahoma for what amounted to the national championship on Thanksgiving Day in Norman.
The Cornhuskers prevailed 35-31 in a clash that Sports Illustrated described as the irresistible force (Oklahoma) and the immovable object (Nebraska). The Cornhuskers boasted the best defense in America while the Sooners ran roughshod over opponents with a wishbone featuring Greg Pruitt, who gained 1,790 yards in 12 games and averaged 9.0 yards per carry.
Pruitt was the best player in the country in 1971 but finished third in the Heisman balloting to Pat Sullivan of Auburn and Ed Marinaro of Cornell. No. 1 Nebraska and No. 2 Oklahoma showed their might by pounding 11-0 Alabama, 38-6, and 9-1 Auburn, 40-22, in the Orange and Sugar Bowls on New Year's Day of 1972.
Alabama and LSU are joined by Clemson and Georgia in competition for national honors, but the odds are strong that two unbeatens will converge at Bryant-Denny Stadium six weeks from Saturday.
Burrow's six touchdown frenzy in a 66-38 rout of Vanderbilt prompted as many cheers for the offense as concerns for the defense, which is reminiscent of the Oklahoma defense of 1971. The Sooners gave up 27 or more points four times, but OU pulverized foes with an unstoppable offensive juggernaut. LSU's production with its stellar passer makes the Tigers a threat to beat Alabama for the first time since the last Game of the Century.
SEC titans on cutting edge of technological revolution
Alabama and LSU have their football programs highlighted in the New York Times in the last month for matters peripheral to what happens on the field.
The newspaper of record notes that Bama boss Nick Saban has been ticked off that students depart Bryant-Denny early. The administration has responded to Saban's fury by rewarding students who stay with improved access to tickets for the SEC Championship Game, the college football playoff semifinals and the title game that Alabama is trying to reach for a fifth straight year.

Alabama is able to keep track of students by using location tracking technology from phones to see who stays and who leaves.
Student Garrett Foster is quoted as saying, "Don't schedule cupcakes."
The senior from Birmingham was commenting on a succession of pushovers invading Tuscaloosa this season: Western Carolina, Southern Miss and New Mexico State.
The NY Times also focuses on the $28 million football operations building at LSU, noting jetted tubs, anti-gravity treadmills and sodium-infused water coolers and a centrifuge used for blood work.
This opulence infuriates many professors who lament the deplorable state of the Middleton Library and other buildings in need of maintenance. "LSU players also regularly have their seat analyzed for nutritional deficiencies. They swallow digestible electronic pills that monitor body temperature. This summer, a dozen athletes wore neuroimaging headgear for the first time to get a peek at how their brains function in simulated athletic conditions."
As much as the football operations palace has been criticized, it should be recognized that the sticker price was only one-third the cost of the $85 million recreation center across campus on sorority row.
LSU facing weak non-conference slate on court
Will Wade has survived a recruiting scandal to coach a third season at LSU and will have a remarkably weak non-conference schedule in 2019-20. The Tigers face Bowling Green, Virginia Commonwealth, Nicholls State, Rhode Island, Missouri State, New Orleans, Northwestern State, East Tennessee State, USC and Liberty in ten non-SEC dates that should provide no fewer than eight wins for Wade and Co.
The philosophy of feasting on a menu of patsies was not embraced at LSU in its glory days on the court. In 1981-82, Dale Brown was coming off his best season with the loss of four major players in Rudy Macklin, Ethan Martin, Greg Cook and Willie Sims.
The Tigers in the year that current coach Will Wade was born played this lineup of non-SEC foes: UNLV, Texas A&M, St. Peter's, Texas-El Paso, UCLA, Wake Forest, Houston and Wichita State. This type of non-league scheduling was common in the Brown years and fans got their money's worth. Most major powers played at the PMAC at some point between 1972 and 1997. Not coincidentally, season tickets were at a premium for most of that era.
Forty years ago Tiger Stadium was pulsating over a non-conference visitor
This week is the 40th anniversary of the most electric game in Tiger Stadium's rich history. USC was defending a national championship on Sept. 29, 1979 when the Trojans arrived in Baton Rouge against an LSU team with no superstars.
The men from Troy rolled into TigerTown with a roster featuring three future Pro Football Hall of Famers in Ronnie Lott, Anthony Munoz and Marcus Allen and two budding Heisman winners in the same backfield in Charles White and Allen. A year earlier, the Trojans pounded Alabama 24-14 in Birmingham in Bama's only loss of 1978. John Robinson's unit entered Death Valley with a swagger and for good reason.
In a game that was at fever pitch from start to finish, LSU appeared destined to upset the invincible juggernaut from Los Angeles. The Tigers led 12-10 late in the fourth quarter when the final USC drive stalled. But Benjy Thibodeaux was flagged for a marginal face mask violation, enabling the Trojans to keep possession, score and take a 17-12 lead. All-SEC center John Ed Bradley remarked in "It Never Rains in Tiger Stadium" that Coach Charles McClendon was challenging the call against Thibodeaux from his death bed.
Despite the call, LSU moved into position for a miracle in the final seconds as Steve Ensminger completed a pass to Robert DeLee to the Southern Cal 30 yard line. In the final eight seconds, Ensminger fired two missiles into the USC end zone and narrowly missed his targets. Willie Turner's hands touched what would have been the most famous play in LSU history, but the sprinter could not corral Ensminger's fastball that at field level whirred violently past USC defenders.
The game ended with a drained team and fandom which realized that any chance of saving Charlie Mac's job was gone. For those who played for LSU, it was a lesson of life that may have contributed to the vast success for most of them beyond that fateful night. Bradley, who wept as he left the field, became one of his generation's best writers after his diary for the week of the game was featured in The Advocate and impressed Ben Bradlee of The Washington Post to hire John Ed out of college. Thibodaux is senior vice president of Iberia Bank. Ensminger reigns as coordinator for the most potent offense in the college game, and in a bizarre twist of fate, the 84-year-old Robinson is working for Ed Orgeron as an LSU assistant.
Photo courtesy of LSU Sports Information