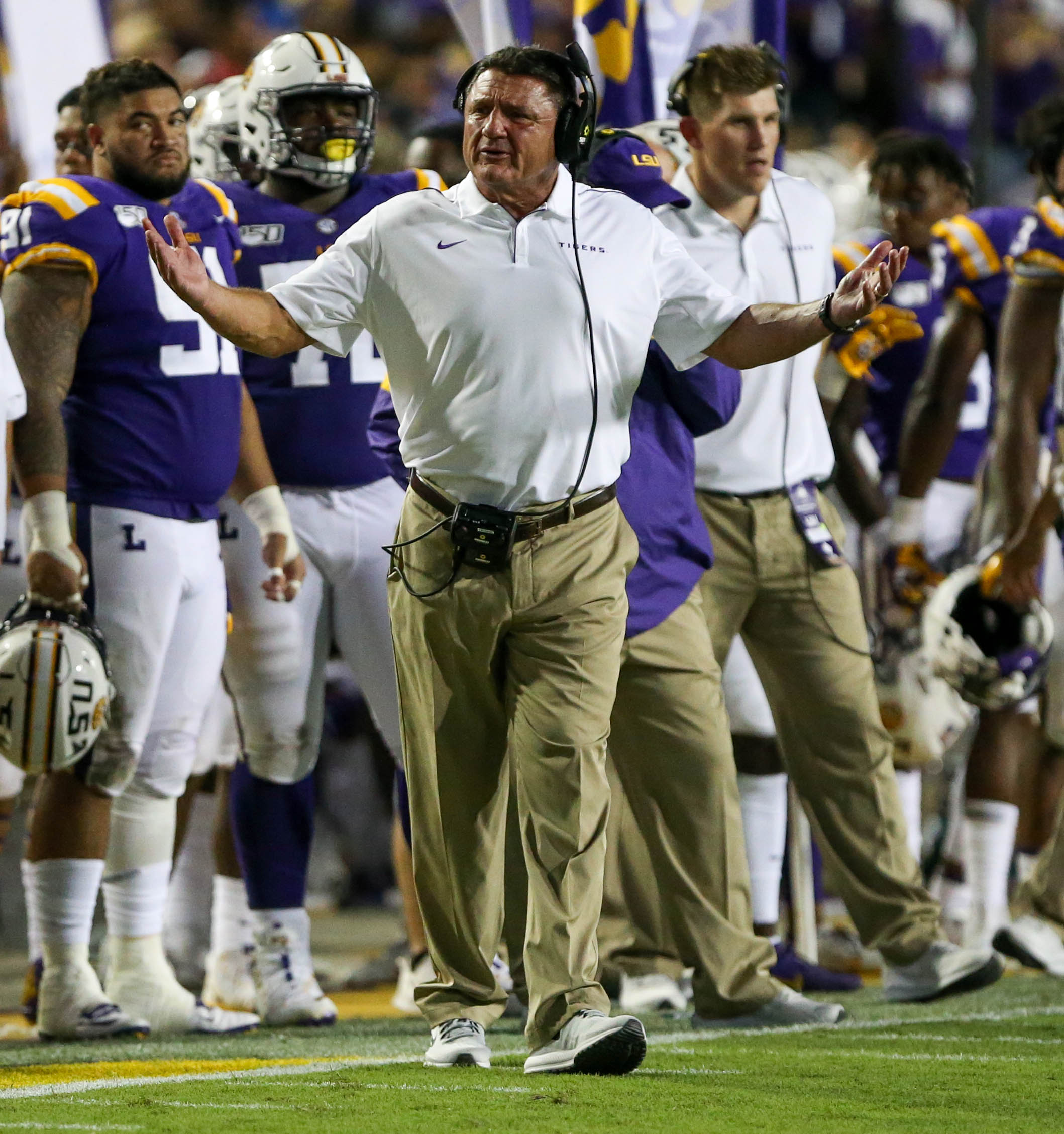 NASHVILLE — It's not often the Tigers get to enjoy a bye week in September, but it couldn't have come at a better time for the Tigers, who have suffered more than their fair share of injuries through the first four weeks of the season.
Saturday's 66-38 victory against Vanderbilt didn't come without a cost as multiple key starters went down with injury, two of which likely won't return immediately.
Wide receiver Terrace Marshall will miss significant time with a fractured foot and Michael Divinity went down in the first half with an ankle injury that LSU head coach Ed Orgeron said "looked significant."
Orgeron said he'd know more about Divinity's injury on Sunday.
Justin Jefferson also missed much of the second half with a self-reported ankle sprain, but Orgeron said he should be good to go for LSU's game against Utah State in two weeks.
The injuries continue to pile on for LSU, especially on defense. LSU already lost two starting defensive ends in Glen Logan and Rashard Lawrence to injury against Texas, and there has been no indication yet as to when they will return.
LSU has also missed its best pass rusher in outside linebacker K'Lavon Chaisson the last two weeks with a knee injury. He warmed up with the team and dressed out in each of the last two weeks, but he never touched the field.
The defensive injuries haven't been limited to the front seven, either, as the Tigers lost Todd Harris to a season-ending injury last weekend against Northwestern State.
As the defensive injuries continue to pile up, the more LSU and defensive coordinator Dave Aranda have had to get creative with its defensive scheme.
Grant Delpit hasn't spent most of his season in the secondary in coverage rather than at the line of scrimmage rushing the quarterback like he did last season.
But as much as LSU's defense has struggled over the first four weeks of the season, Orgeron doesn't think injuries or a fast-paced offense that keeps the defense on the field has anything to do with the problems the unit has faced.
"You gotta stay in your gap," Orgeron said. "Staying in your gap has nothing to do with being tired. Being disciplined and tackling have nothing to do with being tired. I thought it was a nice cool day. We practice in a lot hotter days, and our guys are in good shape. So there's no 'the offense going fast and being tired', there's no excuse for that in the world."
The good news for LSU regarding Marshall's injury is the Tigers remain pretty loaded at the wide receiver position. They have multiple options they could go with to replace him, including Stephen Sullivan — who has split time between tight end and wide receiver this year — as well as Derrick Dillon or Jontre Kirklin, who recently converted to receiver from defensive back.
"That's a tough one for us," quarterback Joe Burrow said. "He has had a really, really good start to the season. I know he's going to shake back and come back as fast as he can. He's a super tough guy. He's going to come back when we need him.
"I have faith in guys like Jontre (Kirklin) and Derrick (Dillon). We'll just have to get those guys more reps and get those guys more comfortable."
The timing of LSU's upcoming September open date couldn't be much better considering all the injuries the team is nursing.
"I think it's perfect," Orgeron said. "We'll have three days of practice. The guys will have off Sunday and Monday, we'll come back and get to work Tuesday, Wednesday and Thursday, they can go home over the weekend, come back Sunday and get ready for Utah State."
The prevailing thinking through four games is that LSU's offense can carry the team for now, but they don't want to rely solely on Joe Burrow and the receiving corps to win games.
LSU has developed a reputation for defense over the last decade-plus, and it wants to continue living up to that reputation.
When asked if he feels the defense has been getting bailed out over the last few weeks, Orgeron gave multiple resounding "no's."
"We play as a team," he said. "We win as a team. 4-0. I told our guys we're 4-0, we play as a football team. There's none of that. No way."
Regardless of whether people agree with that sentiment, there's little arguing that LSU could use some more depth on the defensive side of the ball. Teams like Florida, Auburn, Alabama and Texas A&M still remain on LSU's schedule, and to win all of those games, the Tigers will need all the help they can get.
That help will come as players heal up throughout the season, and a light week will do some good for this LSU squad which has found success despite the obstacles that come with several starters suffering injuries this early in the season.
Photo Credit: Terrill Weil