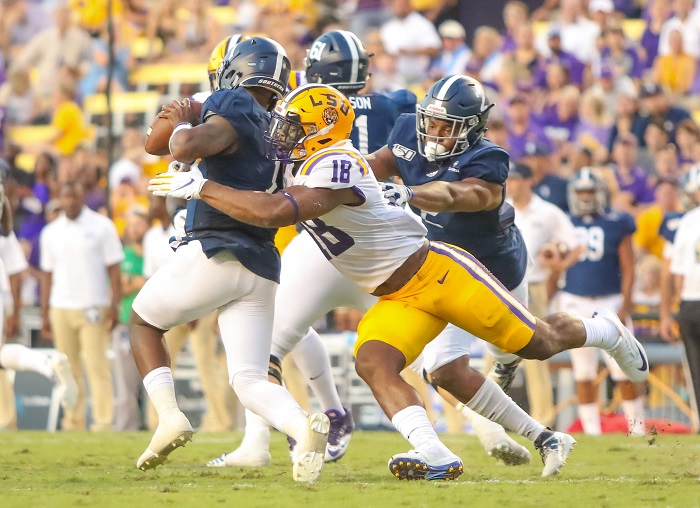 LSU will likely be without its top pass rusher for the start of Southeastern Conference play, but there's a plan in place to have a familiar face fill in.
K'Lavon Chaisson will make the trip to Vanderbilt this weekend, LSU coach Ed Orgeron said, but he remains doubtful to play.
Chaisson practiced during the media viewing portion of practice on Wednesday, which encompassed individual drills, but a lingering ankle injury will likely keep him out for a second consecutive game.
"He might play, but I doubt it," Orgeron said Thursday. "He's going to make the trip, but I don't think he's ready."
Orgeron further elaborated on Chaisson's status: "He can do individual (drills). He can do some cuts. But he couldn't do any hitting. He wasn't ready to make any contact. I think he's still favoring that ankle a little bit."
It appears that LSU is planning to move Michael Divinity back to outside linebacker, where he played last season with Chaisson out. Divinity tied for the team lead with five sacks last season.
"You're going to see him rushing. No question," the coach said. "Last year Michael was our best rusher, so we're going to put him in position to rush this week."
The move demonstrates that LSU feels better about its depth at inside linebacker compared to the outside.
Jacob Phillips, Patrick Queen and Damone Clark are all reliable options on the inside, which allows LSU to move Divinity back to his natural position.
A lot will depend on how Saturday goes and the long-term status of Chaisson, but Orgeron left the door open to Divinity staying at outside linebacker going forward.
"Let's see what happens," Orgeron said. "Obviously we're missing K'Lavon. He's hurt, so we need to get some rushing on the outside. I think it can be a permanent deal, but we need to wait and see."
LSU also has a rush package installed featuring freshman Marcel Brooks, who saw time in the win over Texas. That package emphasizes putting speed on the field, Orgeron explained.