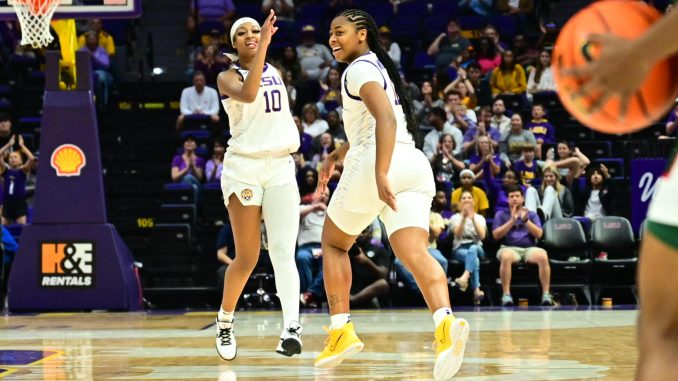 When the Associated Press releases its new Top 25 rankings on Monday there will be a new No. 1 team.
That's because top-ranked LSU lost its opening game 92-78 to No. 20 Colorado before responding with a pair of victories over a pair of overmatched opponents, including Sunday's 109-47 rout of Mississippi Valley State before a crowd of 10,720 at the Pete Maravich Assembly Center.
"It doesn't really matter," LSU coach Kim Mulkey said. "The thing about polls is that they bring recognition to your institution and your program, so you welcome it. (Being ranked) One, 10, 15? You want to be relevant. That's what polls are. Someone's opinion.
"Connecticut got beat today," Mulkey said of North Carolina State's upset win. "Where are they going to be? You think (UConn coach) Geno's (Auriemma) worried about that? I'm not worried about it. I just want us to get better right now."
Mulkey noted LSU (2-1) has a pair of formidable challenges this week. The Tigers host Kent State at 11 a.m. Tuesday and travel to Southeastern Louisiana at 7 p.m. Friday.
"Those (polls) are meaningless to me other than when you are ranked, it brings a little relevancy and some attention to your program," Mulkey said. "It doesn't win any more games for you. (It) Probably puts a target on you. I don't know. Don't care. Just let us be relevant and I think we're relevant right now."
Playing without preseason first team All-SEC guard Flau'jae Johnson because of an illness, LSU had four of five starters score in double figures and a top reserve also reached double digits in a game the Tigers led the last 37 minutes of play.
Sophomore forward Sa'Myah Smith recorded the second double-double of her career by matching a career-high with 21 points and 11 rebounds. Freshman Mikaylah Williams had five of her team's six 3-pointers for a career-high 20 with first team All-American Angel Reese adding her third straight double-double with 14 points and 10 rebounds, DePaul transfer Aneesah Morrow 14 and Louisville transfer Hailey Van Lith 11.
LSU shot 54.5% from the field (36 of 66), made 62% of its free throws (31 of 50) and outrebounded Mississippi Valley (0-2), 59-33.
"It's not about starting with coach," Smith said. "It's about what you do with the minutes she gives you out there. Even if I did come off the bench last year or if I'm coming off the bench this year, it's obviously important whether that's matchups or whatever she thinks is better. Just doing what I need to do with the minutes she gives me."
Smith had 10 of her team-high point total in the first half, Williams had 14 of her 20 in the first half and Reese added 11 in the first half, giving LSU a 50-23 halftime lead. Junior guard Last-Tear Poa made her third career start in place of Johnson and scored nine points, grabbed three rebounds and had two assists.
LSU's 27-point halftime lead ballooned to 84-33 after three quarters on the strength of Smith's 5 of 5 shooting and 11 points.
The Tigers were able to incorporate the scoring of Van Lith with eight points and Williams with six, the duo helping to fuel a 22-5 run over the last six minutes.
A Eurostep and drive from Van Lith, following a steal, was among the highlights during that stretch that bolstered LSU's lead to 40 points (68-28) with just under five minutes showing. She also involved in the next six of her team's next nine points with another driving layup to finish a 10-0 run, a pair free throws and an assist to Smith for a layup.
Van Lith found Smith once against for a layup and 81-31 advantage followed by a free throw from Smith and a free throw from Poa.
LSU had another 10-0 run in the fourth quarter that Reese began with two free throws and Aalyah Del Rosario capped with a layup on a feed from Reese with 7:08 remaining. The Tigers reached the 100-point mark on Poa's putback and the Tigers opened their biggest lead (109-47) on Angelica Velez's three-point play with 34.8 seconds left.
"Overall, there's always room for growth in the game," said Smith, who made 8 of 12 shots and dished out two assists. "A lot of the summer I worked on my jump shot which I try to shoot a couple of every game. Staying consistent, being that player that coach can go to whenever she needs."
There were four lead changes in the first two minutes of the game until LSU asserted itself.
Williams triggered a 15-0 run with the first of her three 3-pointers in the quarter at the 7:29 mark, helping the Tigers turn a three-point deficit into an 18-7 lead on the second of her 3-pointers.
Sh'Diamond McKnight's floater stopped MVSU's five-plus minute scoring drought, but Smith scored three straight points to spark an 11-0 run over the last 3:35 of the quarter to make it 29-9. She led the Devilettes with 21 that included a pair of 3-pointers.
The Devilettes, who made just 4 of 33 shots (27.3%) in the first half, endured another scoreless stretch of 13 minutes until Sadie Williams' baseline jumper at the 7-minute mark.
Williams continued her hot touch with a 15-footer and added her fourth 3-pointer for a 39-11 cushion at the 5:18 mark of the second quarter.
Morrow scored eight consecutive points over a 55-second span that included two free throws, a 12-foot jumper and coast-to-coast drive after getting the rebound that increased LSU's lead to 48-21 with 2:18 left before halftime. Kateri Poole's driving layup gave the Tigers a 50-23 lead at the break.
"Everything goes to effort," said Williams who made 7 of 11 shots and had five rebounds. "As long as you work hard and do what you have to do, (good) things will follow."