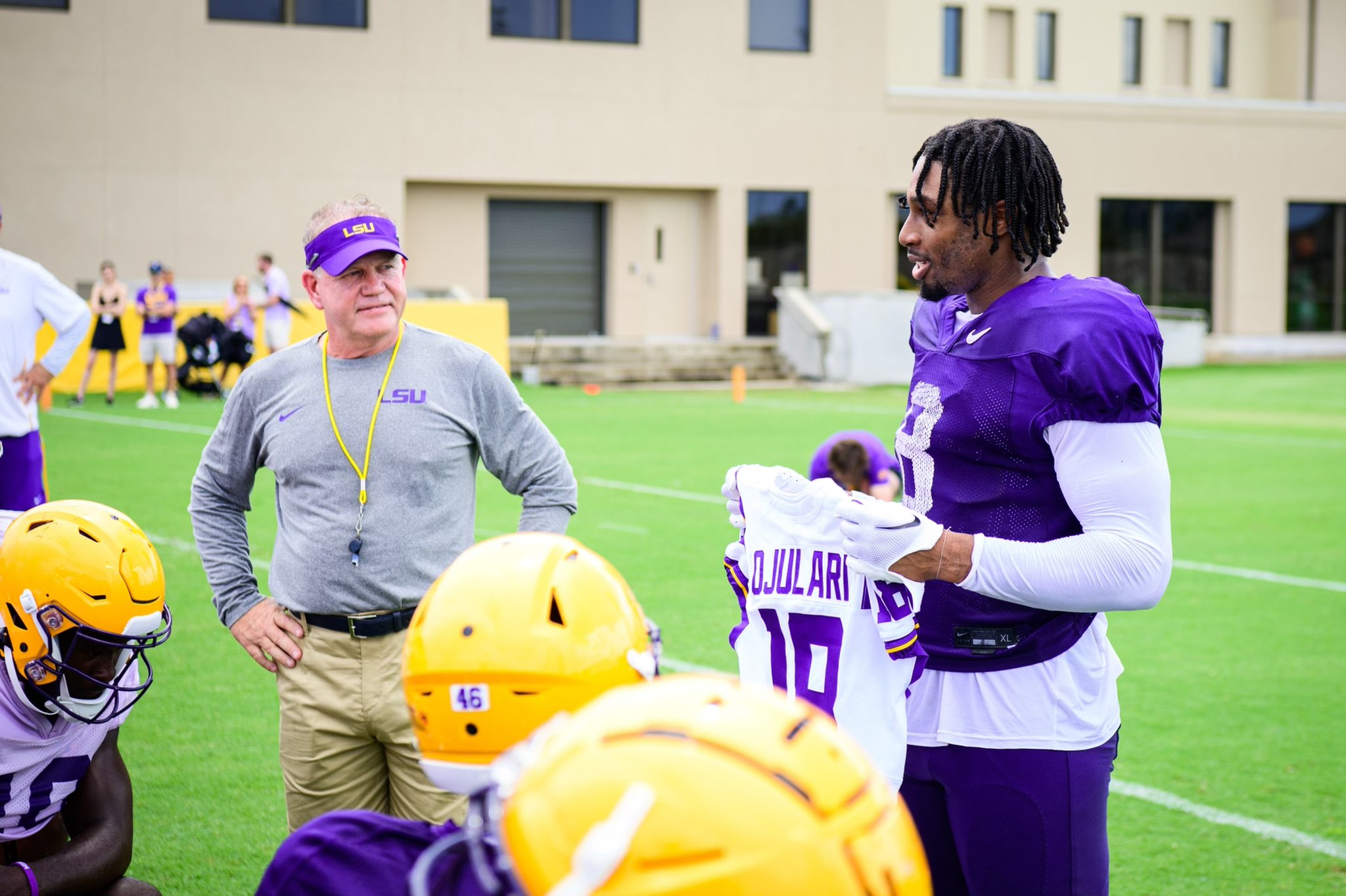 The tradition lives on.
   LSU awarded its coveted No. 18 jersey to star defensive end BJ Ojulari, who suggested afterward he was grateful.
"Just being able to wear 18 and leave my legacy at LSU is the biggest thing," Ojulari told teammates after coach Brian Kelly made the presentation at practice Saturday.
Ojulari, who has 13 starts in 23 career games at LSU, is a potential first-round pick in next year's NFL Draft.
The junior from Marietta, Georgia, led all LSU defensive linemen in total tackles with 55, including a team-high 7.0 sacks, while starting 12 of 13 games last season.
   "His teammates, coaches and the entire staff believe BJ Ojulari embodies what the number 18 represents," Kelly was quoted as saying in a news release. "He carries out traits of excellence every day on and off the field."
The No. 18 tradition at LSU dates to 2003, when quarterback Matt Mauck led the Tigers to their first football national championship since 1958.
Mauck, now a dentist living in Denver, passed the number on to running back Jacob Hester, who helped lead LSU to the 2007 national title.
  "The newest member of the 18 fraternity was an absolute no brainer," Hester, who played in the NFL for the San Diego Chargers and Denver Broncos and now is a sports talk radio host, wrote on Twitter. "He (Ojulari) embodies everything it means to be a LSU Tiger on and off the field. Welcome to the club."
The number is awarded, according to LSU, to a "team leader who makes an impact on teammates, classmates and the community on a daily basis."
   "Seven is 'most-talented' player from the state of Louisiana," Kelly, hired away from Notre Dame late last season, said when asked earlier this week if the awarding of 18 would continue under his command.
LSU awarded the No. 7 jersey last month to receiver Kayshon Boutte, another potential first-round selection in the 2023 NFL Draft.
   "We think that 18 is the one that brings all those traits that comes to that player that leads in an extraordinary manner – you know, the attention to detail, just a great focus, represents your program in a positive way both in the classroom and the community, on the field," Kelly said.
   Ojulari, who wore No. 8 in the past, represented the Tigers along with Kelly and teammates Jack Bech and Mike Jones Jr. last month at SEC Media Days in Atlanta, where a No. 18 LSU jersey hangs on display at the College Football Hall of Fame.  
Ojulari also is on the national watch list for the Chuck Bednarik Award watch list, presented annually to the best defensive player in college football as recognized by the Maxwell Club.