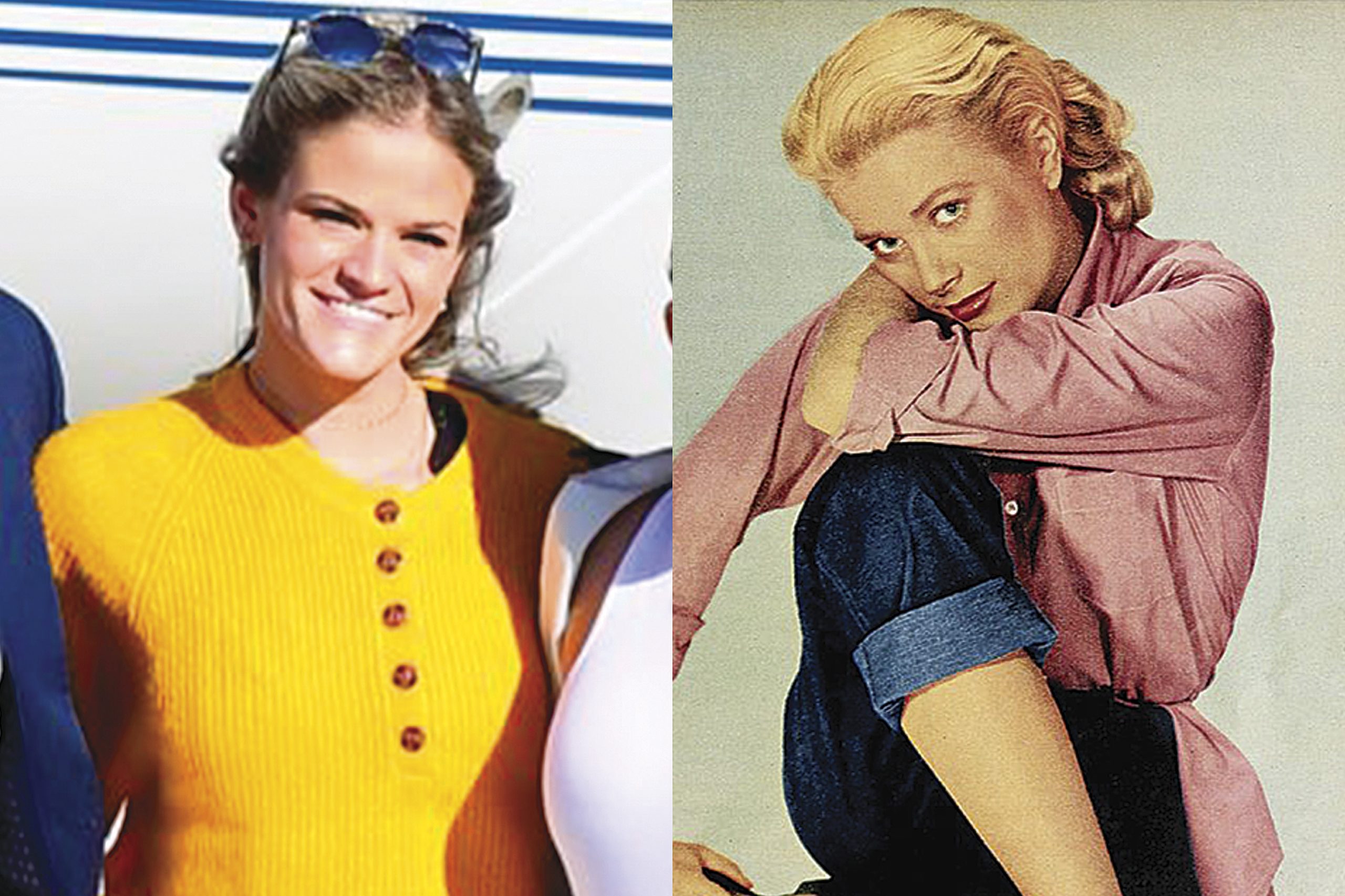 Grace Kelly was captain of her Culver Academies lacrosse team in Indiana.
She gravitated toward the broadcast booth in college, even offering color
commentary and analysis for Notre Dame women's lacrosse coverage on the ACC Network.
But that's not necessarily what she's best known for in South Bend, which is why coach
Brian Kelly's job change last December caused his lone daughter consternation
when he decided to leave the Fighting Irish to replace Ed Orgeron at LSU.
Her funny TikTok video about when "you still have to graduate from Notre Dame in 5 months but your dad already left for LSU" came with the kicker that she was "Ready to get booed on my way to class every morning."

"My dad never intended for that to happen to me," Grace, the middle child in a family of three siblings, told Tiger Rag. "But of all the kids, he told me I'd be the one to handle it. I've done that, and he was right, per usual.
"It's definitely been a challenge. In my entire four years there, I've been 'the coach's daughter.' Then my last semester of my senior spring I'm 'the ex-coach's daughter who has something of a vendetta, clearly, against the school' – which is obviously not true.

"Because, no matter what happened, I'm gonna be a Notre Dame graduate and alumna," added Grace, who graduates from Notre Dame this month with a double major in political science and FTT – film, television and theater – with a concentration in TV. "I'll always be proud of that. And my dad will always be proud and happy of all the time he had there too."

The sturdy voice of Grace – a powerful spokeswoman for the family's Kelly Cares Foundation, whose charitable work is inspired by her mother Paqui's two fights with breast cancer – cracks just a bit as, while in Baton Rouge for LSU's April spring game, she thinks back to December.

"Something people tend to overlook too is when I went to Notre Dame, I worked my
ass off to get there, obviously," she said. "At the same time my student body representation was just as important for me as it was for my dad. Because that will always give him to that tie to the university, no matter where he ends up."

Grace's since-deleted TikTok video went viral, a lesson in the power of being a Kelly at schools like Notre Dame and now LSU.

"That alone created a whole new social media brand for just my name," she said. "But, no matter what, my name is a representation of his name, and that's something I'll have to remember and be cautious of, because those ties don't go away."

Which brings up another issue.

Ah, the name.

It's the same, with one distinction, as that of the late Academy Award-winning actress, born in 1929 and deceased after a 1982 car crash at the age of 52.

That Grace Kelly is famous for classic films including The Country Girl, High
Society, High Noon, Dial M for Murder and To Catch a Thief.

That Grace Kelly is known for working with the likes of Clark Gable, Gary Cooper, Cary Grant and Frank Sinatra.

That Grace Kelly, who married Prince Rainer and became Princess of Monaco in 1956, would be 93 today.

The other difference between the two?

The middle name of Brian and Paqui Kelly's Grace is Marie. The late actress' was Patricia.

Still, one might wonder why anyone might tag their lone daughter with such a known name.

"That's a fun story, actually," said Grace Kelly, whose older brother Patrick is an
LSU graduate assistant coach and whose younger brother Kenzel is a linebacker at Grand Valley State. "I was the only kid they couldn't pick out a name for.
"They picked mine at the hospital, because they could not settle on a girls name at all. My mom liked Sarah. My dad didn't. My dad like Bridget. My mom hated it.

"So when they landed on Grace Kelly, they, one, had an obligation to make sure my middle name was not the same, and, two, I think they feeling in their hearts that 'that's their generation; not a lot of people are gonna know who Grace Kelly was, at her age.' "

You'd be surprised, Grace Kelly agreed.
"Oh, yeah," she said. "That's where they were proven wrong. For sure."