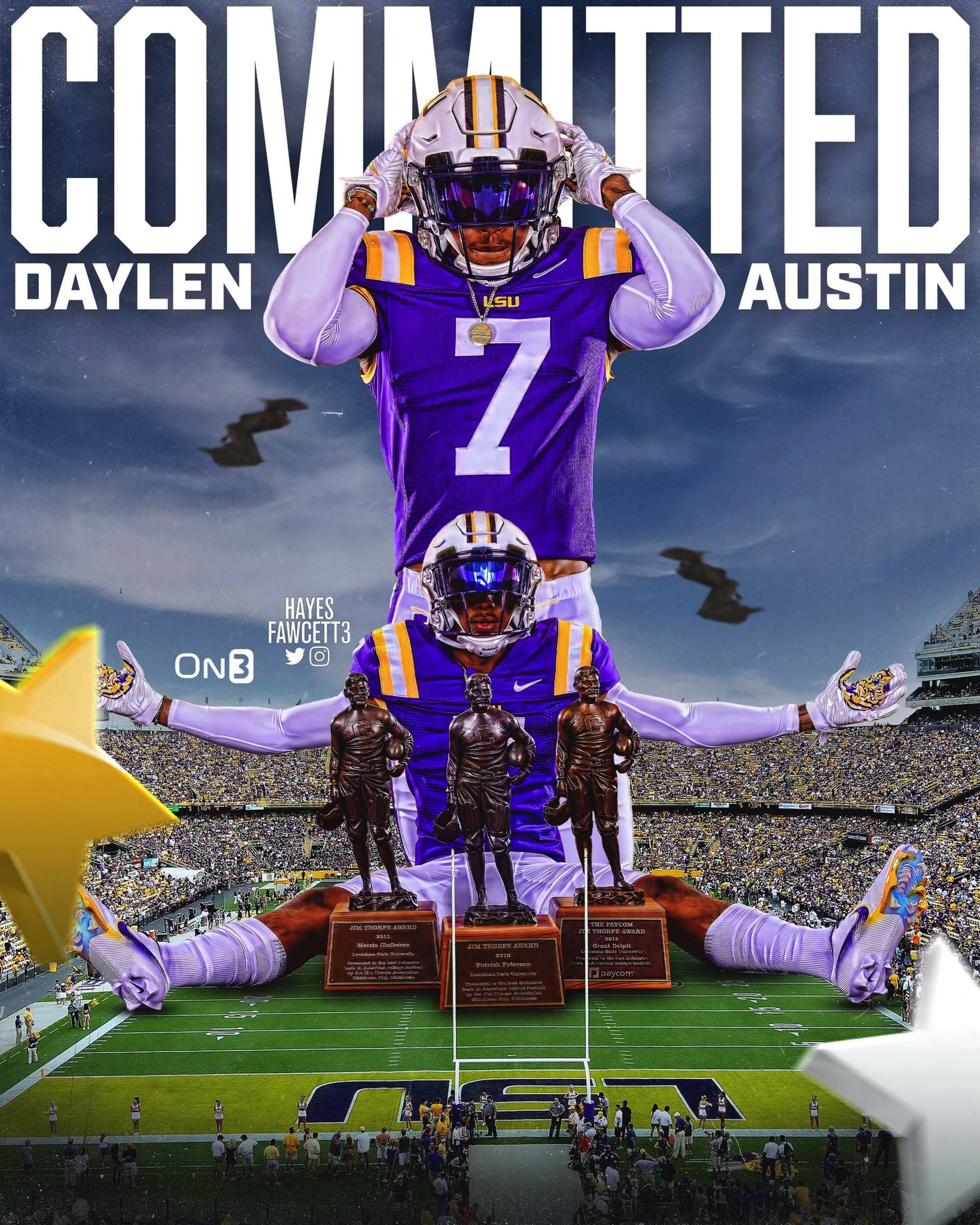 LSU's secondary of the future continued to take shape.
The Tigers picked up their third Class of 2023 commitment from a defensive back in a group that increased to six overall Monday with a pledge from four-star cornerback Daylen Austin of Long Beach Poly High in Long Beach, California.
"There was no reason to wait anymore," Austin told On3. "I didn't expect to put it out this early, but I just felt it was time. I knew I was a commitment, LSU is my top school, and I am going to let everyone know. I think I have shocked the world a little bit. I am a Cali guy going to play football in Louisiana. Who would have thought that? It is exciting to let that part out."
The 6-foot, 178-pound Austin gives LSU its second commitment in as many days as four-star all-purpose running back Trey Holly of Union Parish also selected LSU. Austin chose the Tigers over a group of seven other schools that included his recent finalists: Alabama, Penn State, Oregon, Georgia, Nebraska, Michigan State and USC.
Austin is part of a recruiting class at LSU that already has a pair of pledges from four-star safeties in Michael Daughtery of Grayson, Georgia and Ryan Yaites of Denton, Texas.
Austin gave a lot of credit for his decision to attend LSU to first-year defensive backs coach Robert Steeples, who has been his chief recruiter for the staff.
"I've built a strong relationship with the defensive staff at LSU," Austin said. "It's also known as DBU, one of the most important things to look out for is seeing if the coaching staff can develop me into an NFL cornerback. I feel like LSU can do that.
"I'm close with Coach Steeples, the cornerbacks coach, and Coach (Matt) House, the defensive coordinator," Austin said. "They love long corners and feel I can shut down a side of the field."
Despite a commitment, Austin has indicated he plans to take all five of his official visits with Michigan State and Penn State holding two of those visits. He helped Poly to a 11-4 record with 44 total tackles, two interceptions, 11 pass deflections, a forced fumble and fumble recovery.
He's ranked No. 143 overall, the No. 16 cornerback and No. 11 player in California according to 247 Sports.
The addition of Holly and Austin have vaulted LSU's current recruiting class to No. 8 nationally by both Rivals.com and On3.com and No. 11 by 247 Sports.
"That is where I want to play, so why not play for them at a school that has produced the most corners in the last five years? It is just right," Austin said.