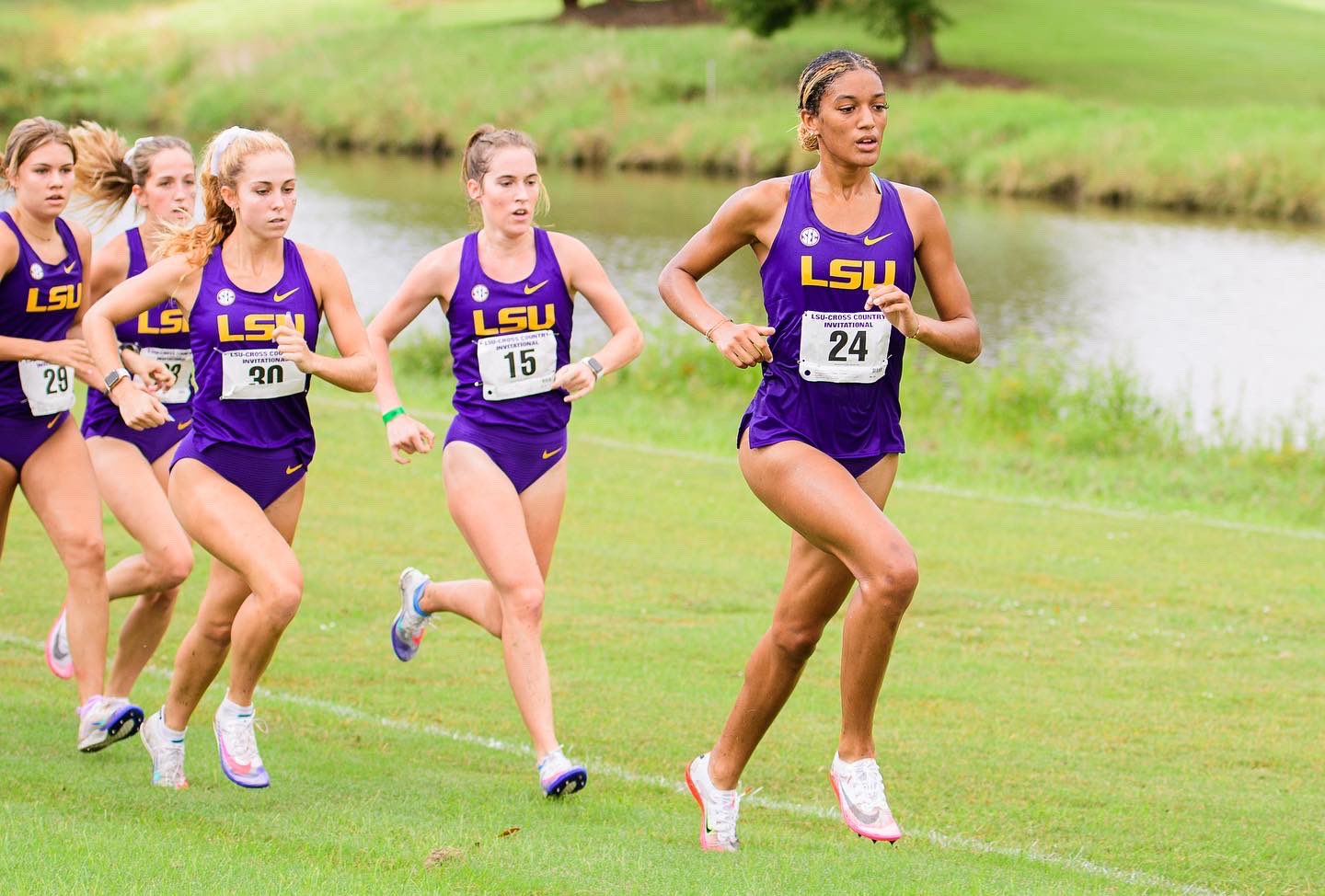 LSU senior Katy-Ann McDonald acknowledges there will be a few additional butterflies accompanying her to the start of the NCAA Cross Country Championships.
Despite it being a new stage for McDonald, the native of London, England will try and keep the same even-keep approach to her first NCAA meet which begins a 9:20 a.m. Saturday at Apalachee Regional Park in Tallahassee, Fla.
"I've never run it before so it will be very new," McDonald said. "It's another race on a bigger stage. I try to stay calm. I've found that I've run better when I'm more relaxed. It will be harder to be more relaxed for this race but I'm going to try and do that."
Not only will this mark a career milestone for McDonald participating in her first NCAA event, which will also draw her cross country career to a close, but the 6K race – or just over 3.7 miles – also signifies an historic moment for LSU which is sending only its second runner in school history to the NCAA Championships.
Charlotte Mayock has the honor of being the school's first such participant 21 years ago.
"It's really cool," McDonald said. "LSU doesn't really a have a history of recruiting a lot of distance runners. Our climate, people are apprehensive to come to a hot, humid place to try and train. Hopefully this makes people think, 'Hey, LSU has someone' (at the NCAA meet). I know that next year we're going to have a lot more people and at least a few will qualify individually or as a team for nationals."
LSU cross country coach Houston Franks has seen the evolution of McDonald's career and believes it's a fitting conclusion for her to finish at the NCAA Championships.
"She's a hard worker, a fierce competitor," Franks said. "When she puts the jersey on, there's an extra gear and an extra toughness. She's only the second person in school history. I want her to have fun with it and try and do something special."
McDonald will be one of approximately 260 competitors from nine different regions with the top 40 finishers earning All-America honors.
While this marks McDonald's NCAA debut, she's got a small advantage having run at Florida State's Apalachee Regional Park during the 2020 season where she covered the 5K course in 17 minutes, 36.4 seconds.
"I really like the course and the conditions are similar to here which will work in my favor," she said.
Judging by her performance in the NCAA's South Central Region, where she finished a school-record best sixth place with a time of 20:55.0, McDonald's completely recovered from a 10-day span in October where she missed the Arturo Barrios Invitational at Texas A&M because of the extraction of her wisdom teeth and finished 20th at the SEC championships (20:56.7).
Because of the shorter one-week turnaround instead of the more traditional two-week span in between meets this season, McDonald scaled back her training and workouts in advance of leaving Thursday for Tallahassee.
"Usually, it's two weeks in between all the major competitions," she said. "I don't think it should have too much of an effect on me. Luckily, we don't have to go too far."
Because she's excelled as more of a middle-distance runner on the track McDonald finds the 6K course to be supremely challenging, especially from a strength and endurance standpoint.
"Katy-Ann runs best when she's aggressive," Franks said. "The game plan will probably be to get up in it and try to be there. You don't have a team counting on you. You can be a little overaggressive and try to do something special."
McDonald's regional time was the result of going out with an early pack of runners, dropping back somewhat before a strong finish where she passed several runners and qualified for the NCAA meet. Her time represented the sixth time in her career she's run a sub-21-minute 6K with her best time of 20:33.8 taking place at last year's SEC championships where she was 12th.
"At the SEC and regional level, I've taken a more relaxed approach," McDonald said. "I feel there's going to be more pressure which will probably make me run a bit faster because I work well under pressure. I feel I'm in better shape this year and there's going to be the mental aspect when it starts to get hard at 4K. Instead of settling I need to push ahead."