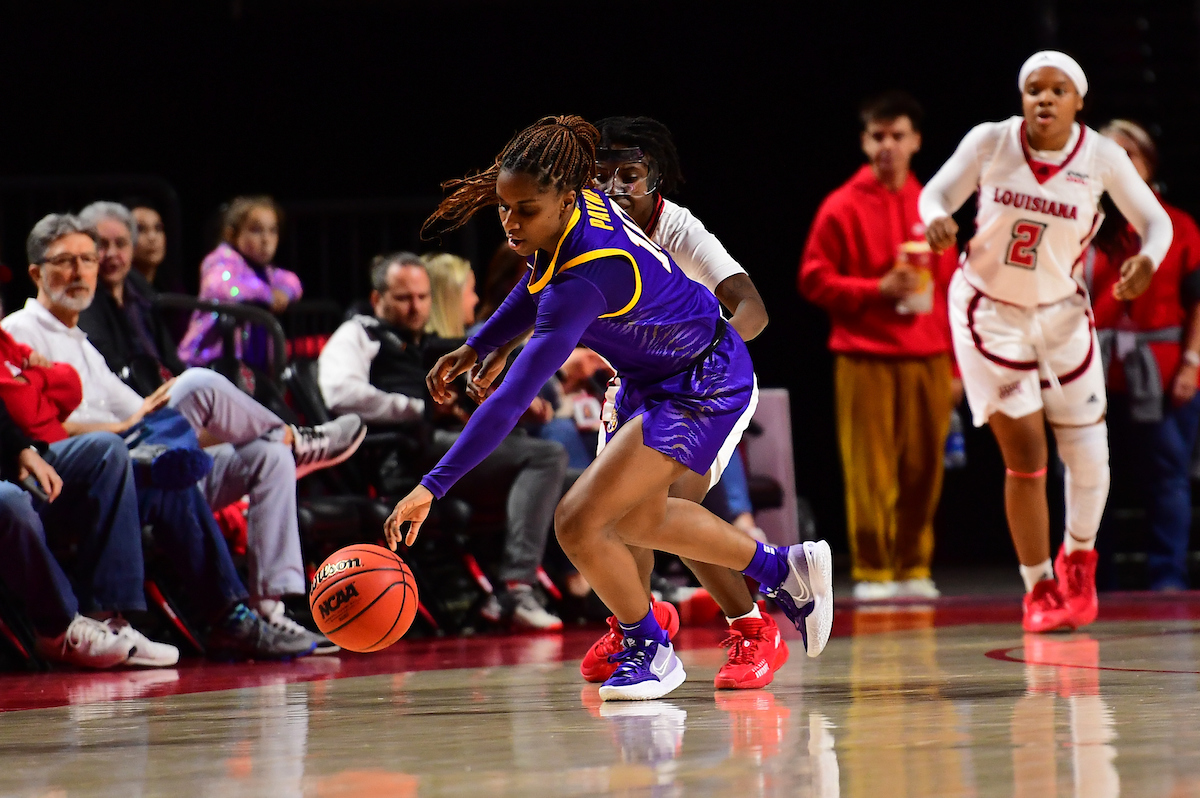 LSU missed eight of its first nine shot attempts and trailed host UL-Lafayette by a point at the first media timeout of Thursday's game.
"I told them in the first timeout if I paid to see this game I'd get up and leave right now," LSU first-year women's basketball coach Kim Mulkey said she told her team in the huddle. "Good grief we couldn't hit a shot. Thanks goodness we got some turnovers on the defensive end."
LSU eventually got past the opening quarter of "bad" basketball, hit its stride midway through the second quarter and pulled away for a convincing 71-40 victory before a crowd of 2,711 at the Cajundome.
The Tigers, who are 26-0 all-time against the Ragin' Cajuns, did so by finding a new combination of players that meshed well together with fifth-year senior Awa Trasi coming off the bench for a season-high 17 points and reserve guard Ryann Payne adding 11.
"I'm so proud of Awa," Mulkey said. "I thought moving her inside was a better move for our team and she responded."
Mulkey went to a smaller lineup after the first quarter wound up in a 10-10 tie. Trasi and senior graduate transfer Autumn Newby were inserted into the game and took over for 6-foot-5 post players Faustine Aifuwa and Hannah Gusters and provided the Tigers (2-1) with a better offensive flow and defensive matchup.
Trasi, who averaged 3.0 points in two games, made 6 of 7 shots and scored seven points during the second quarter where LSU outscored UL-Lafayette (2-1) 20-4 and established a 30-14 halftime cushion. It was her best scoring output since she opened last season with 15 points.
Newby added seven points but continued her diligent work on the boards with a team-high 12 where LSU held a decided edge, 52-29.
The Tigers, who held a 41-9 advantage in bench points scored, also limited the Ragin' Cajuns to 26.9 percent shooting from the field and forced 25 turnovers.
"We're just going to keep working," Mulkey said. "You make adjustments during the course of the game. I thought our smaller defense with Autumn and Awa at the post was a better matchup."
After a first quarter that was tied twice and had four lead changes Khayla Pointer, the team's leader with a 23-point average, scored for the first time nearly 12 minutes into the game on a runner from the baseline to snap a 12-all tie.
That provided the lead for good for the Tigers who went on to close out the quarter on a 10-0 run – a span of 2:29 – that included five points from Trasi and a 3-pointer from Pointer who struggled on 3 of 13 shooting and finished with nine points. She also added six rebounds and three assists.
"I told her she has to keep shooting and don't ask me to come out of the game again," Mulkey said of Pointer. "That's a mindset. She took good shots. You keep shooting. Neither she nor Alexis shot the ball like they're capable. That's just part of the game. We won. We played defense. All that matters is you won."
LSU, which held UL-Lafayette to 22.7 percent shooting in the first half, extended their run to 11-0 on Pointer's free throw to open the third quarter when Britney Rice's layup finally stopped the Tigers' run.
Rice and Brandi Williams led the Cajuns with 10 points apiece and Ty Doucet, the Sun Belt Conference's preseason player of the year, was held two a pair of free throws and missed all six of her shot attempts.
LSU's lead reached 20-plus points (43-22) on Newby's basket on an assist from Morris and Pointer's three-point play, on a put back of Jailin Cherry's miss, made it 51-29 with 36 seconds to go in the third quarter.
LSU built its biggest lead (64-35) with 3:39 remaining when Pointer found Gusters inside for a layup.
"It was such an ugly first quarter," Mulkey said. "We can't score, they can't run an offense. They're turning it over and I'm thinking to myself, 'oh my goodness, I hope not on television, and they said it is'. You have to grind. We're going to be a team that's going to have those nights and we're going to have to grind. We're going to have to keep playing hard."
NEXT: LSU hosts Tulane on Nov. 23 at 6 p.m. in Pete Maravich Assembly Center.