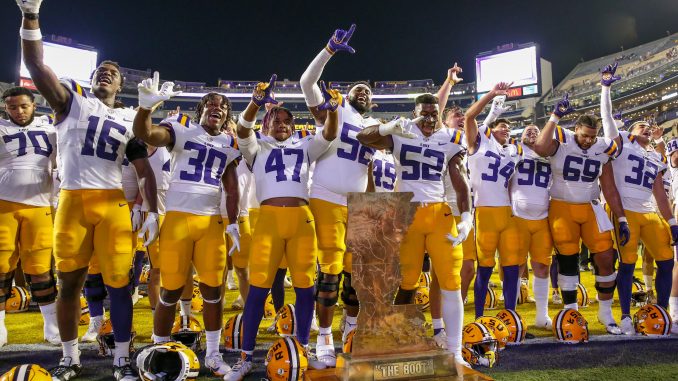 The defining characteristics of an LSU football team that would persevere and come back to win half of its games a year ago need four games this year to exhibit such a trait.
After fading in the second half of a 45-24 season-opening loss to Florida State, the Tigers responded with successive victories in a pair of games they never trailed and outscored Grambling State and Mississippi State by a combined, 113-24.
Second-year LSU coach Brian Kelly got to see plenty of resolve from his team in last Saturday's SEC home opener, trailing Arkansas for the first 31 minutes of their border rivalry.
Not even the Tigers' second-half resurgence was enough to deter the Razorbacks, not until quarterback Jayden Daniels engineered a 9-play, 72-yard drive that took over five minutes off the clock and resulted in Damian Ramos' 20-yard field goal with five seconds to play.
LSU had one final play to make on defense, though, and cornerback Zy Alexander complied with an interception on Arkansas quarterback KJ Jefferson's desperation heave on the final play, securing the ball at the Tigers' 19-yard line and a hard-fought 34-31 victory.
No. 13 LSU (3-1, 2-0) will try to ride the momentum of a three-game winning streak into Saturday's SEC Western Division encounter art No. 20 Ole Miss (3-1, 0-1) at 5 p.m. at Vaught-Hemingway Stadium.
The game will be televised by ESPN and broadcast locally by 98.1-FM.
"That's starting to evolve, that identity," Kelly said Monday during his weekly news conference. "There are times where you play quality competition that you get a better sense and feel for your team, especially when you're down. We weren't down against Mississippi State at any time. We weren't down at any time against Grambling, and we really didn't have the right mix of mindset going into the Florida State game."
A year ago, LSU followed a recurring theme of falling behind Mississippi State, Auburn, Florida, Ole Miss and Alabama. The Tigers rallied in all five games and experienced some of their most indelible moments of the season, including a 32-31 overtime triumph over the Crimson Tide on Daniels' 25-yard TD run and two-point pass to Mason Taylor.
LSU's defense forced a pair of first-half field goals Saturday and the Tigers trailed 13-3 with less than a minute before halftime. Daniels answered with a 49-yard TD pass to wide receiver Bria Thomas Jr. with 18 seconds to go before halftime.
That was the first of two touchdowns between Daniels and Thomas, who also combined on a 49-yard scoring pass one minute into the third quarter, and Daniels went on to throw for 290 yards and four touchdowns.
Jefferson tried to match Daniels with 289 yards passing and three TDs, helping Arkansas to twice tie the game in the fourth quarter with the second score coming with five minutes remaining.
That set the stage for LSU's game-winning drive which Daniels ignited with a 36-yard completion to Malik Nabers. Running back Logan Diggs carried four times for 30 yards, helping his team bleed the clock until there were five seconds left and Ramos came on for his first career game-winning field goal.
"This was our first chance to identify who we were when we got down late," Kelly said. "We immediately responded. We came out the second half and played the kind of football that I expect. Never flinching, knowing that we were going to take some more shots and when we gave up a play, we forgot about it, and we got to the next play. That starts to form an identity to who you are, and I think we're starting to see some resiliency, from last year to this year."