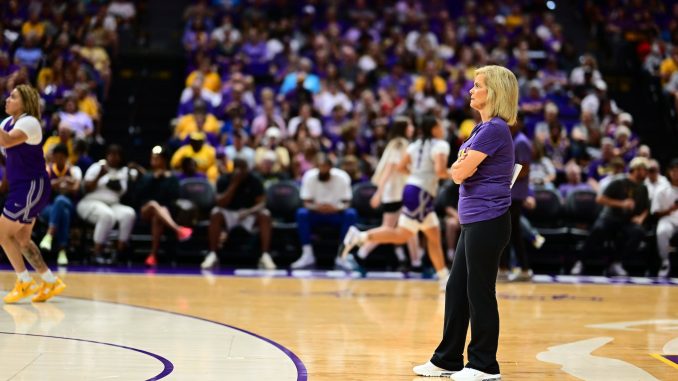 LSU women's basketball coach Kim Mulkey won the fourth national championship of her career nearly six months ago.
But never in a 24-year Hall of Fame career has Mulkey ever won consecutive national titles as a coach, a feat she and the 2023-24 Tigers began working toward Monday with their first official practice before a hearty crowd 2,500 in the Pete Maravich Assembly Center.
"It's hard," Mulkey said during a press conference before practice. "I did it as a player (1980-81, 81-82). Why is it harder? If you're the underdog, you probably didn't get everybody's best shot. We will get beat by a team that was dang good that night."
Expectations for the program have never been higher since LSU won its first national crown in women's basketball – 102-85 over Iowa in Dallas.
The Tigers return three starters from the final game led by junior All-American Angel Reese, SEC Freshman of the Year Flau'jae Johnson and junior guard Kateri Poole.
Mulkey returns regular contributors in junior guard Last Tear Poa and sophomore forward Sa'Myah Smith to go with the nation's top two players in the NCAA's transfer portal – Hailey Van Lith of Louisville and Aneesah Morrow of DePaul. She also signed the nation's top-ranked recruiting class that features a pair of McDonald's All-Americans in 6-foot guard Mikaylah Williams of Bossier City and 6-foot-6 center Aalyah Del Rosario of the Bronx, N.Y.
"We can score at every position, and we have lots of depth," said Mulkey, who is 60-8 entering her third season at LSU. "I can't hide that. When you come and watch us, it's a very talented team offensively. We have a good mixture of returning players and newcomers."
The kind of depth that's led national women's college basketball analysts to suggest LSU's built to win another national championship. The Tigers have garnered talk throughout the offseason of being this year's preseason No. 1 ranked team going into the season opener against Colorado on Nov. 6 in the Naismith Hall of Fame Series at T-Mobile Arena in Las Vegas.
LSU opens its exhibition season Oct. 26 against East Texas Baptist and follows on Nov. 1 with Loyola of New Orleans.
Johnson (mild ankle sprain) and Poa (hand injury) did not go through the first practice.
"My approach (to) coaching won't be different," Mulkey said. "I can put them in their place and remind them that (national title) was yesterday. Only half of them have a ring. The other half came to get a national championship ring."
Reese was one of two players – the other being Morrow – to average double-figures in points (23.0) and rebounds (15.4) last season. She had 34 a nation's high double-doubles, shot 52.5% from the field with 66 steals and 55 blocks.
"She's a competitor and wants to be a good leader," Mulkey said of Reese. "She just had the best year of her college career. It was fun. But she's not entitled to have that again. You have to work."
Mulkey began pulling on her motivational strings to get Reese's attention, conveying to the Baltimore native that a recent report had her the projected as the No. 8 pick in the 2024 WNBA Draft if she leaves school after next season.
Johnson, who started in all 36 games last season, is the team's second-leading returning scorer art 11.0 points to go with 5.9 rebounds and 1.8 assists. Smith, who came off the bench in 34 of 36 games, averaged 4.6 points and 4.0 rebounds, while Poole started in 6 of 35 games and averaged 4.5 points with 2.6 rebounds, 2.4 assists and shot 45.2% from 3-point range. Poa, a reserve in 34 of 36 games, averaged 3.4 points and 1.2 assists.
A year after landing Reese from Maryland, Mulkey struck it rich in the transfer portal again the signatures of Van Lith and Morrow.
The 5-foot-7 Van Lith, a two-time All-ACC first-team selection and honorable mention All-American, helped Louisville to three straight NCAA Tournaments, including the 2022 Final Four. She averaged 15.4 points during her 101-game career, scoring 1,553 points, 4.4 rebounds, 2.5 assists, made 42.2% of her field goals and 85.0% of her free throws.
She was one of two players last season (other being Iowa's Kaitlyn Clark) to average at least 19 points (19.7), 4.0 rebounds (4.5) and 3.0 (3.2) assists.
Morrow produced 53 double-doubles in 66 career games at DePaul where she was the Big East Freshman of the Year and second team AP All-American in 2021-22. She scored 1,570 points (23.0 average), grabbed 860 rebounds (13.0), shot 46.3% from the field, blocked 102 shots and had 176 steals.
She ranked fourth nationally in scoring (25.7) and seventh in rebounding (12.2) last season.
"We're not entitled to anything," Mulkey said. "We have to be hungry. We have to work hard."