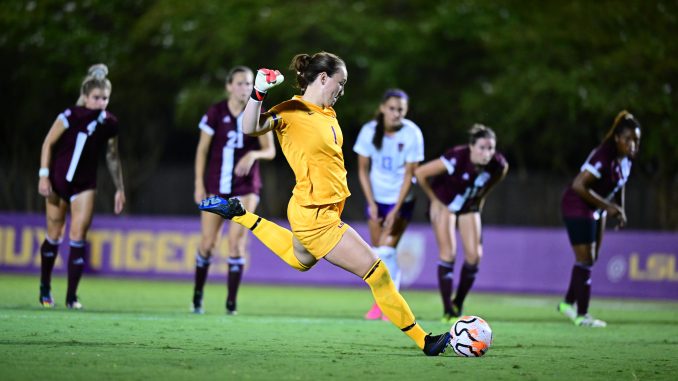 LSU's soccer team was faced with an uphill battle and for the second straight match the Tigers were up to the task.
Second-half goals from Mollee Swift and Sage Glover carried the Tigers to a 2-1 SEC victory Sunday over Mississippi State at LSU Soccer Stadium.
"I'm ecstatic," LSU soccer coach Sian Hudson said. "I think anytime you can win two games in a row in the SEC, you have to walk away feeling really good about it. We used a lot of players and had great minutes coming off the bench. Kelsey Major played a huge role in creating the goal for Sage Glover. Overall, I'm just really proud of the team."
LSU (7-3-1, 2-1-0 in SEC) moved to third place in the SEC West behind Arkansas (3-0-0) and Ole Miss (1-1-1).
The Tigers began the week with a come-from-behind win at Georgia, scoring three times in the second half, for their second Top 25 victory of the season.
Swift buried her second goal of the season, a penalty kick which was the fourth of her career, that helped LSU pull even at 1-1 in the 63rd minute following a handball call against State in the box. The senior also registered two saves in goal.
LSU picked up assists from Mollie Baker and Major on the game-winning goal that was produced by Sage Glover.
Major found Glover with a ground pass and she knocked the ball into the left side of the goal in the 71st minute.
LSU had 15 shots, eight on target, and owned the possession battle (58%-42%).
The Tigers return to action on Friday, hosting Florida at 6 p.m. CT. The match will be live streamed on SEC Network+.
"We had two very different wins this week," Hudson said. "A huge fight-back win against Georgia on Thursday night, and this was more of a controlled, possession-type game with back and forth action. It was just a really professional, disciplined performance from the players, and they executed the game plan really well. I am just excited for them to get another victory."