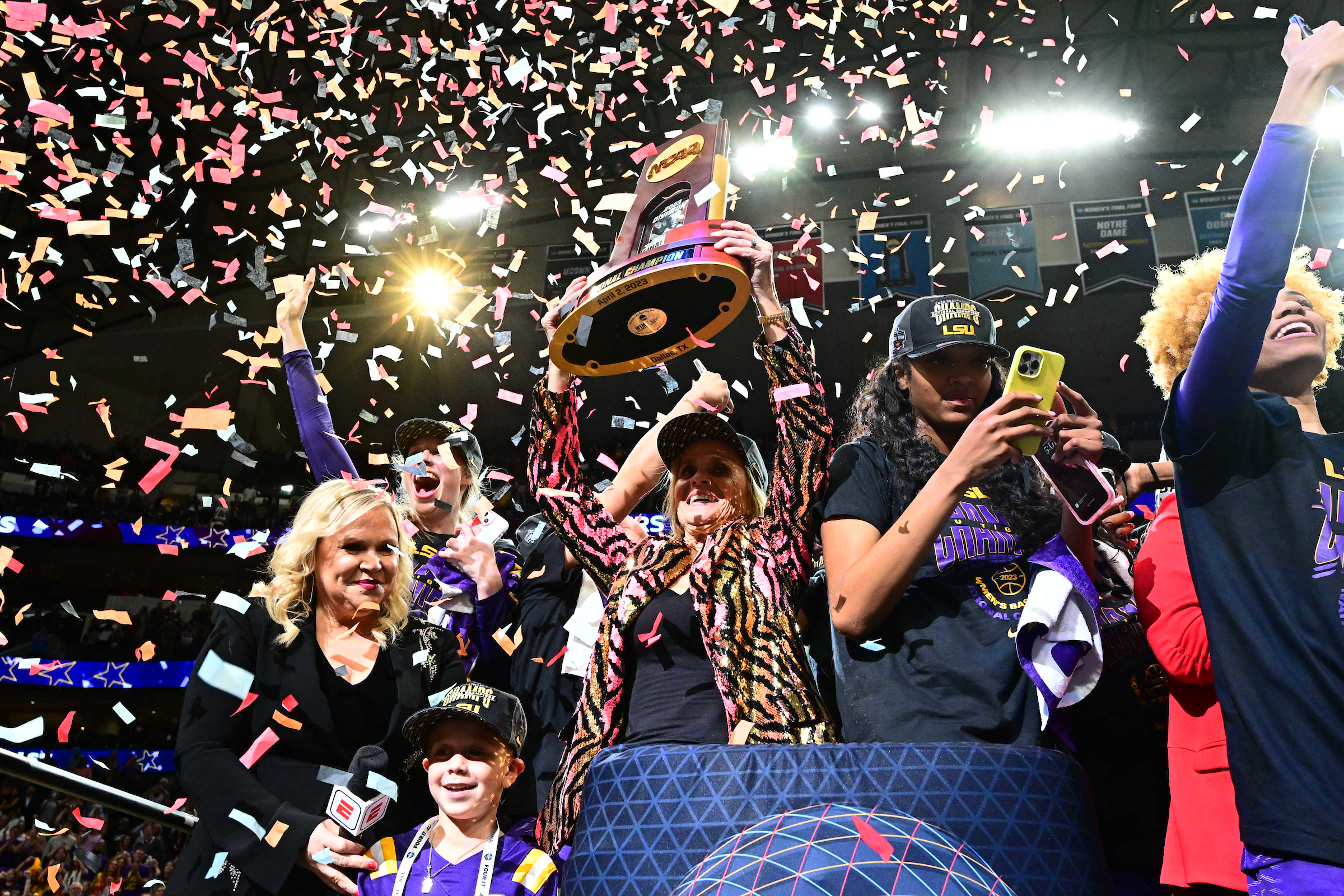 Winning a national championship requires talent, coaching and always a dash of good fortune. I would have said luck but that implies something undeserved.
The LSU women's basketball program deserved this national championship.
Kim Mulkey herself talked most of the season, especially down the stretch, about how hard it was going to be for any team not named South Carolina to win the NCAA women's basketball title.
There were plenty of reasons to believe her.
The Gamecocks were the reigning champs with most of their title cast back and with a second five that probably could have made the NCAA Tournament on its own. It was a team that dominated nearly every foe and then one game away from a rematch with LSU, whom it had demolished by 24 points in February, it finally had a bad game.
It's intriguing to think of what might have happened in that rematch. LSU likely would have given a better account of itself. Mulkey certainly would have tried something – a lot of things – different from the first meeting. She might have even gone to a zone defense, something she regularly despises but will reach for in an emergency.
But she didn't have to. Caitlin Clark cut up South Carolina with her drives to the basket, scoring 41 points for the second consecutive game in a 77-73 semifinal victory.
LSU then shut off Clark's path to the basket in their 102-85 victory which was not as much of a blowout as it looks by the final score.
Last year, LSU might have gone farther than the second round had Alexis Morris not been hurt late in the season. This time, the Tigers had no major injuries and were fortunate enough to not play a single No. 1 seed.
No. 9 Miami knocked off No. 1 seed Indiana in the second round, the tournament's biggest upset, and then took care of No. 4 Villanova in the Sweet 16.
Mulkey's theme for the season that started with nine new faces after her 26-6 inaugural year was 'Piece it 2gether.' It's hard to get a team clicking on all cylinders in less than a year, but that championship game performance was clearly the best total game LSU played all year.
Five players in double figures, everyone in the rotation contributing, including the Tigers' designated 3-point shooter Jasmine Carson. She incredibly hit 7-of-7 3-pointers in the first half to compensate for foul trouble by Angel Reese and Morris, the team's two best players, while they sat on the bench. Carson had lost her starting job during the tournament and hadn't scored in the three games prior to the title game.
The other two main bench players Last-Tear Poa and Sa'Myah Smith also made big contributions, combining for eight points. Don't ever forget, also, Poa drawing two offensive fouls from Clark, which shackled the Iowa star and forced her to sit.
LaDazhia Williams had the quietist 20 points you'll see. Morris was 6-of-6 shooting in the fourth quarter, killing any notion of an Iowa comeback, to finish with 21 points.
Flau'jae Johnson got 10 points, seven rebounds and four assists, playing more freely. And Reese had low totals with 15 points and 10 rebounds but broke the NCAA record for double-doubles in a season with her 34th.
Talk about piecing it together.
It was an explosion for LSU, which hadn't shot that well most of the season. The Tigers hit 38 of 70 shots (54.3%) and tied their season high for 3-pointers (11). They broke the NCAA record for points in a championship game, points in a quarter (32) and points in a half (59).
All of that was by a program that emphasizes defense in its culture. When the team was in position to do something special, it never showed a flicker of nervousness or doubt.
The team that started the season with five consecutive games in triple figures – albeit against a weak non-conference schedule – came full circle.
It's a shame about the cloud of disapproval that hung over the championship game victory and festered on social media for more than a week after. Most of the rage came from people who have probably never been to a women's basketball game. If they had, they might realize trash talk and gestures are just as much a part of the women's game as it is the men's, and has been for a long time.
The vilification of Reese was partly because she is black, gesturing toward a white player, and partly because she's a woman and acting "unladylike." If Clark's response – that there was nothing wrong with what Reese did – doesn't end the discussion, then people are choosing not to listen.
The multi-skilled and talented Clark, like Reese, is a joy to watch and players like her are good for the game. The best thing she has done is come to the defense of women's basketball players everywhere.
This is the 21st century and girls just want to have fun, so let them.
So, what's next for LSU?
Mulkey was quick to hint that LSU fans shouldn't expect to win it every year. She won three titles in 21 years at Baylor. Like she said, it's hard to win championships.
This year's LSU team, I felt at the beginning of the season, was good enough to make the Final Four. Winning the championship, not so much.
Next year LSU again, should have a Final Four-worthy team with the No. 1 recruiting class coming in and likely a couple of key transfer portal additions.
The Tigers will be in the hunt, they just need some luck, err, good fortune.