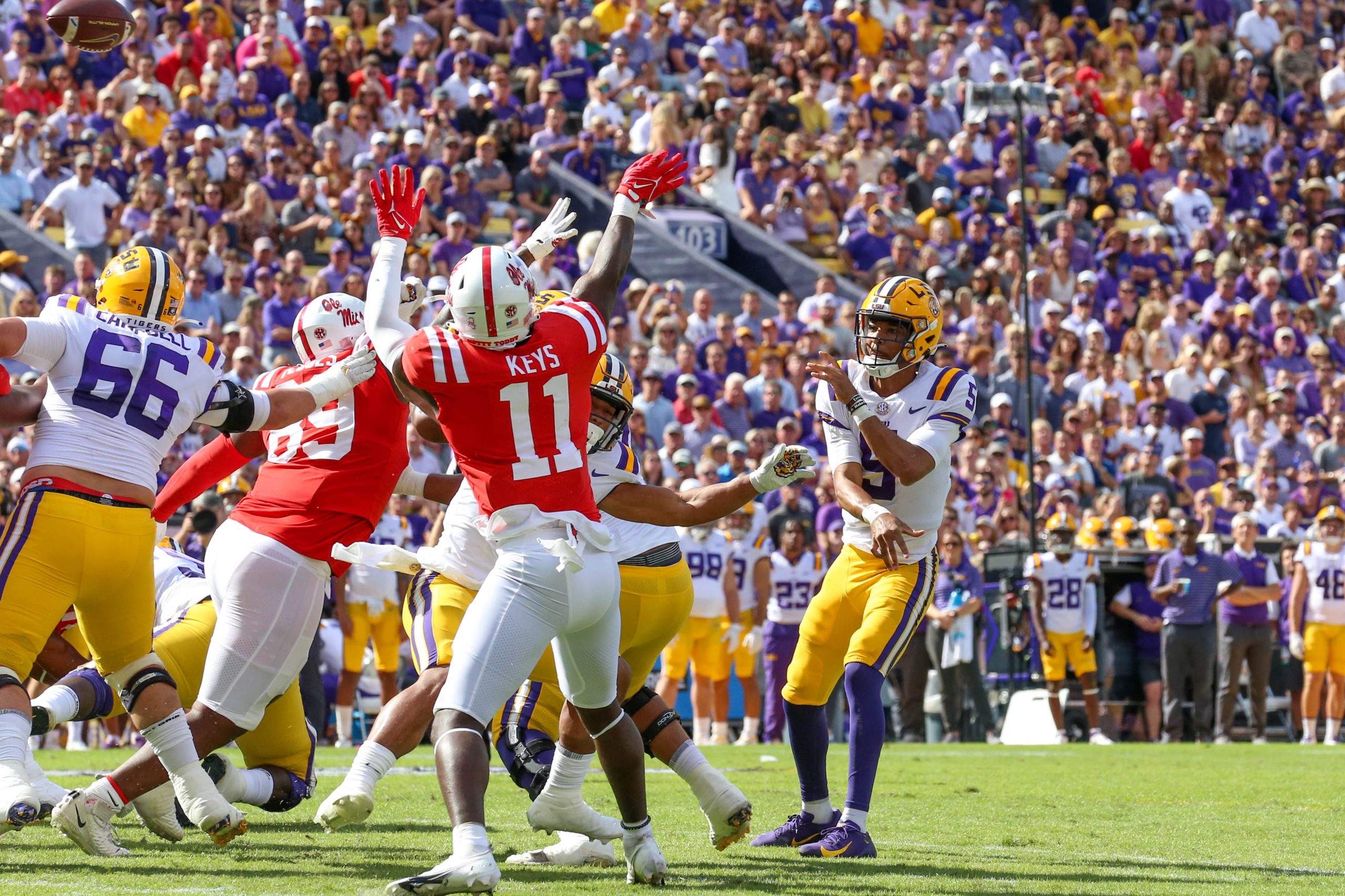 LSU quarterback Jayden Daniels' electrifying performances in huge wins the past two games for the Tigers over Florida and Ole Miss are not aberrations, if you believe Brian Kelly.
Instead, Daniels 11-touchdown barrage over that span is a result of a talented dual-threat quarterback who is settling in comfortably to a new offensive scheme for him.
The game is slowing down for Daniels, Kelly says.
And, as a result, the pace of the entire LSU offense is slowing down – running as it is intended to run. In short, going further, not faster, and, consequently, beginning to fire on all cylinders.
Just in time.
Arch-rival and sixth-ranked Alabama visits No. 18 LSU at 6 p.m. Saturday with late season SEC West supremacy on the line.
Alabama is a strong favorite, 16-1/2 points as of the weekend, mainly because, as former LSU All-American Marcus Spears said Thursday during a taping of a segment for Tiger Rag Radio that will air Tuesday night, "This is Alabama we're talking about. Alabama is better than LSU," he said.
An ESPN NFL Analyst, Spears merely said what most people are thinking.
But then the "Big Swagu" threw in a caveat.
Saban is the prodigal coach who led LSU to a national title in 2003 before leaving for greener pastures in the NFL. He ended up two years later at Alabama in 2008 and began building a dynasty, adding six more national titles since, has a 12-4 record against LSU during that span.
His only loss in Death Valley to LSU came in 2010 by three points.
Saban's dominated LSU. He's also 2-0 against Kelly, who said one of the reasons he left Notre Dame when AD Scott Woodward beckoned last November is because "I want to beat Nick Saban."
Kelly's first shot at doing that is Saturday night.
Even though Spears has his reservations of that actually happening, he was keen to point out Saban's long-standing nemesis is a dual-threat quarterback like LSU's Jayden Daniels.
Spears' segment will air on Tuesday night on Tiger Rag Radio at 6 p.m.
Daniels' emergence of late is exactly the kryptonite Kelly, and LSU need, if they are going to upset Saban and the Crimson Tide and turn the college football world upside down in Baton Rouge on Saturday night, Spears said.
Throw in LSU's talented receivers and Alabama's handsy defensive backfield's penchant for grabbing hold of jerseys this season to keep receivers from blowing past them while the football is in the air, and Daniels has a chance to deliver Kelly and LSU despite the odds.
Cam Newton did it to Saban at Alabama.
So did Tim Tebow.
So did Johnny Manziel.
And so did Deshaun Watson.
Daniels is next up.
And here's why Daniels could very well be up to the task.
Daniels is good, he's proven that. And he's finally playing with confidence, not relying on playing fast to be productive as he was for most of the first half of the season.
"Just to give you a perspective, when you go fast, things have to be simpler. The reads have to be much more singular. Protections have to be one-dimensional because you don't have a chance to check everything," Kelly said, providing coaching insight to Daniels' improved play of late.
"So, you can imagine, if you go fast – especially teams that go fast a lot – you cannot have a lot of moving parts in that offensive scheme. So, going fast, you can assume that those are not plays that you can run check downs. They are plays that are repeatable if you will. That was part and parcel of the development of a quarterback that was learning the offense.
"Now that he is so much more comfortable within the structure of the offense, now you don't have to go fast just to go fast. He has a real good grasp of what we're doing now. And now you can run the offense, and you can change the pace of the offense – as you see we did that in terms of running the football, and we change the pace of the offense that way. That's the way we really want to run the offense," Kelly said.
Which is why Kelly, LSU, Garth Brooks and everyone, who wants LSU to pull the major upset against Alabama and Saban, will be calling Jayden Daniels come Saturday night in Death Valley.