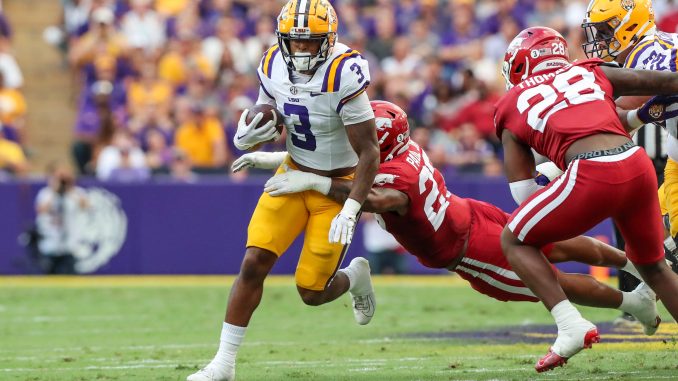 LISTEN: Full Audio of LSU head coach Brian Kelly's SEC Media Tele-Conference Call from October 4, 2023
Going into the season LSU football coach Brian Kelly said one of the objectives of the 2023 offense was to have a running back become the team's leading rusher.
The anticipation was that senior quarterback Jayden Daniels, last year's leading rusher, would rely more on his arm than his legs not only for self-preservation but also help the Tigers achieve offensive balance.
Through the first five weeks of the season No. 23 LSU (3-2, 2-1 in SEC) has produced the league's top-rated offense in scoring (42.8), total offense (530.0) and No. 3 rushing offense (191.8) going into Saturday's 11 a.m. game at No. 21 Missouri (5-0, 1-0).
The game will be televised by ESPN and carried locally by 98.1-FM.
"I think it's absolutely crucial for any really good offense unless you're in a specific kind of Air Raid type of offense," LSU football coach Brian Kelly said Wednesday during the SEC Coaches Teleconference. "It has the components of an intentional running game and still taking shots down the field. Controlling short yardage and down and distance and things of that nature.
"So, there's so many hidden components within the game as well in terms of having an established running game," Kelly said. "It's absolutely intentional and I've always felt philosophically that I never want to be a one-dimensional offensive structure, I want to be able to have the ability to be equally effective."
LSU's averaging nearly eight more yards per game rushing over the 2022.
The biggest influx in the Tigers' running game has been Notre Dame junior transfer Logan Diggs, who in four games, ranks seventh in the SEC with 354 yards on 57 attempts. He's also scored three touchdowns. Fellow running back Josh Williams is the next highest-ranked running back with 145 yards and a TD on 15 rushes.
Daniels, who averaged 63.2 yards per game and led LSU last season with 885 yards and 11 TDs, is averaging 58.5 yards per game this year. He's second to Diggs in rushing with 60 attempts for 292 yards and 3 TDs.
Conversely, Daniels has experienced a breakthrough in the passing game and with 16 TDs through the air, is one off his total of last season. He's completed 73.1% (117 of 160) of his passes for 1,170 yards with two interceptions.
Here's what else Kelly had to say:
Opening statement:
"They do such a great job on both sides of the ball and in special teams. There's so many things you could talk about where to start. Brady Cook's having a great year and hasn't thrown a pick. Cody Schrader is No. 2 in the SEC in rushing and (Luther) Burden leads the SEC and receptions. They're playing at a high level and are No. 1 in the SEC in pass efficiency and defensively, (they're allowing) 21 points per game. That's pretty good in the SEC. They're very active on defense, outstanding corner in (Kris) Abrams-Drain. So, a really good football team. We got to go back on the road against a nationally team. We're obviously disappointed in what happened last week. So, looking to rebound and play to our standards. Excited about this opportunity."
Are you looking for players to play with a certain amount of confidence and aggressiveness?
"I think the game of football has got to be played with a competitive edge that borders on fearless. You have to go out there, you're confident in what we're teaching you're confident in who you are and what you're capable of. And you're fearless. You can't be apprehensive playing this game. And I thought (against Ole Miss) we were tentative at times and apprehensive. We want to let our guys go play. And I think that's probably the most important piece that we're looking for is to let our guys go. Play fast, play physical. Don't worry about making mistakes, just go play and they're good enough players. We've got to get them in a good position. I think those are the basic tenets, create a new line of scrimmage, take air out of the space that was created last weekend and get our guys in a good position to tackle."
What's the relationship like the second year between Mike Denbrock and Jayden Daniels?
"I think a lot of that happens in the offseason, getting an opportunity in the winter months, in the spring, and even in the summer, to talk about how the offense looks and how it best fits. I think when you go into Year 2, and you have the ability to kind of rehash the year, the first year that is, where coach Denbrock and Jayden can sit down and talk about, 'What are the things you have liked, what are the things that you really feel comfortable with'? That's where you start to see some of the nuances of the offense come together. And I think we're highlighting on those things because, we've got those opportunities to spend time with Jaden and start to add those things within the offensive structure."
What were some of the qualities you've seen in Mehki Wingo to earn the No. 18 jersey?
"One of the most important principles of the No. 18 is that he represents the culture of our program. Representing the culture is that you communicate the culture on a day-to-day basis. You are committed to it and are consistent, and so he embodies all of those things on a day-to-day basis. We want guys that can model our culture on a day-to-day basis. When you're looking to add people to your program, in a leadership position, you want to put in front of those guys that are learning your culture and Mehki does that every day."
What were some of the things liked about Wingo coming out of the transfer portal?
"His energy, his motor. He was a freshman, so he had three seasons of competition remaining. All those things. I knew him because I recruited the high school. I really liked him out of high school. So, I knew what kind of character he had and so, I think all of those things became very attractive for us, but it was primarily his from a football standpoint. How hard he played every single down."
What are the challenges in bringing in guys from transfer portal and establishing chemistry?
"It's something that we think about now. More than ever, what kind of onboarding program do you have to get your transfers indoctrinated to. We're beginning to install those types of programs because the transfer portal is not going away, although it sounds like they're going to narrow the (signing) window. But those kinds of ideas of what's your onboarding program? What's your orientation program? How do you talk to them about here's what an LSU football player is about, and these are the musts, and this is what you have to be looking at on a day-to-day basis. So yeah, it's requiring us now as coaches to really spend a lot of time on it and right, rightfully so."