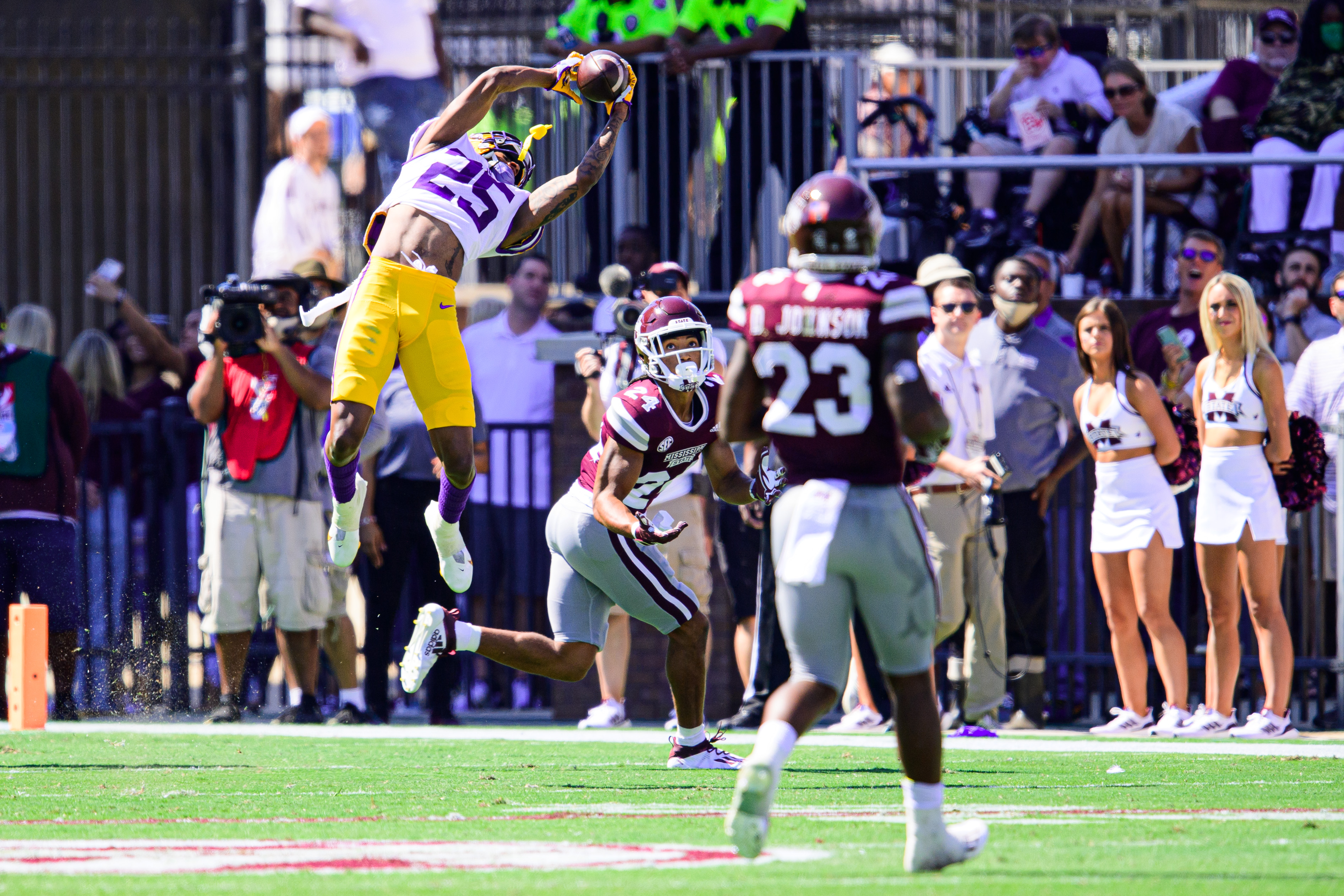 There wasn't a lot of chatter in Baton Rouge about the manner in which Arkansas defeated Mississippi State, 21-14, the week after the Bulldogs' Air Raid passing attack torched LSU for a Southeastern Conference record 623 yards in a stunning 44-34 victory over the Tigers to start the 2020 season.
But Arkansas' polar opposite approach to then-LSU defensive coordinator Bo Pelini's man-to-man coverage tactic certainly resonated with Tigers' head football coach Ed Orgeron.
He watched the Razorbacks employ an unconventional 3-2-6 defensive alignment that relied primarily on zone coverage that resulted in three interceptions and half of the yardage LSU allowed in a 21-14 victory over the Bulldogs.
"We've been thinking about it the Sunday after our game last year," Orgeron said after Saturday's 28-25 road win over Mississippi State. "We watched Arkansas and what Arkansas had done to them. We really studied Arkansas' film a lot."
In what was quite a departure for LSU's aggressive four-man attacking defense that led the nation in sacks (they had one sack Saturday), first-year defensive coordinator Daronte Jones replicated Arkansas' 3-2-6 defense. The main objective was negating the blown coverages and wide-open crossing routes of last season by inviting the Bulldogs into shorter, intermediate throws. The strategy paid dividends and helped the Tigers make amends for the 2020 season-opening calamity of last season.
"We know what happened last year," LSU linebacker Damone Clark, who led the Tigers with 15 tackles and had a key fumble recovery. "It's a new year and new coaches. The past is the past. We had to make sure what happened last year didn't happen this year. I'm proud of our defense. We've got to keep fighting and finish at the end. Proud of the way we fought. That way there wasn't another last year today."
That's not to suggest State's Will Rogers didn't enjoy a measure of success at LSU's expense. The sophomore completed 47 of 62 passes for 371 yards and three touchdowns. But the Tigers forced a pair of first-quarter turnovers and limited the Bulldogs to 7.9 yards per reception or nearly 10 yards fewer than in last year's game.
Last season's performance by State's KJ Costello was seared into the memories of LSU's defense with his record-setting 623-yard performance and five touchdowns against LSU's four-man front and a defense that was burned repeatedly by explosive plays with four of the five touchdowns covering 24-plus yards.
"Daronte did a great job of implementing," Orgeron said. "Our guys did a great job of believing in it. It's a little different for us. When you lead the nation in sacks it's hard to go with a three-man rush, but we had to have the heart to do that."
Orgeron said his team's defensive makeover that included a dime package began in practice Monday where the Tigers committed only three players to rushing Rogers and dropping six defensive backs into coverage with the idea of not allowing anyone to get behind them.
It worked.
Rogers completed seven passes for 10-plus yards and only three for 20 yards or more that included a 29-yard seam route against LSU linebacker Micah Baskerville near the end of the third quarter that was the Bulldogs' first touchdown which drew them to within 21-10.
"Obviously, the explosive plays killed us last year, that's why we went to the eight-man drop," Orgeron said. "Give our coaches some credit. They worked very hard. Give the players some credit, especially our linebackers and secondary. That's a new scheme. We had never played that before. We practiced it this week and our guys did a tremendous job of working."
For the first time this season, LSU's secondary was minus two-time All-American cornerback Derek Stingley Jr. who missed the game with a left foot injury suffered Wednesday in practice.
Stingley's backup sophomore Dwight McGlothern, played for the first time in the second half of last week's 49-21 home win over Central Michigan and made his first career start opposite Eli Ricks.
Junior safety Jay Ward returned from a two-game absence since leaving the UCLA game and helped to galvanize a secondary that had its position coach Corey Raymond plenty motivated to atone for last year's performance.
"We had a staff meeting this morning around 6:30," Orgeron said. "Corey Raymond was steaming. I had never seen him like that. He was still upset from last year. He was very motivational today. He taught his guys well. We worked well on tackling all week."
Nickel back Cordale Flott registered the first of his two turnovers, forcing a fumble by Malik Heath which Clark recovered and returned 40 yards to the Bulldogs' 35-yard line to set up LSU's first scoring drive for a 7-0 lead.
"I should have scored that," Clark said. "That's on me. I'm just proud the way our defense fought."
Flott came up with his first career interception two series later, showing off his athleticism on a ball thrown over his head. He was able to leap and twist his body for the interception that stopped a scoring threat at the Tigers' 11-yard line with 1:33 to go in the opening quarter.
"We say big plays fuel emotion," Orgeron said. "We had to take the crowd out of the game. Us having those turnovers kind of took the crowd out of the game a bit and gave our guys some confidence."
LSU's offense feasted on big plays, scoring touchdowns on plays of 64, 58 and 41 – all on passes from quarterback Max Johnson – to extend the Tigers' lead to 28-10 with 11:32 remaining in the game.
When LSU avoided taking the "cheese" on Rogers' play fakes, the quarterback tried nibbling with an array of screens, hitches and swing passes that were all underneath the Tigers' defense which wound up spending more than 11 minutes on the field than the Bulldogs.
State ran 34 more plays (88 for 486 total yards) than LSU and scored on its final three drives that averaged 10 plays and 72 yards in closing to within the final score with 1:53 remaining.
"We thought if they threw the ball in front of us, we win," Orgeron said "We could tackle the ball. We couldn't be impatient."