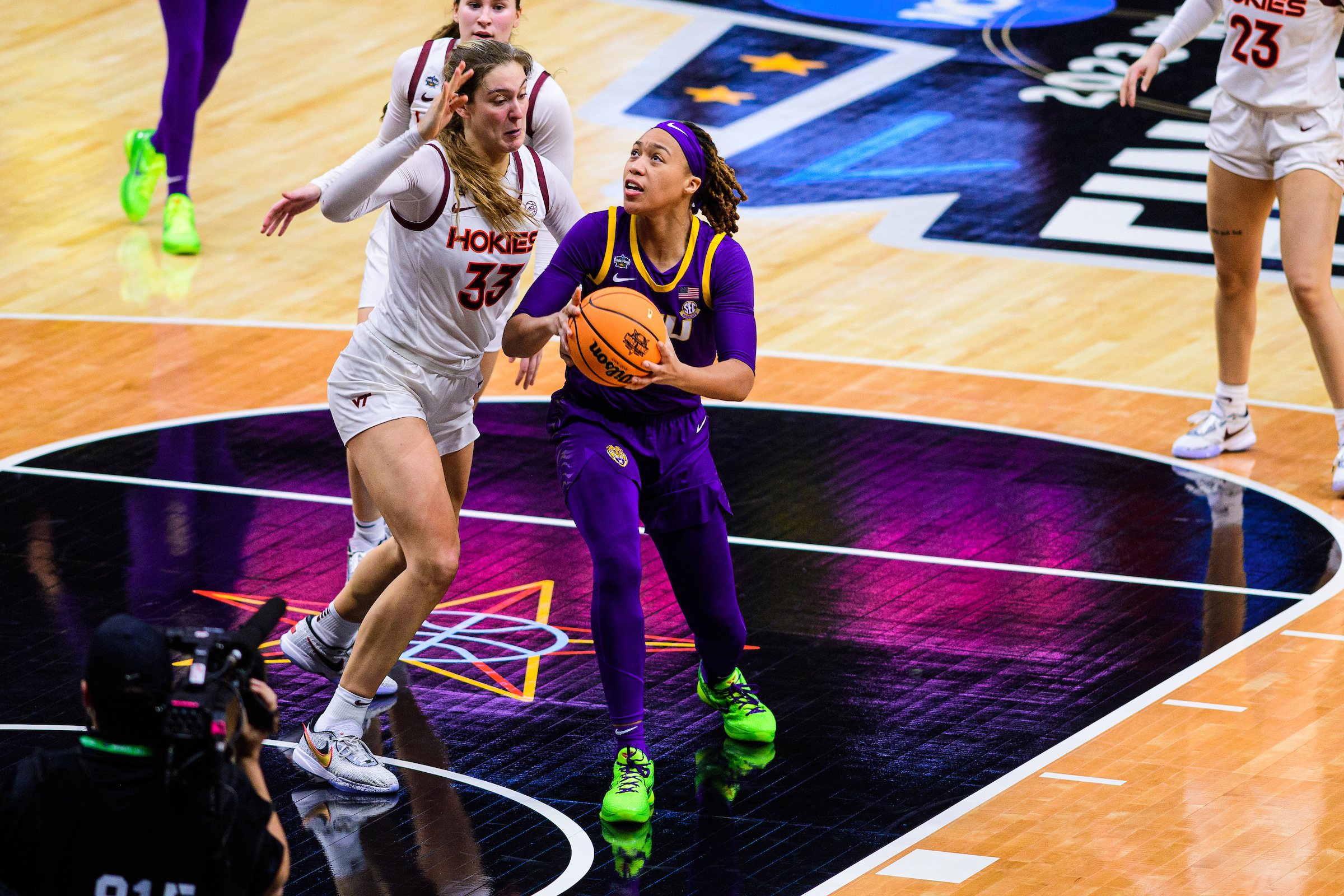 Because of her media obligations Friday in the wake of her team's stunning semifinal victory LSU coach Kim Mulkey didn't get an overabundance of time to see Iowa scoring phenom Caitlin Clark during the Hawkeyes' upset of defending national champion South Carolina.
But what she witnessed left the Tigers' veteran coach in disbelief.
"That's my first time to see her play in person, and I didn't get to watch the game because I had to deal with y'all," Mulkey said to the media during Saturday's news conference. "When I did get out there, I couldn't take my eyes off of her. Gosh, she's special. She's special."
There's been plenty of national buzz surrounding second-seeded Iowa stopping the 42-game winning streak of South Carolina to make its first appearance in a national championship game in 30 years. Clark, the nation's consensus Player of Year, became the first player in NCAA Tournament history with consecutive 40-plus point games.
Clark represents the apex of the challenge that awaits third-seeded LSU (33-2) when the Tigers make the program's first trip to the national championship game, opposing Iowa (31-6) at American Airlines Center in Dallas at 2:30 p.m. on ABC.
The game will also be carried locally by 107.3-FM.
"Our defense and rebounding is what has gotten us this far," LSU All-America forward Angel Reese said. "I was just telling somebody we're like a roller coaster. We seem to always get going early on, and then we could never break the door open.
"So just being able to break the door open early on tomorrow," Reese added. "Caitlin Clark is a great player. It's going to be tough to stop her from getting her points. But being able to just contain her and not letting the supporting cast, her other teammates go off. So, I think that's just something that's going to be important."
After five previous attempts, the last being 15 years ago, LSU finally broke the national semifinal door down with a furious fourth-quarter comeback in Friday's 79-72 victory over top-seeded Virginia Tech.
The Tigers reversed a 12-point deficit (51-39) in the third quarter, and trailed by nine points after three quarters, to outscore the Hokies 29-13 in the final 10 minutes of play.
Fifth-year senior guard Alexis Morris led LSU with a game-high 27 points, Reese had 24 points and 12 rebounds and graduate student LaDazhia Williams added 16 points and seven rebounds.
"Do what we've done all year," Mulkey said. "We can't change who we are. We got back in that game last night because of defense and rebounding. I just think we took it up a notch in the fourth quarter. Keep doing that. (We have) Hit a few more shots. Just defend as hard as you can, rebound. I thought that being down 11 rebounds at half was so not normal for us, and then I finally saw in the fourth quarter Angel and those guys, just go flying in there for offensive boards. Just do what we've done."
The aforementioned players are LSU's top three scorers with Reese scoring 23.3 points with 15.6 rebounds, Morris at 15.2 and Flau'jae Johnson at 11.0 points and 5.9 rebounds. Williams is next at 9.6 points and 6.0 rebounds.
"I've loved watching LSU this year," Clark said. "They've been tremendous. And what Kim Mulkey has been able to build there in her short time is nothing short of remarkable. So, I have all the respect in the world for them, and I think it's going to be a tremendous game."
Clark, a 6-foot junior, has been the talk of women's basketball with an offensive showmanship that's earned her lofty comparisons to former LSU All-American 'Pistol' Pete Maravich. Her 41-point explosion against South Carolina was the most points scored in a NCAA semifinal and her 13th game this season with 30-plus points.
"I saw somebody called me Ponytail Pete or something like that," Clark said. "I think that's just a tremendous compliment. I take a lot of pride in being able to do a lot of different things for my team, whether it's scoring, but also, I think the passing can get overlooked at times."
Clark's scored 2,687 points during her career, including 1,025 for an average of 27.1 points and 8.6 assists this season, pacing an offense averaging 87.3 points a game. Senior forward Monika Czinaro averages 17.2 points and 6.5 rebounds and senior forward McKenna Warnock 10.9 points and 5.9 rebounds.
"We keep what we do in our locker room private, but I just feel like that's who we are," Reese said. "We're going to keep that chip on our shoulder. I think that's why we go so hard because it's like we have nothing to lose. We're not supposed to be here. We're not supposed to be here, and I don't care what anybody says, we're not."