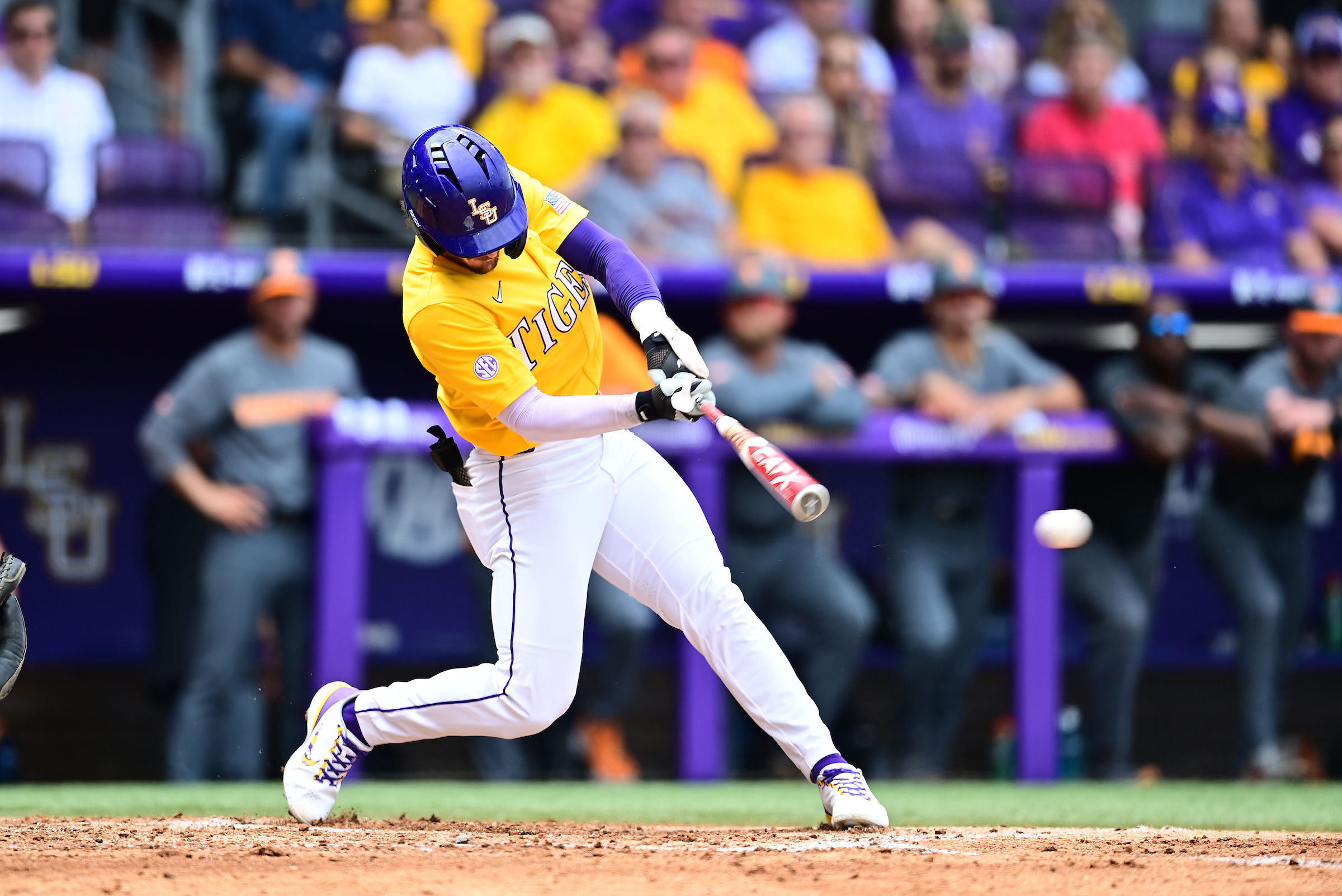 Tennessee saved face on Saturday at No. 1 LSU, winning 14-7 and avoiding the series sweep by bludgeoning Tigers' pitching in the first two innings and staving off a potential rally in the middle innings.
The No. 10 Volunteers (21-8, 4-5 SEC) pounded out eight hits in the first two innings, including four doubles and also took advantage of three walks for a 10-0 lead.
LSU (24-4, 6-3 in SEC) returns to action Tuesday when it hosts Nicholls at 6:30 p.m. The contest can be viewed on SEC Network+ and is available on 98.1-FM.
LSU, which won two of three games over Tennessee, has won its first three SEC series since the 2013 season. The Tigers have posted series wins over No. 11 Texas A&M, No. 3 Arkansas and No. 9 Tennessee.
LSU starter Thatcher Hurd (2-1) never got on track against Tennessee and the sophomore transfer from UCLA lost his first game of the season. He gave up six runs on four hits and gave up two walks without recording an out.
LSU used five pitchers. Riley Cooper replaced Hurd and faced 28 batters over 5.2 innings, giving up six runs on eight hits, struck out five and walked two.
Camden Sewell (2-0) got the win for Tennessee after pitching 2.2 innings and allowing one run on three hits.
LSU's All-American center fielder Dylan Crews' hitting streak continued at 26 games and his nation-leading batting average improved to .548. He was 4-for-4 with three RBI and also scored a run. He has reached base in every single game this season.
End 4 | The Tigers plate four in the fourth

TENN – 10
LSU – 6
📺 SECN+ pic.twitter.com/b7IJr99uWh

— LSU Baseball (@LSUbaseball) April 1, 2023
"You tip your hat to Tennessee today; we saw another really good pitcher on the mound and their offense is explosive," LSU coach Jay Johnson said. "Our players know the things we need to do better that we did not do well today. We'll work on those and move forward."
"I didn't love today," Johnson said, "but I would give us an 'A' for the first half of the season. Ours is an easy team to get behind in terms of how we play, how much they care, how invested they are. I love coaching them, and we've got great leadership and a great team dynamic. I'm excited for the week ahead of us."
Tennessee began the game with a six-run first inning that had all nine Vols in the lineup reach base. Before LSU was able to record the first out of the inning, the Tigers trailed 5-0. The Vols had extended the lead to 6-0 before the Tigers came to the plate in the bottom of the first inning.
The Vols increased their lead to 10-0 in the top of the second on the strength of four base hits against Cooper.
LSU got one back in the second inning when first baseman Jared Jones scored on a fielding error. The Tigers added another run in the third with an RBI-single from Crews, which scored left fielder Tre' Morgan from second.
Tre' Morgan brings two Tigers home!@tre_morgan10 | SECN+ pic.twitter.com/z6At9TMAf8

— LSU Baseball (@LSUbaseball) April 1, 2023
LSU shortened the margin in the fourth inning by striking for four runs. Jones began the frame with a sharply hit single to left field and right fielder Brayden Jobert reached on the Vols' third error of the game. After two quick outs, second baseman Gavin Dugas reached via a hit-by-pitch.
Morgan came through with the bases juiced, lacing a double down the right-field line to score Jones and Jobert. Crews continued his impressive day at the plate with a two-RBI single to make the score 10-6.
Vols third baseman Zane Denton hit a two-run homer in the sixth for a six-run advantage. In the seventh, the Vols added two more runs, and LSU narrowed the gap to 14-7 in the eighth on an RBI-single from White.