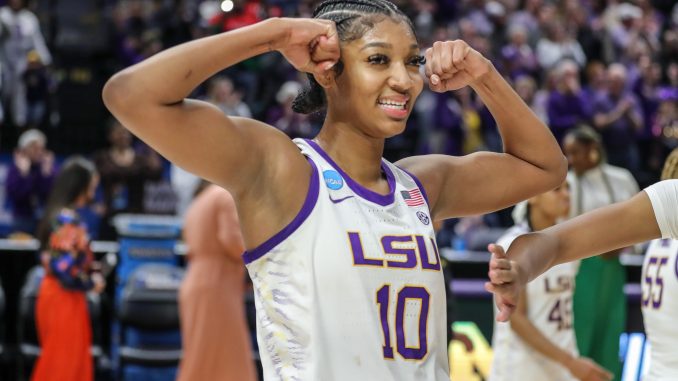 For the past two years under head coach Kim Mulkey, the LSU women's basketball team has been the runners-up in the Southeastern Conference to South Carolina.
Five months after breaking through with the program's first national championship the Tigers have been selected to win the 2023-24 SEC Championship by SEC and national media members.
LSU, 34-2 a year ago, were selected ahead of South Carolina, Tennessee, Ole Miss and Mississippi State among the top five schools.
The Tigers dominated the first-team preseason selections with returning first team All-America choice Angel Reese getting the nod for the league's preseason Player of the Year.
Reese led the SEC in both scoring (23.0 and rebounding (15.4) last season and her 34 double-doubles broke both a NCAA and SEC record.
Reese was joined on the first team by sophomore guard Flau'jae Johnson and graduate point guard Hailey Van Lith, a transfer from Louisville.
Johnson, last year's Freshman of the Year, started in all 36 of LSU's games a year ago and is the team's second-leading returning scorer at 11 points. She also averaged 5.9 rebounds and 1.8 assists.
Van Lith, who is expected to handle LSU's point guard role, scored 1,553 points and averaged 15.4 points in her three previous seasons at Louisville. She averaged a career-best 19.7 points last season with 4.5 rebounds, 3.2 assists and 1.4 steals.
Van Lith was named Tuesday to the Ann Meyers-Drysdale Award preseason watchlist, a list of the nation's top 20 shooting guards.
LSU's trio were joined on the first team by Tennessee's Rickea Jackson and South Carolina's Kamila Cardoso.
The Tigers were also represented on the All-SEC second team by junior guard/forward Aneesah Morrow of DePaul. Morrow averaged 25.7 points and 12.2 rebounds last season for the Blue Demons.
2023-24 SEC Preseason Media Poll
1. LSU
2. South Carolina
3. Tennessee
4. Ole Miss
5. Mississippi State
6. Arkansas
7. Georgia
8. Texas A&M
9. Alabama
10. Florida
11. Missouri
12. Auburn
13. Kentucky
14. Vanderbilt
Preseason Player of the Year
Angel Reese, LSU
Preseason All-SEC First-Team
Flau'Jae Johnson, LSU
Angel Reese, LSU
Hailey Van Lith, LSU
Kamila Cardoso, South Carolina
Rickea Jackson, Tennessee
Preseason All-SEC Second Team
Anneesah Morrow, LSU
Madison Scott, Ole Miss
Jessika Carter, Mississippi State
Jewel Spear, Tennessee
Aicha Coulibaly, Texas A&M
Jordyn Cambridge, Vanderbilt