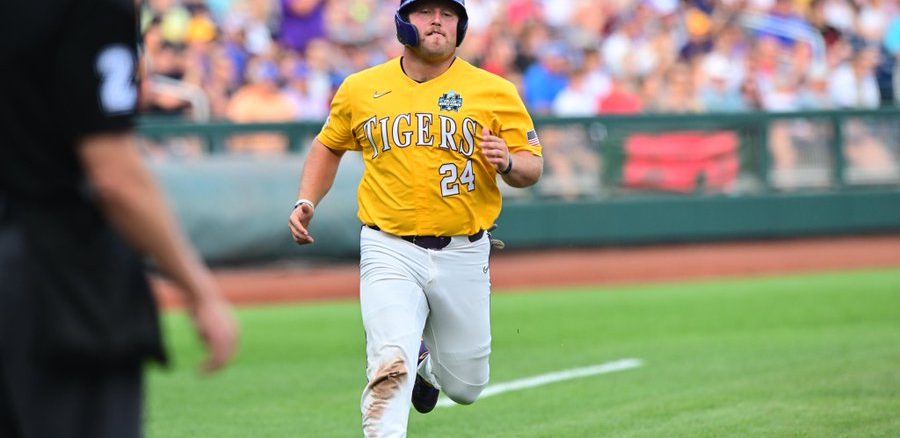 OMAHA, Neb. – Designated hitter Cade Beloso's three-run homer in the bottom of the third inning Wednesday night not only jolted some life into LSU's offense in a do-or-die game for the Tigers against Wake Forest, it ended up being all the offense needed in a 5-2 victory over the No. 1 overall seed Demon Deacons at Charles Schwab Field.
LSU (51-16), facing its second elimination game in as many nights, and Wake Forest (54-11), will now do it all over again on Thursday at 6 p.m. on ESPN2. The game can be heard on the LSU Sports Radio Network affiliates including www.LSUsports.net/live.
Florida, a 3-2 winner over TCU earlier on Wednesday, awaits the LSU-Wake Forest winner in the College World Series Championship Series that begins Saturday night.
"Great performance tonight by our team," LSU coach Jay Johnson said. "I thought it was a great team win. We had a little bit of adversity early in the game there, and really responded offensively. In the second inning, we took some really good at-bats.
"And, the big inning obviously there in the third with a great one by Cade."
LSU left-hander Griffin Herring (5-2) entered the game in relief after the Tigers allowed two runs in the second inning. He enjoyed an impressive performance and quieted the Demon Deacon bats for the remainder of his outing.
Herring worked 4.2 scoreless innings while striking out a career-high six and limiting Wake Forest to three hits.
Left-hander Riley Cooper earned his third save of the CWS after entering the game in the eighth and recording the final four outs. He finished the contest with 1.1 innings pitched, allowing no runs on no hits with one walk and two strikeouts.
"I was really proud of the pitching staff," Johnson said. "Everybody contributed tonight. Griffin really settled into the game and got us the length that we needed. And Riley finished off another one. So good performance and we'll turn it over to tomorrow."
Wake Forest opened the scoring in the top of the second inning on a two-RBI single from centerfielder Tommy Hawke.
The Tigers narrowed the Demon Deacons' lead in the bottom half with an RBI-double from right fielder Brayden Jobert. The frame began with a walk by Beloso, who advanced to second on a wild pitch and scored on Jobert's double down the right-field line.
LSU tied the game in the third on an errant pitch from the Wake Forest starting pitcher Seth Keener. Center fielder Dylan Crews led off with a walk and first baseman Tre' Morgan singled to right field. Second baseman Gavin Dugas walked, and with Beloso at the plate, Crews scored on a wild pitch to tie the game 2-2.
Beloso followed up with a three-run shot to put the Tigers ahead 5-2. It was Beloso's 15th home run of the season and proved to be the game-winning blow.
Keener (8-2) suffered the loss as he was charged with five runs on four hits in 4.1 innings with four walks and four strikeouts.
"I had a chance to walk Beloso there with a 2-0 count," Wake Forest coach Tom Walter said. "I wanted to it. I was in between. I should have pulled the trigger on an intentional walk there and loaded the bases for (Jordan) Thompson."
Walter, however, said he believes the Demon Deacons will bounce back.
"Obviously disappointing loss, but we'll come out ready to play tomorrow like we've done all year. We've responded to adversity all year. And tomorrow will be no different," he said.