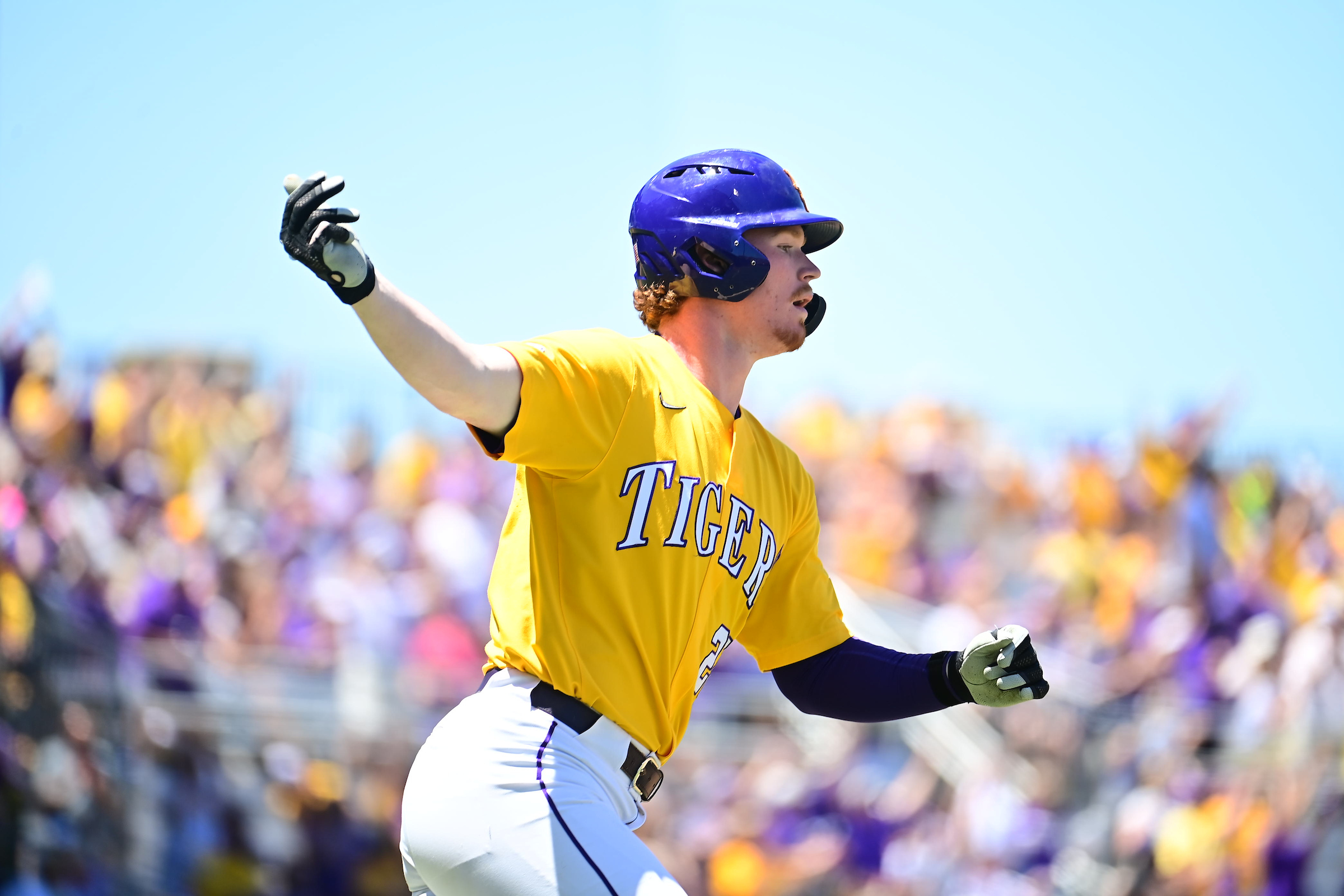 No. 1 LSU swept Alabama 13-11 on Sunday – its second straight sweep of the Southeastern Conference season – but nothing about any of the three wins was easy and Gm. 3 at Alex Box Stadium, Skip Bertman Field, was no different.
The Tigers (35-8, 15-5 in SEC) fell behind early and rallied back against the Crimson Tide (30-15, 9-12) then had to hold on late for their seventh straight SEC win. They also moved to within a half-game of Vanderbilt (32-11, 16-5) for the conference's overall lead.
LSU returns to action Tuesday night at Southeastern Louisiana at 6:30 p.m. The game will be streamed on ESPN+, and it can be heard on LSU Sports Radio Network affiliates (98.1-FM).
Four LSU players – Dylan Crews, Jared Jones, Jordan Thompson and Paxton Kling – all homered for the Tigers.
And LSU needed every single one of them, plus more, to pull off the sweep.
For the second game in a row, LSU found itself down early and forced to rally.
In Saturday's second game of the series, the Tigers trailed 6-1 and battled back to win, 12-8.
LSU trailed Alabama 7-3 heading into the bottom of the fifth inning when the Tide walked five and hit a batter.
Alabama also committed an error to start the inning. LSU ended up scoring six runs on three hits in the inning to take a 9-7 lead.
But in many ways, the game was just getting started. That's the way it goes in games with a combined 24 runs on 23 hits.

LSU COACH JAY JOHNSON TALKS ABOUT TIGERS' 13-11 WIN OVER ALABAMA AND SERIES SWEEP
With the score knotted at 9-9 entering the bottom of the seventh, LSU right fielder Josh Pearson drilled a two-out double, and catcher Alex Milazzo followed with a sharp run-scoring single into left-center.
Crews drew a bases-loaded walk later in the inning to increase the Tigers' lead to 11-9.
Solo homers by Thompson and Kling extended LSU's lead to 13-9 in the bottom of the eighth.
Alabama left fielder Tommy Seidl hit a two-out, two-run homer in the ninth, and after right fielder Andrew Pinckney reached on an error, LSU reliever Riley Cooper retired first baseman Drew Williamson on a fly ball to left field to end the game.
"I'm super proud of our team," LSU coach Jay Johnson said. "When you look back at the past two weekend sweeps, they were kind of done in a different fashion, and that's the sign of a good team. That's something we take pride in, the ability to win any type of game that you're playing in, and we've done that lately."
Cooper (3-2) earned the win after working the final 2.1 innings. He allowed two runs on two hits with no walks and three strikeouts.
"Riley just persevered," Johnson said. "He was in the game because he's been there so many times, and he's pitched with poise and composure."
Alabama reliever Hunter Hoopes (1-1) was charged with the loss after firing 2.2 innings. He allowed two runs on three hits with three walks and two strikeouts.
The Crimson Tide began the game with a sharp single to right field by shortstop Jim Jarvis and loaded the bases with two walks. Catcher Dominic Tamez lifted a ball to left field to bring home the game's first run on a sacrifice fly. Alabama led 1-0 after the first inning.
Jones gave LSU its first lead of the game with his 14th homer of the season, a 400-foot, two-run bomb to left-center field, following Thompson's two-out single, which was LSU's first hit of the game.
Crews increased LSU's lead to 3-1 after sending his 13th home run of the season to right field, a two-out opposite-field shot that moved him past Tigers' legend Todd Walker on the LSU all-time home run list.
Alabama struck for three runs in the top of the fourth on the strength of two doubles and a sacrifice fly to retake the lead. Tide first baseman Drew Willamson added another run in the fifth with a solo home run to make the score 5-3. The visitors closed the frame by scoring on a throwing error and sac fly to make it 7-3.
The Tigers responded in a big way during the bottom half of the fifth, plating six runs to take a 9-7 lead. The inning began with Milazzo reaching on an error, followed by second baseman Gavin Dugas and left fielder Tre' Morgan coaxing walks. Crews drove in the first run with a sharp single to left. Third baseman Tommy White did the same with a single to right field.
With the bases loaded, designated hitter Cade Beloso and Thompson both drew walks, each collecting an RBI. Jones added to LSU's total with a sacrifice fly and Milazzo singled to right field, which scored Beloso for a 9-7 lead going to the sixth.
The Crimson Tide plated single runs in the sixth and seventh to tie the game before Milazzo's two-out RBI single in the seventh, giving LSU the 10-9 lead. Following a hit-by-pitch by Dugas and a walk by Morgan, Crews drew a bases-loaded walk for an 11-9 advantage.
"Alex is doing a great job," Johnson said of Milazzo, who is now hitting .362 this season. "The focus level on that at-bat, how in control he was, and he knew he just had to get on top of the ball and hit it hard and low. We call two-out RBI hits 'goldens,' and he came through in strong fashion."
KLING KONG 🦍@PaxtonKling | SECN+ pic.twitter.com/XGzLtAXsgZ

— LSU Baseball (@LSUbaseball) April 30, 2023
Big Al brings us to 10@Milazzo__7 | SECN+ pic.twitter.com/27X4siE5Ig

— LSU Baseball (@LSUbaseball) April 30, 2023
Beautiful day for a rocket launch 🚀@__dc4__ | SECN+ pic.twitter.com/1Te8VokW9F

— LSU Baseball (@LSUbaseball) April 30, 2023
You think he ever feels bad for how hard he hits the baseball?

Yeah, me neither.@bearjones_3 | SECN+ pic.twitter.com/Ypx6Sb1zmA

— LSU Baseball (@LSUbaseball) April 30, 2023