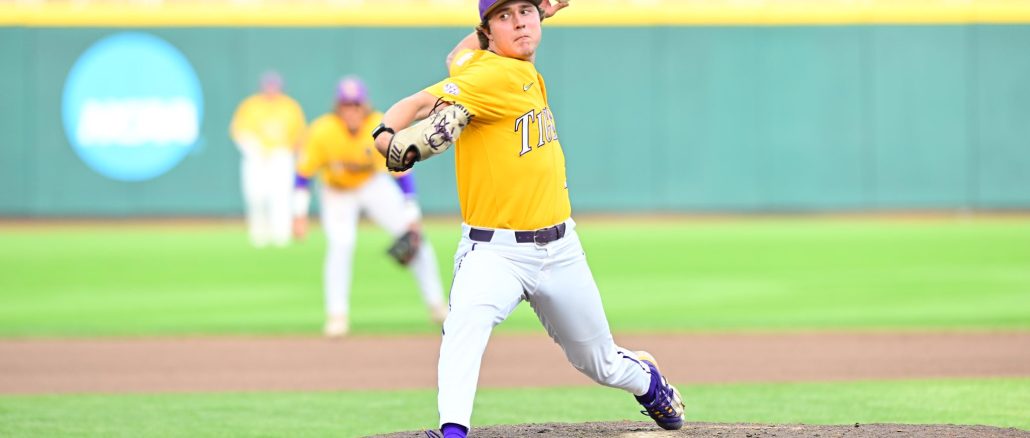 Just when it appeared it may be impossible for LSU to find someone to exceed Tuesday's pitching effort by Nate Ackenhausen, along came Griffin Herring with an encore performance a day later with the season on the line.
Herring, a freshman left-hander from Southlake, Texas, pitched a season-high 4.2 innings of scoreless baseball and combined with two other relievers to help the fifth-seeded Tigers stave off elimination for a second straight night, with a 5-2 win on Wednesday over top-seeded Wake Forest.
"Honestly, I was kind of out there throwing the ball," said Herring, who threw 50 of his season-high 80 pitches for strikes. "I never really felt like, 'Yeah, I'm really like in this. They can't touch me.' I was just throwing the ball."
LSU (51-16) advances to Thursday's second semifinal contest against Wake Forest (54-11) at 6 p.m. on ESPN2 with the winner advancing to a best-of-three national championship series against Florida.
Ackenhausen established a template for grit and determination for LSU's pitching staff to follow. He was the winning pitcher in the Tigers' elimination game against Tennessee, throwing six shutout innings with Riley Cooper pitching the final three innings for the save.
Herring combined with Gavin Guidry and Cooper to throw 7.2 innings of shutout relief. They allowed six hits, two walks, six strikeouts and stranded 10 runners.
"The bullpen was always talented," Herring said. "None of us were ever worried about it."
Herring (5-2) was the winning pitcher, yielding three hits over 4.2 innings with a career-high six strikeouts, and Cooper made his third appearance of the World Series, including second straight night in a save opportunity for his third save of the season.
It was the first appearance for Herring since a three-inning outing in the NCAA Regional against Oregon State on June 5. He was summoned into the game, trailing 2-0 in the top of the second, in relief of starter Javen Coleman and reliever Blake Money who got the first five outs of the game.
"We throw weekly bullpens with coach Wes Johnson," Herring said of LSU's pitching coach. "He does a great job with us. Really good catch play, a lot of intent with everything that we're doing and pure adrenaline. This place (Charles Schwab Field) is awesome. I think I was kind of able to feed off the adrenaline instead of letting it get to me. Kind of like a steroid shot."
LSU head coach Jay Johnson brought in Herring for a left-handed matchup with Wake Forest's first baseman which Herring won with a strikeout to end the inning with runners at first and third.
"Herring was spectacular," Johnson said. "He got the strikeout of Kurtz to limit the damage there and really settled into the game and got us the length that we needed. Gavin came in and executed incredibly well and Riley finished off another one."
LSU got a run back in the bottom of the second and took the lead for good at 5-2 on Cade Beloso's three-run homer in the third and the trio of Herring, Guidry (1.1 innings) and Cooper (1.1 innings) made it stand up.
Herring, who credited his success to 91-93 miles-per-hour fastball and slider, retired Wake Forest in order in both the third and fourth innings before the Demon Deacons ended a stretch of seven consecutive outs on Tommy Hawk's single to start the fifth. Brock Wilken then drew a two-out walk, bringing the potential tying run to the plate in Justin Johnson, who struck out swinging on a 1-2 pitch.
He pitched around a two-out, lead-off single to Pierce Bennett in the sixth when Hawke began the seventh with a single and Lucas Costello was hit by a pitch when Kurtz bounced into a fielder's choice.
That signaled the end of a momentous outing for Herring, whose previous long game was three innings, in favor of Guidry who came in and struck out both Wilken and Johnson.
"I thought he mixed well," Johnson said of Herring. "I thought he had all of his pitches for strikes. I thought he had great composure. I think he plays older than his age and I think throughout the season, he's pitched in enough high-leverage spots. There were a few Fridays where we brought him in after Paul (Skenes) for wins. He did a great job there. I thought he would pitch well against their lineup, and he certainly did."
Wake Forest coach Tom Walter commended Herring on his performance.
"Herring was the difference," Walter said. "He was kind of effectively wild. He would have big misses then he'd locate. And he's got a good arm. He's got good stuff. I don't think he has thrown 80 pitches in a game. I don't think he's thrown 80 pitches in a week all year, based on the numbers. And he went out there and gave them 80 really good pitches."
Guidry retired the first two batters he faced in the eighth until allowing back-to-back singles to Lee and Marek Houston and Cooper, who threw 40 pitches a night earlier against Tennessee, came in and retired Hawke on a liner to Tommy Harris at third base.
"A lot of water and sleep," Cooper said of his ability to pitch on consecutive nights. "I tried to sleep as much as I can, and I show up and feel good."
After a lead-off walk in the ninth, Cooper registered consecutive strikeouts and coaxed a grounder from Johnson that Harris took care of with a throw to Tre' Morgan to end the game.
LSU's pitchers held Wake Forest's Nos. 2-5 hitters to 0-of-15 at the plate with seven strikeouts.
"It's not about spin rate right now," Johnson said of Cooper. "It's not about velocity. It's about pitch execution and winners and he's a winner. That's why I believe in him."