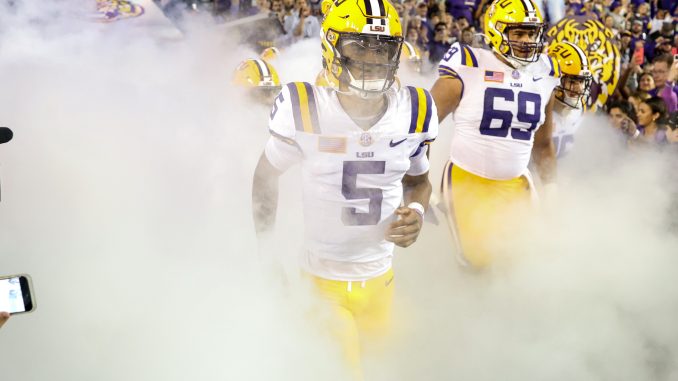 LSU center Charles Turner III had an interesting observation for the media Tuesday night.
When asked to describe the play this season of his quarterback Jayden Daniels, Turner came up with this comparison.
"He kind of runs like a gazelle," Turner said. "You ever see a gazelle being chased by lions and cheetahs? He gallops away and just glides. It's crazy. It's unmatched, I think."
A season-long human highlight reel reached epic proportions when Daniels, who in concussion protocol during last week, became the first player in FBS history to pass for more than 350 yards and run for over 200. He compiled a staggering 606 total yards and five touchdowns, lifting LSU to a 52-35 victory over Florida last Saturday.
"It was a terrific game, just to see him shine," LSU wide receiver Malik Nabers said. "Just shows why he's a Heisman finalist."
Some national observers believe it was Daniels' 'Heisman Moment' and that he's not only bound for New York for the award ceremony on Dec. 9, he is the frontrunner to become LSU second Heisman Trophy winner in four years to join Joe Burrow and Billy Cannon in the school's exclusive fraternity.
"HEISMAN," Houston Texans quarterback C.J. Stroud superimposed on a picture of Daniels against Florida on the social media platform X (formerly Twitter). Stroud, a former standout at Ohio State, finished third for the award in 2022 behind Heisman winner Caleb Williams of USC.
LSU football coach Brian Kelly and the school have collectively put their weight behind a campaign to push Daniels for the award.
Kelly spoke glowingly of his quarterback following his record-setting performance against Florida and just the improvement he's made since transferring last year from Arizona State and leading the Tigers to a 10-4 record.
No. 7 LSU (7-3) is closing in on another 10-win season and postseason bid when the Tigers host Georgia State (6-4) at 7 p.m. Saturday. The game will be televised by ESPN2 and carried locally by 98.1-FM.
"This kid is so special," Kelly said on Monday's Paul Finebaum Show. "Where he's come in just a year is amazing in terms of being able to throw the ball down the field, recognize defenses, throw the ball from the pocket, run the football. Defenses have tried everything from spying him to sending seven to overload pressures to dropping eight, and he's done everything to defeat those kinds of defensive looks. As a guy who's purely been in the business as long as I have, I just love watching him. I'll pay to get in the stadium. It's so exciting to watch him play."
LSU has launched billboards in Baton Rouge and throughout the state that's a tribute to his Instagram handle (thatkidJayden) that read 'That Kid Jayden'.
"I just kind of went to like a different type of mode," Daniels said on ESPN of his performance against Florida. "Mentally, I was challenged by some of my peers to do something amazing, do something out of the ordinary and at that point, I think I just I meant to do keep doing this. I mean, nobody in history. Didn't know that until after but looking back and you see all the dynamic college quarterbacks have played like the Michael Vicks and Lamar Jacksons. You know, it means a lot."
Through his teammates' persistence the normally laid-back Daniels broke into a Heisman pose on the sideline during his frenzied effort. If his school-record 85-yard touchdown by a quarterback in the second quarter was the appetizer, he delivered the main course with a 51-yard TD sprint in the third quarter, giving LSU the lead (31-28) for good.
Daniels became just the fourth player in LSU history with two touchdown runs of 50 or more yards in the same game. The others? Leonard Fournette (2016), Billy Cannon (1958) and Billy Baggett (1950)
Daniels followed that with two straight scoring passes to Brian Thomas Jr. in the fourth quarter to put the game away.
"Yeah, I mean, just based off the game I was having," Daniels said after the game, "a couple of my teammates are like, 'man, you got to hit the pose, you got to hit the pose'. So, you know, to start getting the talk out, you know, (get it) start going viral."
They're still talking.
If he already wasn't among the nation's leaders to win the prestigious award, Daniels rocketed up many lists to win the Heisman.
Former ESPN analyst David Pollack rated Daniels No. 1 followed by Washington's Michael Penix, Georgia's Carson Beck, Ohio State's Marvin Harrison Jr. and Florida State's Jordan Travis. Oregon's Bo Nix is also considered another strong candidate.
Among that group Daniels' 4,082 total yards and 38 TDs is far and above the best followed by Penix (3,533 yards, 30 TDs), Nix (3,315 yards, 34 TDs) and Harrison (1,063 receiving yards, 12 TDs).

One of the preconceived criteria to win the award is team performance, thus in the eyes of some, would eliminate Daniels because of LSU' 7-3 record. The Tigers are also out of contention for the College Football Playoff.
However, three recent winners of the award, including Williams last season, Lamar Jackson of Louisville ('16) and Robert Griffin III (2011), were all on teams that lost at least three games.
"The Heisman's not just about one game," Kelly said. "It's about your work the entire season. He's got the No. 1 offense in the country, the No. 1 scoring offense in the country. The offense in which he's commanding is the Top 10 in nine categories. From an offensive production standpoint, it's unparalleled from that standpoint.
"Then the individual play from the quarterback," Kelly said. "Six hundred (606) yards in total offense in a singular night … I think puts him in the singular category as the best player in the country in terms of what he's done for an entire offense, the No. 1 offense in the country, and individually and that's my case for him."
Daniels is the nation's total offense leader (408.2). He's also tops in passing touchdowns (30), pass efficiency (202.1), and rushing yards by a QB (914), and second in TDs accounted for (38), and passing yards per game (316.2).
The only player in FBS history with 12,000 career passing yards (12,101) and 3,000 passing yards (3,091), Daniels has 76 plays to his credit of 20 yards or more. He's completed 71.4% of his passes (195 of 273) for 3,164 yards and 30 TDs and has rushed 114 times for a team-high 918 yards and 8 TDs.
"That's like a different level of football right now," LSU defensive end Bradyn Swinson said. "If he's not (the) Heisman, I don't know. What I'm seeing is insane. I haven't seen somebody just run all over and throw all over like that. It's crazy. I love watching him play."
Just don't expect Daniels to slow down with LSU nearing its end of the regular season. The Tigers still have a home game next Saturday at 11 a.m. with SEC rival Texas A&M and a bowl game that could further solidify Daniels' standing as this year's Heisman Trophy winner.
"You have to control what you can control," Daniels said. "One thing I can control is how I approach every single week by how I practice and how I play. From there, I cannot make those decisions."