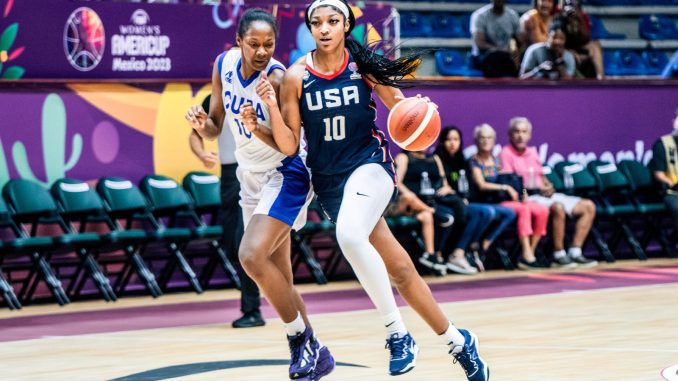 LSU All-American Angel Reese was part of an improved effort for Team USA in closing out group play Wednesday in dominating fashion.
A day after having its 19-game winning streak snapped in a three-point loss to Brazil, Team USA finished second in Group A with a resounding 106-44 victory over Cuba in the 2023 FIBA AmeriCup in Leon, Mexico.
Reese, the Most Outstanding Player in LSU's first national championship, was one of six double-figure scorers and one of two with a double-double.
Reese scored 12 points on 4 of 7 shooting to go with 14 rebounds. She also had two assists in 17 minutes of action.
Team USA, a team of all collegiate players, advanced to Friday's quarterfinal round against a third-place team from Group B that's still to be determined.
UCLA transfer Lauren Betts topped Team USA with 17 points and tied Reese for team-high honors with 14 rebounds. Tennessee's Rickea Jackson added 16, Texas A&M's Janiah Barker 13, Columbia's Abigail Hsu 11 and North Carolina's Deja Kelly 10.
The Americans shot 46.2% (37 of 80) from the field, 39.1% (9 of 23) from 3-point range and outrebounded Cuba, 75-35, led by Reese and Betts.
"I thought our team responded great and everyone came in ready to play and ready to execute better," U.S. coach Kamie Ethridge said. "We competed on the boards; we were better defensively. This is a good bounce back game and it gives us some momentum going forward."
The U.S. broke an early 8-8 tie behind Barker's 3-pointer and Tennessee's Jewel Spear hit another 3-pointer and added a layup for a 21-11 lead. Jackson closed the first quarter with consecutive baskets to make it 27-14.
The Americans buried Cuba with a 33-4 surge in the second quarter that resulted in a commanding 60-18 halftime lead. Reese opened the quarter with a free throw and Team USA used a 22-0 blitz over an eight-minute stretch to gain separation. Hsu buried a pair of 3-pointers during that surge and Betts added a pair of layups.
Reese highlighted her team's play in the third quarter with a layup and a free throw that made it 67-22 at the 7:08 mark.
Brazil 67, Team USA 54: No. 13 Brazil secured the group's top seed on the strength of its 13-point win over the Americans which shot 30.8% and committed 21 turnovers.
Betts had a double-double with 11 points and 15 rebounds, and Jackson added 10.