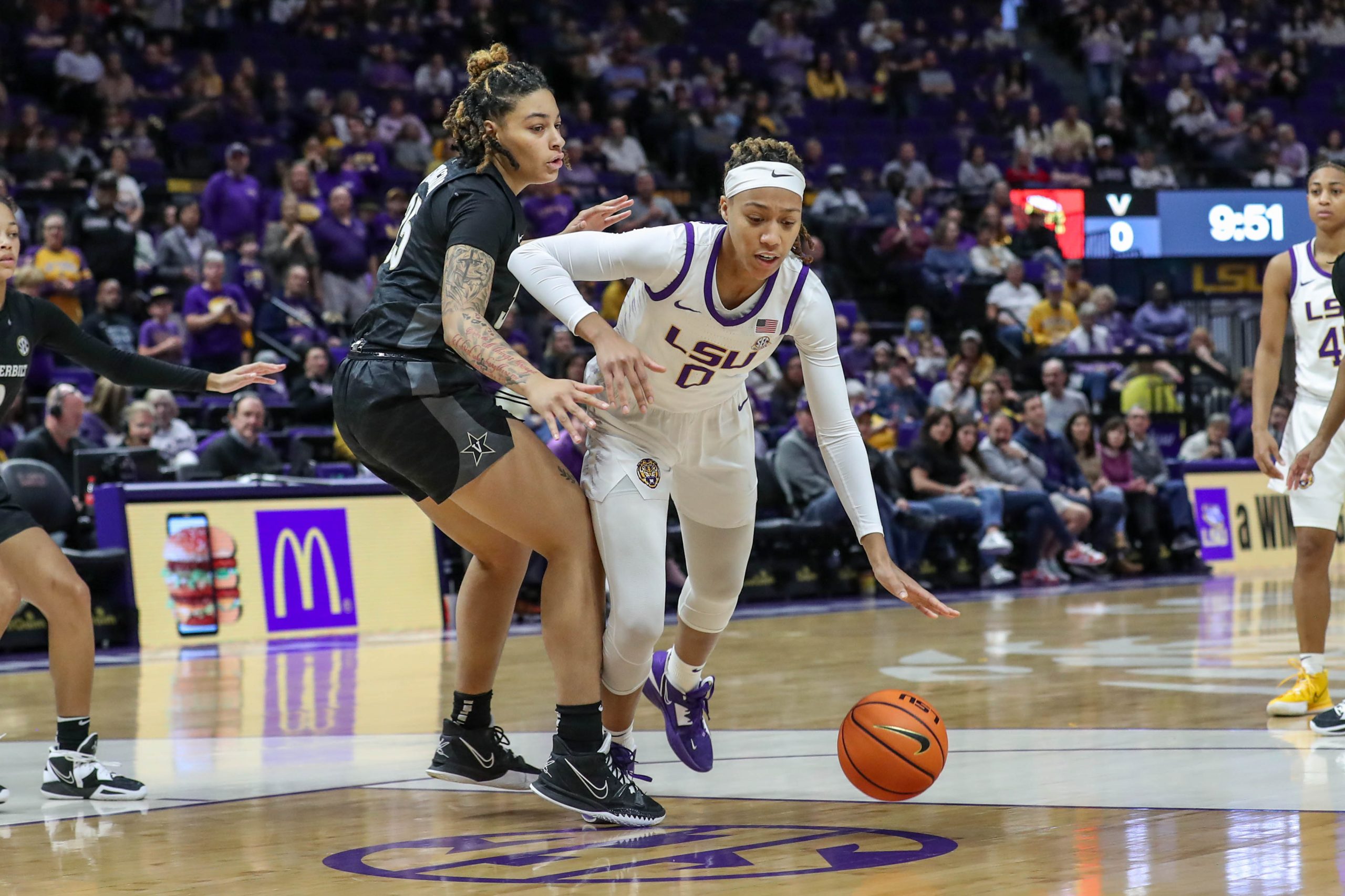 LSU coach Kim Mulkey plans to have a little fun with graduate student LaDazhia Williams. Plans to liven up the moment are in order when Williams returns to one of the previous stops in her basketball odyssey that's encompassed three different schools.
The 6-foot-4 Williams completed three years of eligibility and obtained her degree from Missouri where No. 5 LSU (16-0, 4-0 in SEC) visits for Thursday's 6 p.m. contest. Missouri (14-3, 3-1) will host LSU in the Southeastern Conference matchup that the SEC Network will televise.
The game will also be carried live by 107.3-FM,
"I'm probably going to cut up with her. Those kids on the front row are going to give you holy hell," Mulkey said of her anticipated exchange with Williams. "She's very quiet. She'll just smile."
Williams is one of four players Mulkey signed from the NCAA transfer portal for the 2022-23 season. She's the only player scheduled for face her previous team where Williams started in nine of 27 games a year ago, averaging 9.1 points and 4.1 rebounds last season.
Williams did not play in last year's game when Missouri visited LSU and thanks to the heroics of senior point guard Khayla Pointer with 5.7 seconds left, the homestanding Tigers emerged with an 87-85 victory in overtime.
It was LSU's third straight win over Missouri, all of which have been by single digits.
"I know what I saw last year, and they have four of their five starters back," Mulkey said of the prospect of having to face Missouri again. "They shot the ball uncharacteristically poor in their last outing against Arkansas (77-55 loss). They spread the ball and we're going to have to guard all five spots with the exception of one post. They're going to shoot the ball all the floor."
Missouri connected on 15 3s in last year's game with LSU and still have the three-point shot as part of their arsenal. The Tigers are second in the SEC in 3-point percentage (35.5%) and average 7.8 3s a game.
Without Williams and forward Aijha Blackwell, who transferred to Baylor, Missouri still has three starters back led by second team All-SEC performer Haley Frank, a 6-1 senior forward, Lauren Hansen, a 5-8 senior guard, and Haley Troup, a 5-10 graduate student guard.
Frank is the team's leading scorer at 14.8 points and is tied for the team lead in made 3-pointers (38) with Hansen, who averages 13.6 points and Troup 9.4.
LSU, one of three remaining undefeated teams, has maintained a 39.8 scoring margin with an offense leading the nation in scoring at 89.7
Maryland transfer Angel Reese, a 6-3 forward, leads the SEC in both scoring (24.2) and rebounding (15.6) and is one of three players in double figures. Freshman guard Flau'jae Johnson is next at 14.5 points and 6.8 rebounds followed by senior guard Alexis Morris (12.2 points. 4.6 assists).
Morris was slowed by an illness in Sunday's 67-48 road win at Kentucky and wound up with one point in 15 minutes. She missed Tuesday's practice but was expected to play against Missouri, Mulkey said.
Williams, who averaged a career-best 12.4 points during the 2020-21 season, has started in 14 games and provided 8.5 points on 58% shooting and 5.4 rebounds this season. She's scored in double figures five times but has given the Tigers a greater presence on the defensive end that included a season-high 15 rebounds in a 69-45 road win over Arkansas on Dec. 29.
The native of Bradenton, Florida began her college career at South Carolina where LSU visits on Feb. 12. "She knows and respects those players she played with," Mulkey said of Williams. "She didn't leave on bad terms. She graduated and saw an opportunity to come play for me."