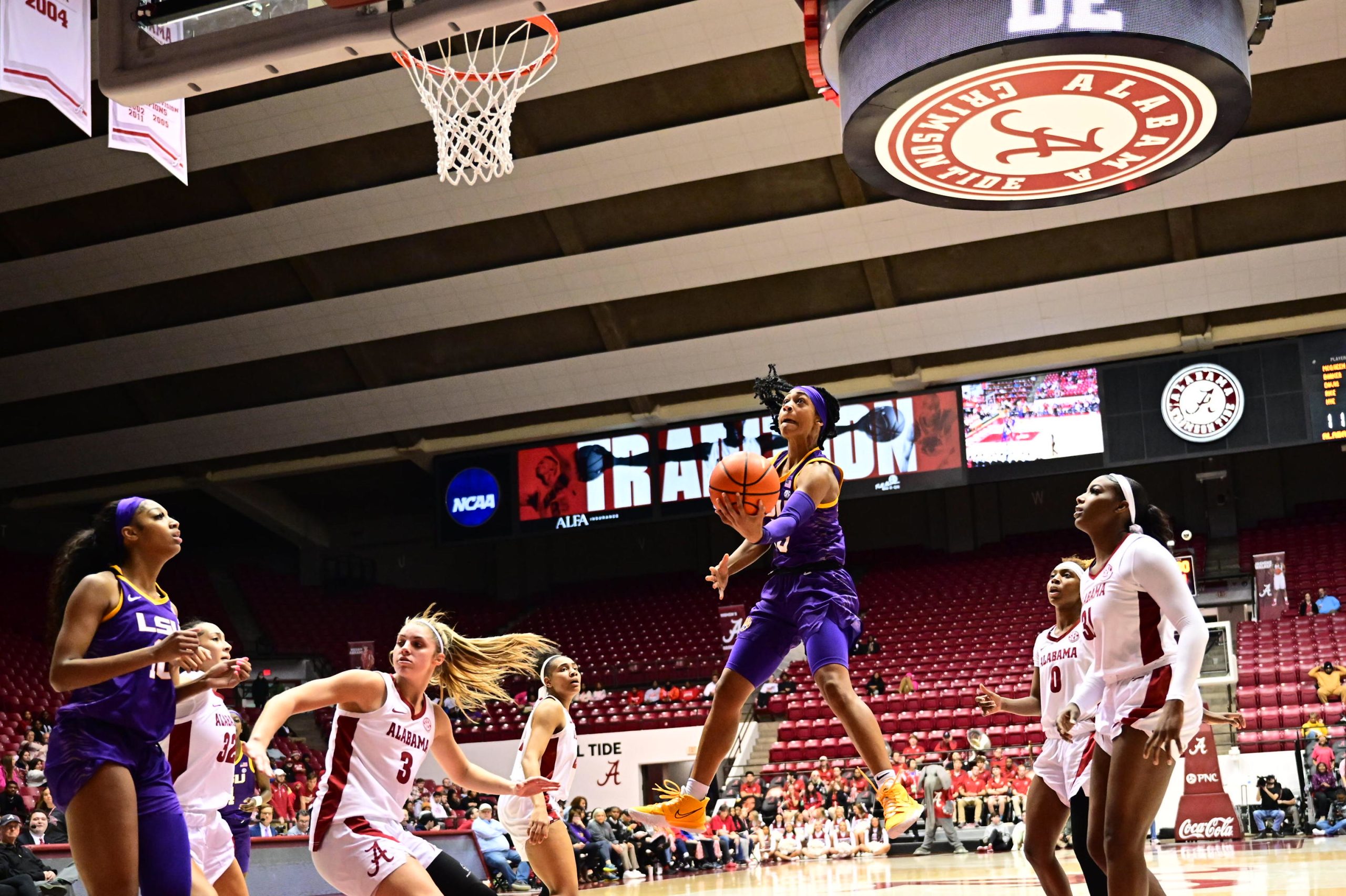 The video-taped message was ready to go. Former LSU All-American Sylvia Fowles officially passed the program's consecutive-consecutive double-double torch to Angel Reese.
Reese, in her first season as a transfer from Maryland, registered her school record 20th straight double-double, breaking Fowles' record, with 14 points and 14 rebounds and No. 4 LSU improved to 20-0 on the season with a dominating 89-51 win Monday over Alabama at Coleman Coliseum.
Fowles' video was released on the school's Twitter account minutes after the victory.
"Congratulations Miss Double-Double Queen," said Fowles, who began by removing an imaginary crown and calling out Reese's name.
Reese had 12 points and seven rebounds at halftime. It took nearly seven minutes to acquire the record-breaking 10th rebound, tipping a missed shot by Bama's Loyal McQueen to herself in the lane of a 61-30 runaway.
"This wasn't my best game but I'm happy to break that record and being able to be up there in the rafters with Sylvia Fowles," Reese said on the SEC Network afterward. "I'm excited."
LSU's well-round attack had four players in double figures, led by guard Jasmine Carson's 20 points which included four 3-pointers. She had 16 of those in the first half and also had seven rebounds and three steals.
Forward LaDazhia Williams turned in her second straight double-double, scoring 11 of her 17 points in the second half, and had 10 rebounds, three assists and two blocked shots. Point guard Alexis Morris returned to the starting lineup and following a scoreless opening quarter, scored 10 of her 17 in the second half and made three 3-pointers.
The Tigers, who recorded their biggest margin of victory in SEC play, shot 48.6% (34 of 70) overall, 44.4% (8 of 18) from 3-point range and outrebounded the Tide (15-5, 4-3) 49-37.
LSU joined No. 1 South Carolina as the nation's lone undefeated teams after No. 10 Iowa knocked off previously undefeated No. 2 Ohio State, 83-72. The Tigers also remained in a three-way tie for the SEC lead at 8-0 with the Gamecocks and Tennessee, who visits the Pete Maravich Assembly Center next Monday at 6 p.m.
"I don't know, we don't discuss that," Mulkey said of her team's drop to No. 4 in the AP poll before the game. "I know they know Ohio State got beat. Drop in the polls, undefeated … We don't care. We're just trying to win the next game."
LSU regained the lead for good at 4-3 on Williams' layup at the 7:49 of the first quarter, and stretched its lead to 19-11 with the last four points of the quarter on Flau'jae Johnson's 15-footer and Last-Tear Poa's two intentional foul shots.
That late surge was the catalyst in the Tigers' 18-0 run – bridging the end of the first quarter with the start of the season – where Morris came to life with a pair of her 3-pointers and eight points during that blitz. Reese contributed two free throws, Williams a layup and Carson a second chance 15-footer – resulting in a 33-11 advantage at the 6:02 mark.
Alabama, which was limited to 29% shooting (34 of 70) for the game, finally stopped LSU's onslaught on a basket by Brittany Davis with 5:28 showing. The SEC's fourth-leading scorer at 17.6 points, led the Tide with 11 points on 5 of 15 shooting.
"I think it started on defense," said Mulkey, who has won at least 20 games in 23 seasons of coaching. "We put Angel Reese on Brittany Davis and I think she set tone with her length and size. Everything Brittany got, she had to work for. I thought our defense was active. I thought we moved, I thought we communicated.
"You got four kids who scored in double figures," Mulkey added. "You have three kids (including Johnson with 10) that rebounded in double figures. We shot the ball really well. Jasmine Carson really lit it up from the three and it just kind of snowballed from there."
LSU flexed its muscle near the end of the half, getting a three-point play from Reese with 33.6 seconds left, and added a 3-pointer from Carson at the buzzer to make it 47-18 at halftime.
The Tigers' lead fluctuated between a high of 34 points on two occasions to 27 points (65-38) when Carson converted a steal in the backcourt into a layup and Poa scored on a drive for a 69-38 lead going into the fourth quarter.
Morris made a pair of 3-pointers in the fourth quarter and LSU accounted for its biggest lead of 38 points when Kateri Poole knocked down a 3-pointer and Poa added a free throw in the last minute of play, accounting for the final score.
"I came here just to win and be happy," Reese said. "To break these records, I can't do it without my teammates, my coaches. They push me every day in practice. I can't do it without them. I'm so happy right now."