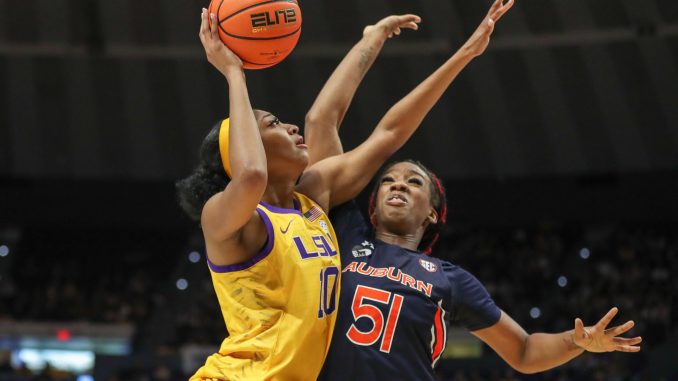 With one of the nation's best players back for a second season the sky's the limit for LSU's frontcourt in 2023-24.
Six-foot-three senior forward ANGEL REESE had one of the more memorable seasons in school history, averaging a double-double in both scoring (23.0) and rebounding (15.4), on her way to first team All-SEC and All-America honors.
Moreover, Reese was among the Tigers' driving forces in the school's first national championship where she earned the Most Outstanding Player honor in the Final Four.
No. 1 LSU opens the 2023-24 season against No. 20 Colorado in the Naismith Hall of Fame Series at 6:30 p.m. at T-Mobile Arena in Las Vegas, Nevada. The game will be televised by TNT and carried locally by 107.3-FM.
"There's always room for improvement," said Reese, who will decide at the end of the year to return for another year or turn professional. "I can't stay the same player as I was last year. I know I'll be working hard to win another championship and to do that I have to get better in areas such as my jump shot and mid-range shots. Things outside of the paint."
Reese is the headliner of the group but far from a one-woman show.
Sophomore forward SA'MYAH SMITH, a member of the SEC's All-Freshman team, proved to be key reserve and played in all 36 of her team's games last season. Junior forward AMANI BARTLETT also saw time in 25 games.
"I think I developed over the summer," Smith said. "It's nothing but growth every day so there's more I can tap into."
While LSU lost one of its most underrated players in forward LADAZHIA WILLIAMS, a perfect complement to Reese, the Tigers have more low-post options with the arrival of McDonald's All-American and five-star AALYAH DEL ROSARIO – a 6-6 center rated the nation's No. 2 center.
Williams wound up first in field goal percentage (55.4), was fourth in scoring (9.9) and second in rebounding (6.0). She further proved her worth during the team's postseason run when she raised her level of play and averaged 13.8 points in six games, including 20 points in the national championship game against Iowa.
Transfer portal signee ANEESAH MORROW of DePaul, who averaged 25.7 points and 12.2 rebounds last season, is expected to play the off-guard and small forward positions. She collected 860 rebounds and posted a hefty 13.0 average in two seasons for the Blue Demons.
Fellow freshman, 6-0 MIKAYLAH WILLIAMS – also a McDonald's All-American – and 6-1 JANAE KENT – are versatile players that can play either the guard or forward positions. Williams averaged 19 points and 7.0 rebounds last for Division I non-select state champion Parkway in Bossier City, while Kent scored more than 2,000 points in her career at Oak Forest, Illinois.
"We've got depth this year," Reese said. "It's going to be pick your poison this year. It's going to be super fun in the post."
Reese set a NCAA record with 36 double-doubles, including a school-record 23 straight to begin the season. Her 33rd double-double also broke the SEC record previously held by Mississippi State's TEARIA MCCOWAN.
Reese's 830 points were the third most in LSU history and her 240 made free throws were an SEC record.
Despite constant double team defensive alignments, Reese broke the school's record with 28 rebounds in an 89-54 win over Texas A&M on Jan. 5 and poured in a career-best 36 points to go with 20 rebounds in a Feb. 5 win over Ole Miss.
Once LSU reached the postseason Reese continued her impressive play. In the first two rounds of the NCAA Tournament at the Pete Maravich Assembly Center, Reese compiled 59 points and 39 rebounds in decisive victories over Hawaii and Michigan.
Reese was named the Most Outstanding Player of the Greenville Regional 2 in wins over Utah and Miami, totaling 30 points, 30 rebounds, five blocked shots and four steals. She earned the same honor at the Final Four with 29 points, 22 rebounds and six steals – including 15 points and 10 rebounds in the national title win over Iowa.
"I'm focused on things right now at LSU," Reese said. "That's a big thing and focusing on my senior year. I'm just going to give it my all this year."
Smith averaged 4.6 points and 4.0 rebounds and shot 51.6% from the field in 14.7 minutes per game in her first season. She reached double-figures in scoring six times, including a career-high 14 points against George Mason and a high of 11 rebounds against Southeastern Louisiana. She was second to Reese (66) with 38 blocked shots and was impactful moments during the postseason.
Smith scored six points with five rebounds in 18 minutes against Miami and two points and two rebounds in nine minutes with LSU in foul trouble against Iowa.
"We had good post play last year but added talent," Smith said. "Aalyah, you can't teach that size. She can bang more than most. Aneesah can give you a bucket on all three levels. Just having the different body types and just different pieces and seeing who can play with whom."
Del Rosario will tower over teammates and cast quite a shadow on the offensive and defensive end of the court. The powerfully-built Del Rosario averaged 13 points and 11 rebounds during her junior season and teamed with Angelica Velez to win consecutive state championships at The Webb School in Bell Buckel, Tennessee.
"We can do many different things," Smith said. "We can have Aalyah posting up and nobody can guard her on the block. You can have Aneesah trailing and give you a three. Angel can give you a back-to-the-basket move or a mid-range jumper. It's just something different. So many pieces you can put together."