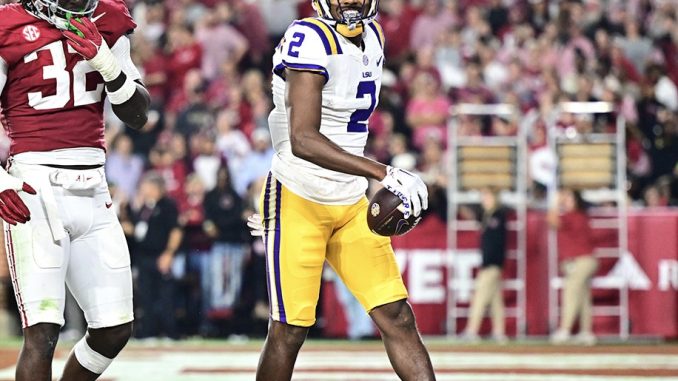 LSU's prolific offense couldn't remain on its same torrid pace as it had for the first 34 minutes of Saturday's showdown at Alabama.
Behind the wizardry of quarterback Jayden Daniels, the No. 13 Tigers regained a touchdown lead early in the quarter in what was shaping up as a back-and-forth shootout with the No. 8 Crimson Tide in Bryant-Denny Stadium.
Alabama's offense, led by its quarterback Jalen Milroe, didn't relent with an equalizing touchdown at the 7:30 mark of the third quarter – igniting a stretch of 21 unanswered points.
LSU simply couldn't keep up, first losing the services of Daniels for the last 12 minutes of the game and the defense was unable to slow down Milroe's four-touchdown effort in a 42-28 setback.
"It was a game where we needed to play better," LSU coach Brian Kelly said. "We needed to coach better. We knew we were going on the road playing a top 10 team at their place and you've got to play better. We need to coach better when you get those opportunities. We did not reach that elite level tonight."
The Tigers (6-3, 4-2 in SEC) had their three-game winning streak snapped and dropped into third place behind Alabama and Ole Miss in the SEC West.
Alabama (8-1, 6-0 in SEC) took a 35-28 lead on Milroe's fourth rushing TD – an 11-yarder arounder right end – and capitalized on the game's lone turnover when Daniels was picked off by Terrion Arnold following Dallas Turner's deflection at the line of scrimmage on the first play of the fourth quarter.
The Tide took a 42-28 lead four plays later on their third straight scoring drive when running back Jase McClellan added his team's sixth rushing TD on a 10-yard score with 13:01 to play.
"The players did a great job in the second half offensively," Alabama coach Nick Saban, whose team outscored LSU 21-7 in the second half. "A great job of controlling the ball. We kept the ball away from them. We had a couple of big stops on defense when needed to get up two scores. That kind of changed the game for us. It was a tough gut check for us when they scored right before half, and we bounced back in the second half."
LSU's chances of coming back for a third time in the game were derailed when Daniels was forced from competition when Turner was flagged for a roughing-the-passer penalty.
Reviews of the play showed Turner could have been flagged for targeting and driving Daniels, who was defenseless on the play, into the ground.
"We asked them. They said the replay booth was reviewing it for targeting," Kelly said. "Obviously, I don't have the ability to see that. Anytime there's contact to the head or neck area you're thinking there must be some form of targeting. They reviewed it and didn't feel it was, so we moved on."
Daniels took over for reserve Garrett Nussmeier one play later before heading to the team's injury tent for concussion protocol and was ruled out the remainder of the game. Nussmeier did not lead LSU into Bama territory during his time at quarterback.
"Probably as close to a complete game as we've played all year and we needed to play a game like that," Saban said.
Daniels had 382 of LSU's 487 total offense – a season-high allowed by Alabama – by completing 15 of 24 passes for 219 yards with an interception and touchdown. He also rushed for a school-record 163 yards by a quarterback on 11 attempts and scored a TD.
"The turnover hurt. We're playing a top 10 team on the road," Kelly said. "You can't play good. We played good tonight. Good's not good enough. You have to play elite when you go on the road. Good's not good enough. We didn't play at a high enough level."
Behind Milroe's 374 total offense, Bama piled up a season-high 507 total yards of offense and extended its winning streak to seven games. The Tide matched their second most points against LSU in the 88-year-old series and were 11 of 14 on third-down conversions.
Milroe, who had 142 yards and 5 TDs on the ground coming into the game, rushed for a season-high 155 yards on the ground on 20 carries and four scores. He also completed 15 of 23 passes for 219 yards without an interception or TD.
"We knew his strengths," Kelly said of Milroe. "We had a game plan that we felt would address it, but we are limited in some of the things we can do, and we didn't want to get into a lot of man situations."
Alabama, which took a 21-14 lead on Milroe's 21-yard TD scramble, left LSU's offense with 1:01 before halftime.
Daniels' 40-yard scramble was the key play in finishing the half with a touchdown that sent both teams into their respective locker rooms tied at 21-21.
LSU overcame a pair of penalties on its final drive when Daniels connected with wide receiver Kyren Lacy for a 26-yard TD pass. Lacy broke out of tackles at Bama's 10 and 6-yard lines to barge into the end zone and Damian Ramos added his third extra-point with five seconds showing.
LSU jumped out to a 7-0 lead on the strength of Daniels' right arm – getting plenty of protection in the pocket – to find Nabers wide open behind coverage for a 47-yard scoring strike at the 9:46 mark on the team's opening series. Nabers led the team with 10 catches for 171 yards.
Milroe then hurt LSU's defense with his running ability, scoring three rushing touchdowns in the first half, giving Alabama leads of 14-7 and 21-14. His TD runs covered 23, 3 and 21 yards.
LSU twice tied the game at 14-14 and 21-21 in the last 3:09 of the second quarter.
A 23-yard completion from Daniels to Brian Thomas Jr. on a crossing route pushed the Tigers to the Tide's 24-yard line and four plays later Daniels' second effort run on first-and-goal resulted in a 9-yard TD.
"You're in a very difficult situation," Kelly said of trying to defend Milroe. "You're dropping eight, you're rushing three. If you're spying, you're short in coverage. We're fighting our tails off to get stops out there. It's a very difficult situation when you have a quarterback that's gifted like that."