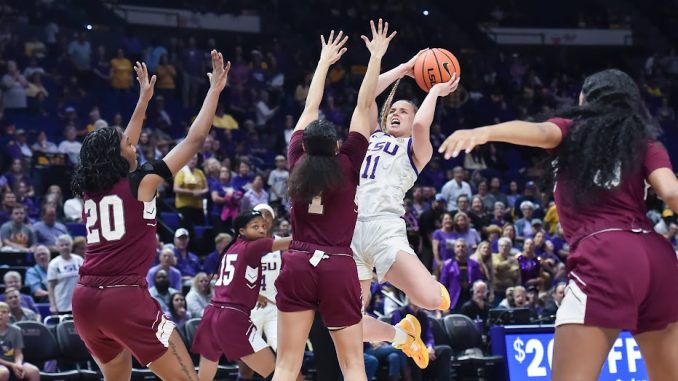 The longer first team All-American Angel Reese remains away from LSU's seventh-ranked team the Tigers will continue to experiment with lineup combinations.
With guard Flau'jae Johnson and transfer Aneesah Morrow back fully healthy, they may have just discovered such a winning group.
Johnson and Morrow scored 17 points apiece and LSU had five players in double figures in a 106-47 demolition Monday of Texas Southern before a crowd of 10,787 at the Pete Maravich Assembly Center.
"Angel was not in uniform tonight. Angel is part of this basketball team and Angel will be back sooner than later," LSU coach Kim Mulkey, repeating the same statement she made about Reese's absence in Friday's 73-50 win over Southeastern Louisiana.
LSU (5-1) won its fifth consecutive game and second straight without Reese who was not with the team once again.
"Coaches deal with issues every year," Mulkey said. "I've been doing this 40 years. There's not a coach in America that doesn't deal with issues. Some may choose not to deal with issues. You just deal with it. You make the best decisions; you love on them, and you see what they've been doing."
The Tigers recorded their fourth 100-point performance with transfer guard Hailey Van Lith scoring an LSU high 16, freshman Mikaylah Williams adding 14 and freshman center Aalayah Del Rosario 13.
"Scoring in double figures with that many kids is not that big of a surprise," Mulkey said. "I've said from the beginning we can score points. Team chemistry comes when everybody's in place and doing what they're supposed to be doing. We're a work in progress in that area. I'm just waiting to see. When it happens, it's going to be fun."
LSU erupted for 36 points in the third quarter on 57% shooting (12 of 21) and opened an 85-31 lead.
Williams came alive after halftime with nine points on 3 of 5 shooting – all from 3-point range – and Morrow complimented her with seven and Johnson with six.
The Tigers added to their 31-point halftime lead on back-to-back 3s from Williams for a 65-23 margin and they went on a 17-3 run over the finals four minutes to make it a 54-point advantage.
Four different players contributed to that flurry with Smith scoring five and Amani Bartlett adding a free throw with 40.5 seconds left in the third.
With a group of majority reserves in the last five minutes of play, LSU hit the 100-point mark with 3:19 remaining on Del Rosario's free throw after an offensive rebound. It was her two free throws with 1:28 left that provided the Tigers with their largest lead (106-44) of the game.
LSU scored 48 points off 35 turnovers and had 20 steals led by seven from Morrow who became the 14th player in school history with that mark which tied her for seventh on the single-game list.
"We kind of figured them out early," Van Lith said. "We're a smart defensive team. We know team tendencies and we knew they don't backdoor well. They telegraph their passes, so we're going to be in the passing lanes. That's one thing I love about us is that we're smart defensively, we know what teams want to do and we're going to capitalize on that. We figured them out pretty early. Where they were looking was where they were passing, and we were able to pick off a lot of those."
Texas Southern (1-3) was led by the 11 points of Daeja Holmes and Taniya Lawson. The visiting Tigers of the Southwestern Athletic Conference were limited to 33.3% shooting (18 of 54).
Van Lith, who had five assists and two steals, turned in the best first half of her brief LSU career with 12 points in a 49-18 runaway.
"I have really been trying to figure out the balance between playing point guard and playing the two and it's been back and forth but I think I'm doing really well," Van Lith said. "I know when to be aggressive now, I know when to get my teammates involved. I'm feeling much more comfortable every day. I know I can still do better. It's a process every day and I'm willing to go through that process and get better."
Johnson, who had a team-high eight rebounds, returned to the starting lineup since for the first time since second game of the season when she was sidelined by the flu with 11 points, five rebounds and three steals in the first half.
Poa, who started in Johnson's place the previous two games, came off the bench with five points, including a three-point play for a 39-17 advantage with 4:30 to play before halftime. LSU was able to stretch out the lead with starters Johnson and Sa'Myah Smith on the bench with two fouls apiece.
The Tigers, who scored 28 points off TSU's 20 turnovers, opened a 31-point margin by halftime on a 10-0 run over the last 1:55 of the quarter. Del Rosario and Morrow scored four points each and Morrow finished a layup on a feed from Poa.
There two ties and a lead change in the first three minutes before LSU took the lead for good at the 6:46 mark on Williams' two free throws. Van Lith buried a 3-pointer and converted a steal into a three-point play with a successful free throw that pushed her team's lead to 21-9.
LSU returns to action after the Thanksgiving holiday in the Cayman Islands Classic against Niagara at 12:30 on Friday and Virginia at 4 p.m. Saturday.
"You just coach," Mulkey said. "You just coach hard and that gives an opportunity to somebody else. This kid right here (Del Rosario), Morrow … Next man up. You make them understand the process of what we're trying to do defensively. You just keep coaching."