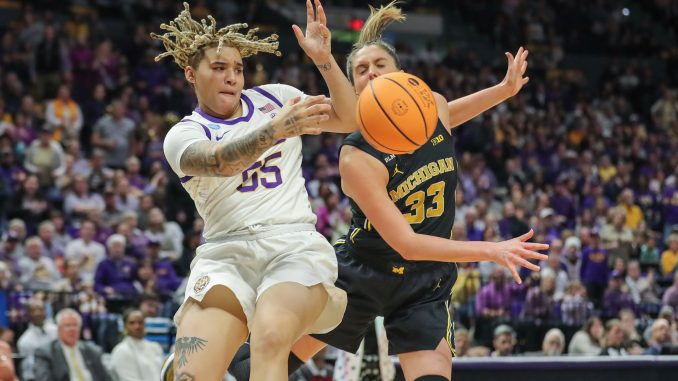 They are the words of their coach LSU junior guard KATERI POOLE believe her teammates should live by.
"Coach repeats it all the time, that it doesn't matter who starts, it's who finishes the game," Poole said of third-year head coach KIM MULKEY said. "It doesn't matter if different people start, it's just understanding the role and playing your role is a big thing."
The one returning constant from last year's backcourt is sophomore guard FLAU'JAE JOHNSON – the Southeastern Conference' Freshman of the Year. She started in all of her team's 36 games, including the school's first national championship.
After that?
Poole was part of a rotation along with junior LAST-TEAR POA with both players providing ball-handling relief to floor general and second-leading scorer ALEXIS MORRIS who graduated.
Their versatility enabled them to handle both the point or off-guard positions, an element that's expected to carry over to this year's well-stocked backcourt position that could have up to eight players battling for roles and playing time.
No. 1 LSU opens the 2023-24 season against No. 20 Colorado in the Naismith Hall of Fame Series at 6:30 p.m. at T-Mobile Arena in Las Vegas, Nevada. The game will be televised by TNT and carried locally by 107.3-FM.
"There's a lot of people that can play a role in the backcourt," Poole said. "That's the main difference. We have a lot of depth. We're competitive. We're all good. We all kind of play the same kind of game, so it's interesting to see who's going to be able to play with who. The main thing is having a lot of depth and being able to trust each other when it comes to that moment.
"All guards can play any type of role," Poole said. "Any given day, it can be anyone. With the amount of depth we have it's depending on the day you could see someone different."
Poole, who played in all but one game in 2022-23, moved into the team's starting lineup in a second-round NCAA Tournament game against Michigan for matchup purposes. Because of her bigger, physical presence, the Tigers kept Poole in the starting lineup the remainder of the way and proved to be a key figure in the team's postseason run.
Poole scored eight points in a 66-63 victory over Utah in the Sweet 16, added five points in a 79-72 fourth-quarter comeback over Virginia Tech in the national semifinals and had five points – including a game-sealing 3-pointer – in a 102-85 victory over Iowa in the national title game.
Poole supplied 4.5 points, 2.6 rebounds and 2.4 assists and Poa, who started in two of 36 games, averaged 3.4 points, 1.2 rebounds and 1.2 assists. She led the team in free throw percentage (87.9) and hit two key 3-pointers against Iowa and drew a pair of charges against All-American CAITLYN CLARK.
"I can play with different people depending on who's on the court with me," Poa said. "It doesn't really matter. We have transfers and returners. I'm just excited to play with them."
The 5-foot-10 Johnson is the most heralded returning starter in the backcourt, starting in all 36 of her team's games and averaging 11.0 points, 5.9 rebounds and 1.8 assists. She scored in double-figures 20 times with a career-high 27 against Lamar and finished with three double-doubles.
Johnson represents the team's returning leader in 3-point baskets made with 34. LSU lost its top two shooters from 3-point range in Morris and national championship game hero Jasmine Carson who combined for 111 of the team's 186 trifectas.
Mulkey believes her team's has adequate help when it comes to shooting the 3-pointer this season with four newcomers – a pair of transfer portal signees in HAILEY VAN LITH of Louisville and ANEESAH MORROW of DePaul – and high school signees MIKAYLAH WILLIAMS of Parkway High in Bossier City and JANAE KENT of Oak Forest (Ill.).
"We have guys that can score the ball," Mulkey said. "Really those two (Carson and Morris) did most of the 3-point shooting. The luxury with this team is we've got a lot that can do it."
The 5-7 Van Lith is the team's heir apparent to Morris at point guard. The graduate student scored 1,553 points in a distinguished three-year career Louisville, primarily at the off-guard position, and is among a group with Poole, Poa and freshman Angelica Velez, a four-star signee ranked No. 21 nationally.
Van Lith was the only player nationally, other than Clark, to average at least 19 points (19.7), 4.0 rebounds (4.5) and 3.0 (3.2) assists last season and helped the Cardinals to the Elite Eight.
Other than Angel Reese, Morrow was the nation's only other player to average a double-double (25.7 points, 12.2 rebounds). The 6-foot junior, a two-time All-Big East Conference performer, is looking forward to expanding her game outside the paint and beyond the 3-point line.
The versatile Williams is a 6-foot player capable of playing either position in the backcourt and swinging to the small forward spot. She's a two-time recipient of Louisiana's Gatorade award and two-time winner of the state's Miss Basketball honor, leading Parkway to the Division I non-select state championship last season.
Williams, rated the nation's No. 1 player by Prospect Nations, scored 1,666 points during her career and averaged 19 points, 7.0 rebounds, 4.4 assists and 2.6 steals as a senior.
Kent, a 6-1 four-star prospect ranked No. 73 according to ESPN, scored more than 2,000 points in her career and is another versatile threat from the off-guard or small forward position.
"Coach will know when she knows," Poole said of the team's rotation. "We're all competing, not for spots in a sense, but to get each other better when that moment comes. We're all preparing each other to know who's going to be where, who's going to be doing what."