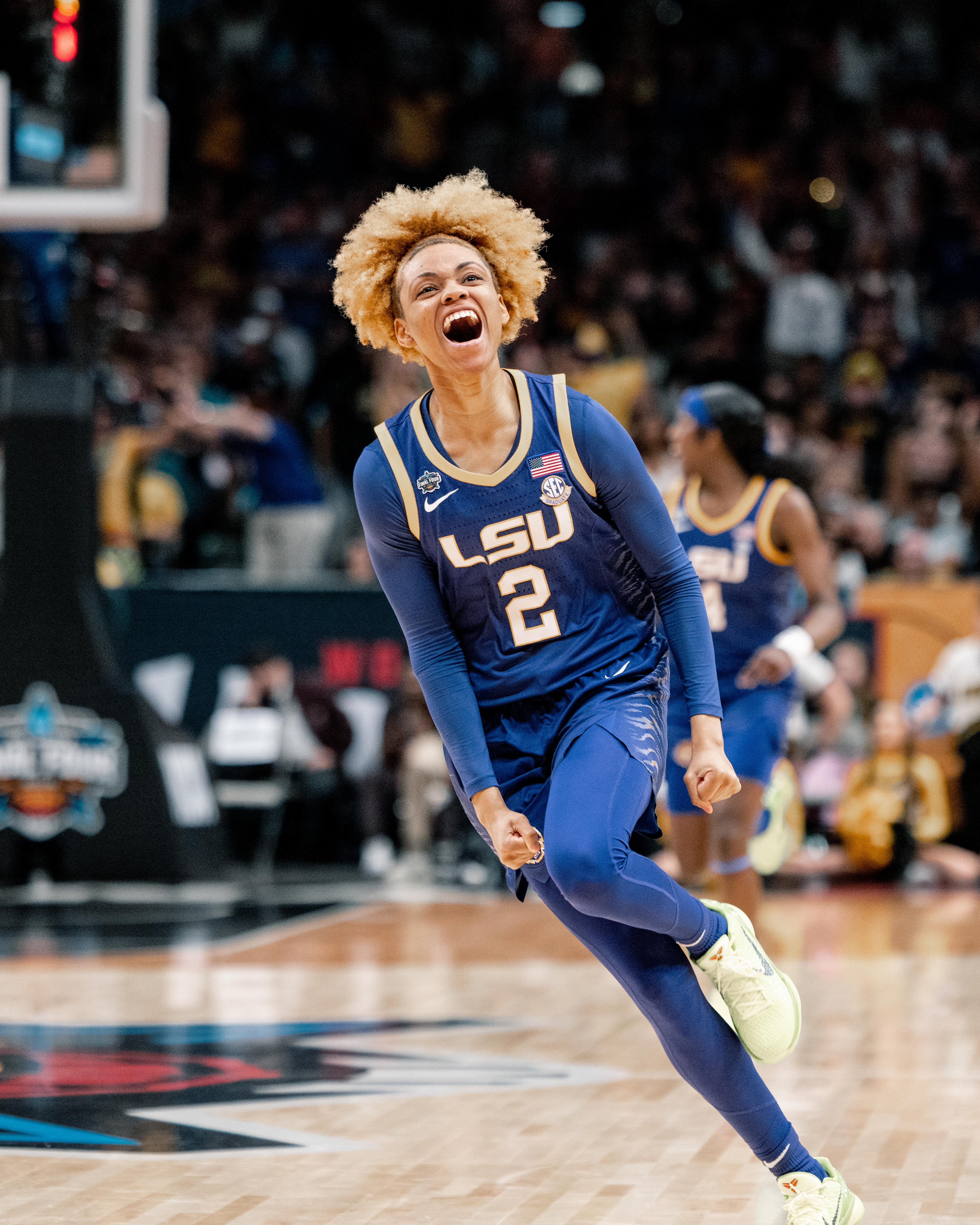 LSU reserve guard Jasmine Carson was reminded that she once scored 55 points in a high school basketball game, but didn't hesitate to place her latest achievement atop her career accomplishments.
The NCAA Tournament hadn't exactly been a noteworthy one for Carson who was replaced in the team's starting lineup in the second round because of a defensive matchup to put more size on the floor.
Carson, who divided the first four years of her career at Georgia Tech and West Virginia, made sure her final game in an LSU uniform was memorable. She came off the bench to score a team-high 22 points on five 3-pointers and helped LSU to win the school's first national championship Sunday with a 102-85 victory over Iowa at Dallas' American Airlines Center.
"I would definitely say this is the game of my life because I won a national championship on the biggest stage possible in college," Carson said. "When I woke up, I just wanted to win. I wanted to do anything that my team needed in this game, whether it was defense, rebounding, just anything, supporting them. I scored tonight, and that's what pushed us and got us momentum, and I'm just proud of my teammates."
Carson first entered the game late in the first quarter with LSU dealing with foul difficulty. The team's leading scorer and rebounder Angel Reese, who would be named the game's Most Outstanding Player, went to the bench with her second foul with less than a minute left and the Tigers leading 24-22. She didn't play the entire second quarter.
A pair of free throws with 1:23 to go in the quarter helped Carson match her scoring average in the NCAA Tournament. In the three games leading up to the national title game, she hadn't scored a point and missed all six of her field goal attempts that included three 3-point attempts.
Carson finished the quarter with her first 3-pointer to make it 27-22.
"Jasmine may be the second-best pure shooter that I've ever coached in my career," LSU coach Kim Mulkey said. "She can just light it up. When she made those first couple, I thought – well, first of all, when we got in foul trouble and we had three starters sitting over there early in the first half. I thought just keep it close until I can get them back on the floor. That's what's going through your mind."
Carson was about to heat up during a crucial part of the game.
There were four lead changes in the second quarter when Carson came alive just in time with point guard Alexis Morris leaving the court with her second foul to join fellow guard Kateri Poole on the bench who also had two fouls.
Her first 3 of the quarter gave LSU a 36-32 lead which ballooned to 39-32 on a 3-pointer from Last-Tear Poa.
Carson's lone two-point field goal, a 12-footer, forced a timeout from Iowa which trailed 41-34. She later fed LaDazhia Williams for a layup and then delivered consecutive 3-pointers in a 20-second span to increase the Tigers' lead to 49-36 with 4:14 left before halftime.
She scored 14 of her 21 points in the quarter on 7-of-7 shooting from the field and 5-of-5 marksmanship from behind the 3-point line.
"In practice today, I asked her, "You want to get extra shots?'," Morris said of Carson. "She's like, no, I'm good. I said, "You ready for tonight'? She hit her first few shots, and Iowa called a timeout. I said, 'Stay right there. Stay locked in. Whatever head space you're in, do not check out. Just stay ready'. She gave us a huge spark off the bench tonight. She was the game changer tonight. Thank you, Jaz, for being a senior and being who you are, too."
LSU's bench, which had averaged six points a game during the NCAA Tournament, contributed 29 of 30 points in the first half. Poa added six and freshman forward Sa'Myah Smith two.
"When those guys got in there and they extended the lead and scored with Iowa, I thought this is going to be a fun night," Mulkey said. "They didn't just keep it close. They went in, and they attacked."
For 30 games, Carson was a starter averaging 8.6 points with a career-high of 25 points that included seven 3-pointers in a 90-79 road win at Florida. She was the team's leader with 57 3-pointers going into the Final Four, but took only one shot and didn't score in 13 minutes in Friday's 79-72 semifinal win over Virginia Tech.
Carson didn't score again in the second against Iowa and missed her only field goal – a two-point try. But with LSU's team back whole again on the court, and with four of five starters in double figures, Carson's heavy lifting was over, her job complete and memory everlasting.
"I've been working hard my whole life," Carson said. "I came to LSU just to contribute and win a national title and play under a Hall of Fame coach and play with great players. Hard work pays off, and God is great. Everybody's journey is different, and you should just embrace your journey. I couldn't have wanted a better ending than for it to end like this."